The semiconductor market showed powerful growth in 2Q 2021, up 8.3% from 1Q 2021 and up 29% from a year earlier, according to WSTS. Most major semiconductor companies experienced substantial revenue growth in the quarter. The memory companies were especially strong, with 2Q 2021 versus 1Q 2021 revenue (in local currency) up 19.6% for Samsung, 21.5% for SK Hynix, 19.0% for Micron Technology and 11.8% for Kioxia. Samsung passed Intel in 2Q 2021 to regain the top semiconductor supplier ranking. In U.S. dollars the memory companies performed even better, up 22% collectively. The non-memory companies had mixed results. Three had double-digit quarter-to-quarter growth: MediaTek at 16.3%, AMD at 11.8% and Nvidia at 11.3%. However, Intel declined 0.2% and STMicroelectronics declined 0.8%. Collectively the non-memory companies grew 3% from 1Q 2021 to 2Q 2021.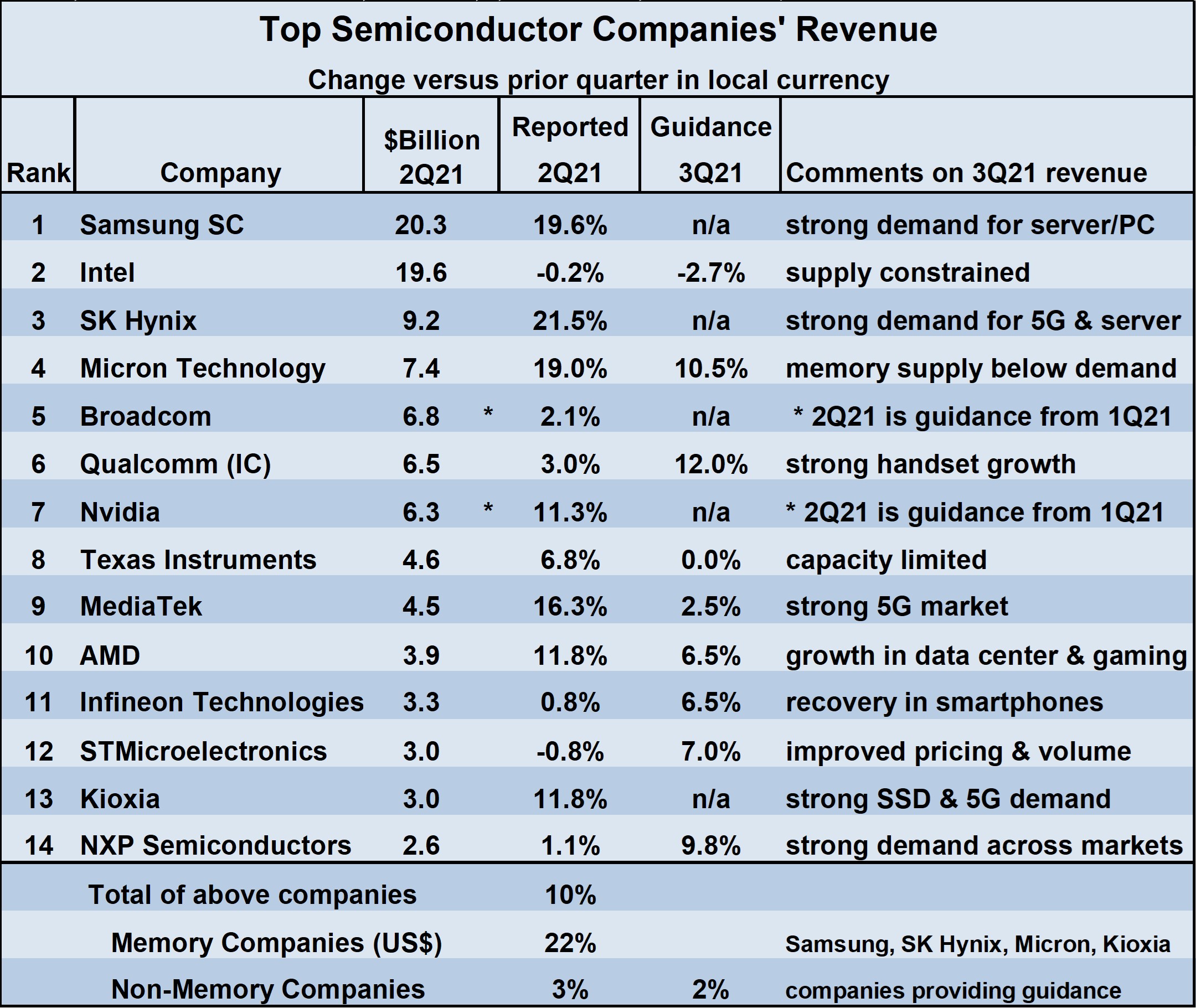 The outlook for 3Q 2021 is generally solid. Of the nine companies providing guidance for the quarter, three expect double-digit growth versus 2Q 2021 (Qualcomm, Micron Technology and NXP Semiconductors) and three are around 7% (AMD, Infineon, and STMicroelectronics). MediaTek is projecting 2.5% growth, Texas Instruments is guiding for no growth, and Intel is calling for a 2.7% decline. Both Texas Instruments and Intel cited capacity limitations.
The powerful momentum in the first half of 2021 (up 24% from the first half of 2020) will carry the semiconductor market to substantial growth for the full year 2021. WSTS just updated their Spring 2021 forecast with final 2Q 2021 data and is now projecting 2021 will be up 25%. In June, IC Insights projected 2021 growth of 24% and Gartner called for 22%. Our latest forecast from Semiconductor Intelligence is 26%.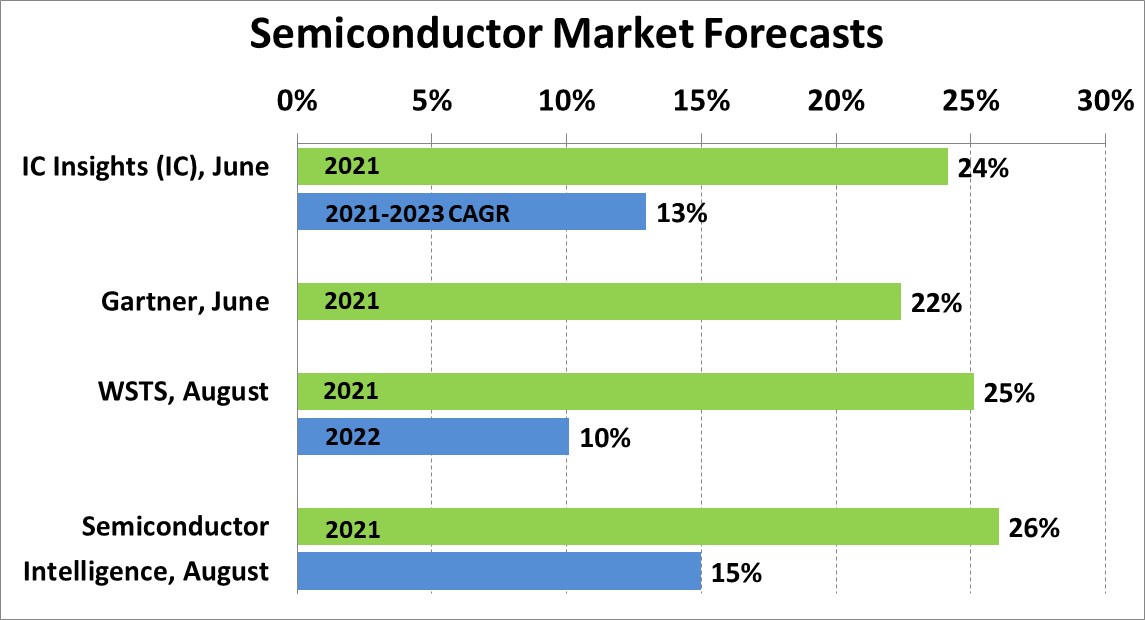 How much of the momentum of the semiconductor market in 2021 will carry into 2022? The answer is dependent on two factors:
1. When will the current shortages in many segments of the market be resolved so the market is more in alignment with the growth in end equipment?
2. What will be the end equipment growth rates in 2022 compared to 2021?
According to Susquehanna Financial Group, the average lead time for semiconductors is now over 20 weeks, up from 14 weeks at the beginning of the year. Intel CEO Pat Gelsinger expects shortages to begin easing by the end of the year but said it could take one or two years before supply and demand are fully in balance. TSMC CEO CC Wei stated they have increased production of automotive microcontrollers and he expects shortages will be reduced in 3Q 2021.
Once the semiconductor supply catches up with demand, growth in 2022 will be dependent on the economy and the demand for end equipment. The International Monetary Fund (IMF) in July forecast global GDP will increase 6.0% in 2021 as the world recovers from the pandemic. The IMF expects the recovery momentum to carry into 2022 with 4.9% growth, up from the May forecast of 4.4%. Canalys expects the smartphone market to bounce back to a 12% gain in 2021 after a 7% decline in 2020 primarily due to pandemic related manufacturing disruptions. Canalys shows 2022 smartphone growth of 5%, higher than the growth rates in the four years prior to the pandemic. IDC has not updated its PC forecast since May, where it called for an 18% increase in 2021 and a 5% decline in 2022. In 2Q 2021 PC shipments showed a slowing of growth, but the year 2021 should still show a double-digit gain in PC units. IHS Markit projects light vehicle production will be 83 million units in 2021, up 11% from 2020. Vehicle production in 2021 has been limited by semiconductor shortages. 2022 light vehicles should be up a strong 9% as the industry catches up to pre-pandemic production levels.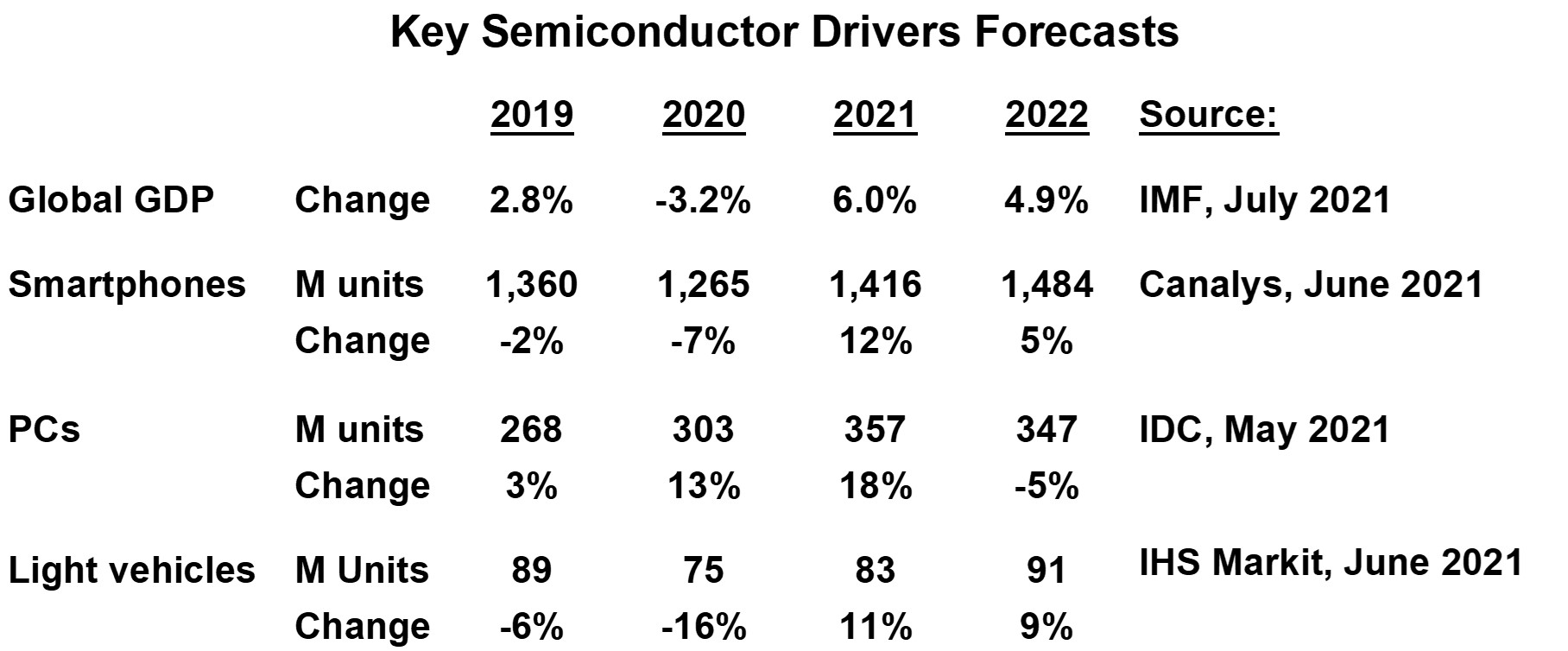 As shown in the semiconductor market forecast chart, growth will moderate in 2022 after a gain of over 20% in 2021. IC Insights projects the growth rate of the IC market will average 13% for 2022 and 2023. WSTS' update of its Spring 2021 forecast shows a 10% increase in 2022. Our forecast at Semiconductor Intelligence is for a 15% gain in 2022. Semiconductor market growth of over 10% in 2022 would be healthy compared to the long-term growth rate mid-single digits. Thus, most of the market momentum in 2021 should carry into 2022.
Share this post via: