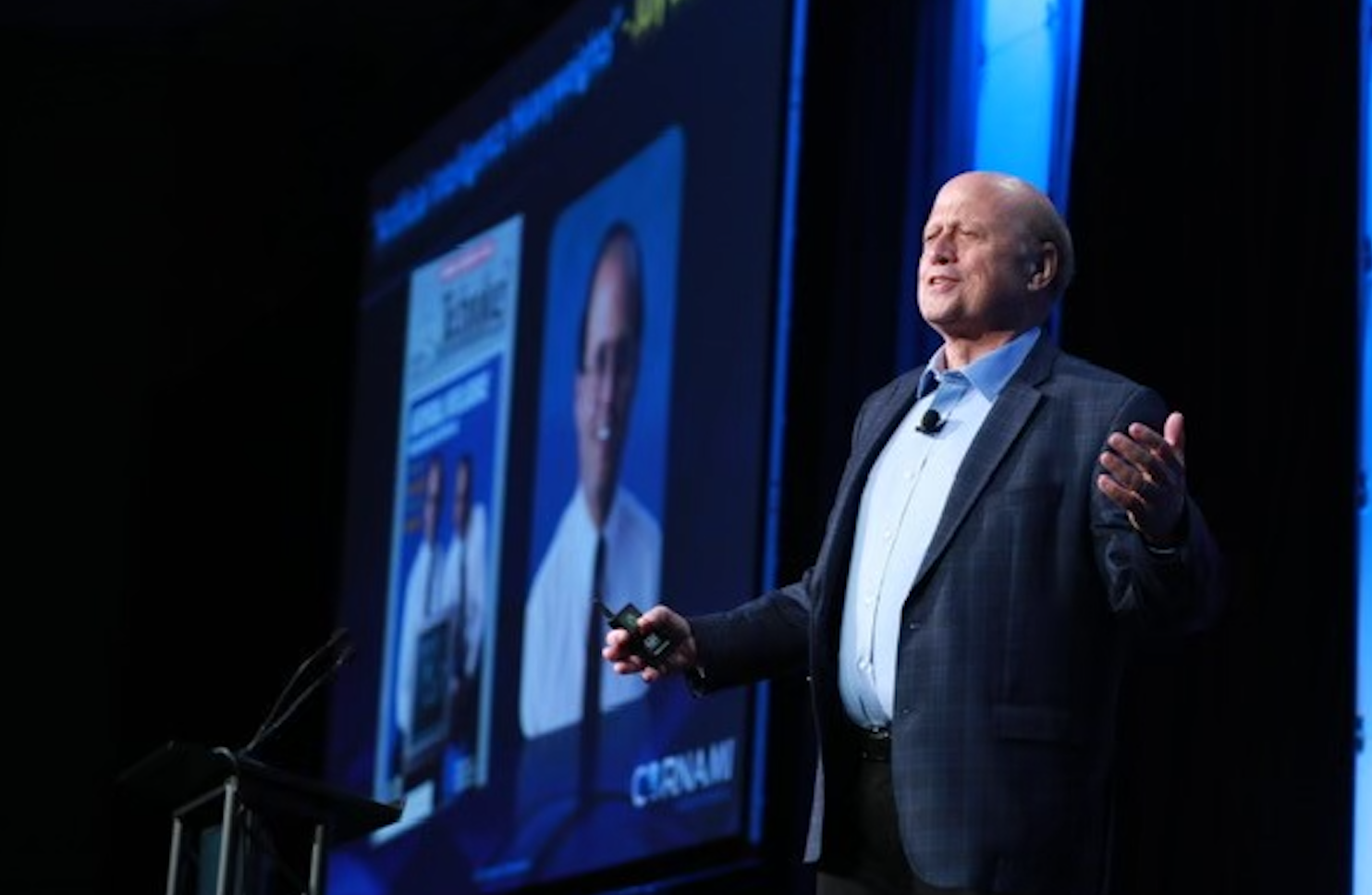 Dr. Walden Rhines has appeared many times on SemiWiki. His discussions touch on a variety of topics, most recently on the health of EDA and IP. His knowledge of our industry is substantial, and he always seems to have a new take on the trends and technologies that are unfolding around us. So, when Wally took the stage for a keynote address at the recent Design Automation Conference in San Francisco it was standing room only. Wally took everyone on a scenic tour of how technology has impacted chip design over the years, ending with a very real view of how all this will change the future of the planet. Read on to understand how Wally Rhines predicts the future of AI at DAC.
The Early Days
Wally began with a look back at the emerging technologies in the 1980's and the emerging technology leaders of the day.  He pointed out that Lip Bu Tan's first major VC deal was with Creative Labs. Lip Bu clearly saw the future. There were other forward-looking folks in that time frame. Wally reminded us of what some of these folks looked like, back in the day.
Wally took us back a bit more than the 1980's to uncover some interesting predictions. In the Summer of 1956, members of the Dartmouth Research Project on Artificial Intelligence made some interesting comments:
"Within ten years a digital computer will be the world's chess champion" (A.Newell)
"In from three to eight years we will have a machine with the general intelligence of an average human being" (Marvin Minsky)
"Within ten years a digital computer will discover and prove an important new mathematical theorem" (H.A.Simon)
Current Day Trends
Bold and optimistic to say the least. But why hasn't AI taken off until recently? The answer sets the stage for the future. According to Dr. Rhines:
Lack of big data to analyze

No Internet or IoT to collect sizable data sets

Limited computing power

Limitation of traditional computer chip architectures

Need for more advanced algorithms
Lack of 'killer' applications to make money
Many of these limitations are going away, opening the door for new chapters of innovation. The last point is key – this will be elaborated on by Wally in a bit. But first, Wally took a look at what IS making money these days. It's kind of a mixed bag.
OpenAI, last year's ChatGPT investment of ~$540 million has losses of $700,000 every day. The $75B automotive industry bet on autonomous vehicles has no meaningful return, YET. However, Nvidia made a big bet on AI and has become the first chipmaker to join the $1 trillion club.  Dramatic, but inconsistent results so far.
Before looking to the future, Wally spent some time examining the impact AI is having on chip design. Recall the limited computing power issue – better chip design can have a big impact on that. Wally did a great job summarizing many EDA innovations into three buckets. This is a great way to watch innovation and judge impact. One picture can explain the views presented, and that picture is included below.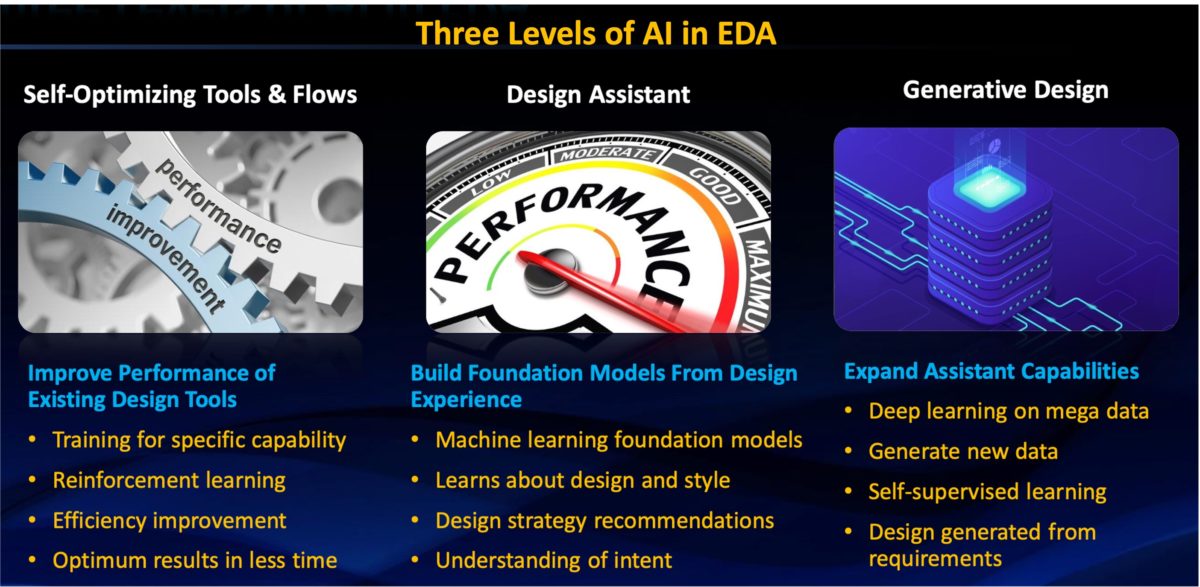 This is a great model. Take a look at the latest announcements from your favorite EDA supplier. You will likely be able to put them in one of the columns, above.
Looking to the Future
Wally concluded his talk with a view of what the future holds for AI, specifically how it will be monetized. The data used to power the sophisticated and complex models of AI is becoming the "currency" for the future of the technology, and possibly the future of the planet.
Wally pointed out that the world creates 2.5 quintillion bytes of data every day, yet only a fraction of it is utilized. In case you're wondering how many bytes that is, here is the full expression of one quintillion:
1,000,000,000,000,000,000
Data indeed is the new oil in the next generation economy and controlled, secure sharing of this data will be the engine for profit. But protecting all this data and sharing it in a controlled, secure way presents many challenges. Data that is driving many emerging AI systems today can be unreliable and have baked-in biases. Theft is widespread, and the ability to hack things like autonomous driving systems present existential threats.
Wally explained that the world needs a way to share and protect sensitive information at the same time. To make matters worse, once quantum computers reach 10,000 qubits most Internet security will break. This may happen in the next few years.
So, the question becomes how can the power of all the available data be unlocked to revolutionize everything from financial services to healthcare to manufacturing in a predictable, secure way? For this seemingly impossible problem. Wally offered a way forward.
It turns out there is a technology called fully homomorphic encryption (FHE) that can enable secure data sharing. This unique technology keeps data encrypted at all times. Computation of all kinds can be performed in the encrypted data, so machine learning models can be built from encrypted data.
This approach essentially hides all sensitive information in plain sight. Since the data is always encrypted, it needs no protection – stealing it gives you no useful information. So, what prevents the widespread use of such innovation?
Wally explained that FHE is very hard to implement from a computational standpoint. Using current technology, an unencrypted operation that takes one second will take about 11 days using encryption. Hardware requirements for FHE will require nearly one million times faster performance than current Intel and Nvidia servers.
We are now at the home stretch of Wally's keynote, and here is where his long-term vision shines. It turns out there is a company that is working on this problem and aims to make FHE available to all. The company's name is Cornami, and Wally is its CEO. You can learn more about Cornami here.  And that's how Wally Rhines predicts the future of AI at DAC.
Share this post via: