Podcast EP65: Trust But Verify – The Backstory of Applied Materials and Cornami with Wally Rhines
Dan is joined by CEO of Cormani Wally Rhines. Wally discusses the recent strategic investment in Conrami made by Applied Ventures (the venture capital arm of Applied Materials Inc.). Wally explores what type of business models and manufacturing optimization can be made possible if fully homomorphic encryption (HFE) can be enabled with Cornami technology.
The views, thoughts, and opinions expressed in these podcasts belong solely to the speaker, and not to the speaker's employer, organization, committee or any other group or individual.
Also read:
Conquering the Impossible with Aspiration and Attitude
I Have Seen the Future – Cornami's TruStream Computational Fabric Changes Computing
CEO Interview: Wally Rhines of Cornami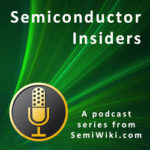 Share this post via:
---