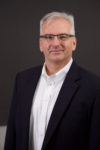 Named Ernst & Young's Entrepreneur of the Year® 2021 Pacific Southwest – Orange County, Kurt Busch is a tech industry veteran with extensive experience in product development, having driven the successful launch of new products, ranging from SaaS and semiconductors for telecom and broadcast video to consumer electronics and data center systems. Prior to founding Syntiant Corp., Busch was president, CEO and board of director at Lantronix (NASDAQ: LTRX), a global provider of secure data access and management solutions for Internet of Things (IoT) and information technology (IT). He is an engineering hall of fame inductee of the University of California at Irvine, where he earned bachelor's degrees in electrical engineering and biological science. He also holds an MBA from Santa Clara University.
Can you tell us a little about Syntiant?
We founded Syntiant in 2017 with the idea of building a new kind of processor that will bring artificial intelligence to most any edge device. At the time, AI was the domain of cloud computing, and no one was thinking of putting significant deep learning processing into devices that operated at the edge. Today, we shipped more than 20 million of our Neural Decision Processors worldwide, making edge AI a reality for always-on voice, sensor and image applications in a range of consumer and industrial use cases, free from cloud connectivity, ensuring privacy and security.
What is unique about the company and its product technology?
We designed our technology as a complete turnkey system by combining purpose-built silicon with an edge-optimized data platform and training pipeline. Syntiant's devices typically offer more than 100x efficiency improvement, while providing a greater than 10x increase in throughput over current low-power MCU solutions, and subsequently, enabling larger networks at significantly lower power. Using at-memory compute and built-in standard CMOS processes, Syntiant devices directly process neural network layers from platforms such as TensorFlow without the need for any secondary compilers, which shortens time to market and offers unprecedented performance for solutions that require under 1mW power consumption.
What industries are Syntiant addressing? 
Syntiant's deep neural network processors are being designed into all kinds of end uses from earbuds to automobiles. We are working with about 80 customers globally across market segments including consumer, medical and industrial IoT. Our NDP100 and NDP101 are being used for always-on voice applications. The NDP102 for sensor processing. Our NDP120 for speech and sensor fusion and the NDP200 for vision and image recognition. We went from just offering voice to an expanded product line that includes sensor, audio and image processing, as well as offering the data and training too, providing customers with low-cost, low latency, end-to-end solutions that quickly deliver production grade deep learning models in a variety of domains.
What problems/challenges are you solving?
We're moving AI from the cloud to the edge. Production deep learning models require significant data and training expertise, as well as significant processing power. The lack of clean data, training expertise and sufficient processing power has created fundamental blockers for mass edge AI deployments. Syntiant has tackled these fundamental challenges. First, with custom silicon delivering best in class performance while still meeting size, power and cost constraints for massive edge deployments. Second, the ability to collect, clean, align and generate data for ML training, and lastly, providing a training pipeline, optimized for edge applications, that can go from raw data to production quality machine learning models in an economical manner.
What's new?
There is a lot of discussion about the democratization of AI, enabling most anyone to utilize the benefits of machine learning and not just the big Internet companies. While we usually deal with large volume customers, we also want to expand the reach and availability of AI. That's why we launched our new TinyML Development Board for building low-power voice, acoustic event detection and sensor ML applications. This collaboration with Edge Impulse now enables anyone, from individual developers and hardware engineers to small companies to design, build and deploy highly accurate ML applications that respond to speech, sounds and motion with minimal power consumption. Whether it is for a wearable, industrial product or even to assist with people with disabilities, the possibilities are endless with our new TinyML board that provides a full solution for bringing the power of artificial intelligence to almost any device.
What's next for AI at the edge?
We've just begun to scratch the surface on how AI will impact people's everyday lives. Using Syntiant technology, devices can hear, speak, see and feel, making natural interfaces the path to the future. Advances in AI already are having a profound impact on many societal issues, including how voice technology can help those with disabilities and the elderly, as well as those in remote parts of the world with limited or no Internet access. As AI pervasiveness grows globally, so do myriad applications for public health like our collaboration with Canary Speech, a leader in the voice digital biomarker industry. Our joint deep learning solution enables real-time patient monitoring to detect health conditions such as Alzheimer's disease, anxiety, depression, as well as a complex voice energy measurement. We've also seen AI play a big part in the industrial IoT landscape. Until now, predictive maintenance and condition-based monitoring usually has been done in the cloud. That said, we just announced a collaboration with Ceramic Speed for their Bearing Brain project, which moves prediction and forecasting down to the battery-powered sensor device itself to reduce or eliminate unforeseen maintenance costs. Our technology can continuously monitor sounds, vibrations and even temperature with minimal drain on power consumption, extending battery life by months or years, while improving performance, productivity and efficiency across a wide range of manufacturing applications.
Also read:
CEO Interview: Mo Faisal of Movellus
CEO Interview: Fares Mubarak of SPARK Microsystems
CEO Interview: Pradeep Vajram of AlphaICs
Share this post via: