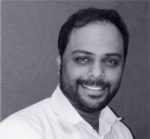 Prior to founding Movellus, Dr. Faisal held positions at semiconductor companies such as Intel and PMC Sierra. Faisal received his B.S. from the University of Waterloo, and his M.S. and Ph.D. from the University of Michigan, and holds several patents. Dr. Faisal was named a "Top 20 Entrepreneur" by the University of Michigan Zell Lurie Institute.
Tell us about Movellus?
Movellus is a leading supplier of Intelligent Clock Network IPs for high performance SoCs in AI, datacenter and Mil-Aero markets.
When we were helping companies develop high performance clocking structures we realized there was an opportunity to innovate in this area especially when it comes to clock distribution.
We worked closely with a number of innovative AI companies to create the next generation clock distribution networks that are intelligent, aware and self correcting.  This work culminated in Maestro, an Intelligent Clock Network IP Platform.
Maestro is a new architectural approach that has added smarts to the clock networks but also has opened up opportunities for architects to re-think the data flow on a chip. The result is we can put an "idea clock" anywhere on an SOC.
What problems/challenges are you solving and the evolution of the company over the years? 
There are two main problems we're solving in high performance SoCs. First we're increasing the area of synchronization in an SoC. For example you build a large 20mmx20mm array of compute elements that are fully synchronous. It improves the performance in inference AI chips significantly.
In addition to greater architectural flexibility, ICN benefits timing closure, making the process more predictable and consistent. Another significant benefit is the reduction in power without any loss in performance, this is achieved by recovering OCV, skew, jitter losses in the distribution network.
Now let me tell you about the power savings. Power has become extremely important in data center SoCs as it directly affects the total cost of ownership. Reducing a data center SoC's power by 30% directly results in millions of dollars saved in energy cost.
What markets does Movellus address today? 
We have a range of customers, but mostly clustered around AI and related applications.  Esperanto is an example of a datacenter AI customer, we worked with them early on. They were very quick to understand the benefits and make great use of the core technology.
Two other markets that leverage our strengths are, Mil Aero because of our Rad Hard support and Automotive because of the test coverage/observability.  These two markets we stumbled upon when they came to us and asked if they could use Rad Hard libraries as the target for our TrueDigital technology.
The cool thing is to see our customers realize significant performance benefits architectural innovations using Maestro. This year we got to announce Mythic, Achronix and Syntiant, all leaders in their respective markets and fantastic partners.
What makes Movellus unique?
When we solve problems or invent technology for our customers, we always take a holistic approach. It has been part of our DNA since the inception of the company to consider the system, methodology, testability, flexibility, scalability of every solution we deliver. We're in the business of creating high impact architectural innovation or enabling our customers to do it.
Our team consists of a special kind of "crazy" engineers. I like to say that the Movellus team might be the only team in the world where you can find an engineer that has deep experience in analog, digital, architecture, methodology and software design all in the same person. For example, you're not going to find an engineer in the industry that can do phase noise analysis on an 8GHz oscillator while also being an expert at physical design, STA and even DFT.
This breadth in our team allows us to solve system level problems for our customers as opposed to just optimizing a small little IP block in isolation. This is an extremely valuable characteristic of our team that has resulted in us becoming architecture partners with our customers.
Now let's not forget about the uniqueness of our technology. Our core technology is TrueDigital synthesizable nonlinear functions such as frequency generation and multiplication. Instead of inventing new ways of "synthesizing" nonlinear functions, we created new all-digital architectures that are implementable as digital logic using RTL to GDS design flows. That has opened us to a world of opportunities to solve problems that our customers face at the SoC level. We are the only company that can ship softIP for these applications, giving our partners and customers unprecedented flexibility.
What's next for Movellus?
At this point, we have only just scratched the surface of what is possible. We can see a future where Maestro can help mitigate issues such as supply droop and simultaneous switching, the Ldi/dt problems as they're known in the high performance chip world.
Another big opportunity is in the chiplet market where we can really help clock delivery, but that is a topic for another day… It is an amazing time for us and it's no longer about wires and buffers, it's about the intelligence in the whole system now. Throughput, Workload Management, Fmax, TOPS/watts and many more aspects are heavily influenced by the Clock Distribution Networks.
Also read:
Advantages of Large-Scale Synchronous Clocking Domains in AI Chip Designs
It's Now Time for Smart Clock Networks
Performance, Power and Area (PPA) Benefits Through Intelligent Clock Networks
Share this post via: