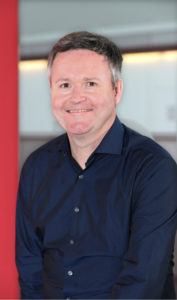 I learned about Kandou a year ago and liked what I heard, as should anyone who wants higher res displays and faster downloads from their electronic devices. I've been tracking Kandou since and believe it's living up to its goal to be the undisputed innovator in high-speed, energy-efficient chip-to-chip link solutions to improve the way the world connects and communicates.
My blog last year looked at Kandou's Matterhorn USB-C multiprotocol retimers with USB4 support. Two variations of Matterhorn, named for the famous Alps Mountain, are already adopted and successfully implemented by OEMs and ODMs developing mobile and desktop PCs. Matterhorn often overshadows Kandou's equally impressive Chord signaling technologies optimized for high-speed, ultra-low power chiplet and chip-to-chip interconnects delivered as blocks of IP.
Recently, I chatted with Frank Lavety, Kandou's General Manager and point person behind the scenes ensuring timely delivery of its entire product line. He recently described to me how USB4, the latest USB standard, will do even more to help quench our thirst for information. And noted as an aside, with a worldwide workforce, Frank said it's nothing short of remarkable that Kandou's interconnections worked efficiently and with little productivity impact in a pandemic scenario few of us imagined.
Frank joined Kandou in 2018 as VP Operations initially responsible for building Kandou's fabless manufacturing operations and in 2019 assumed the role of General Manager, leading engineering, manufacturing and the commercialization of Kandou's Matterhorn product family.
Here is a condensed version of our conversation.
Q: Frank, tell us about your background.
A: After graduating from University, I spent seven years with the medical device manufacturer Haemonetics Corporation, where I learned so much about high-quality, cost-efficient manufacturing. After finishing my MBA, I returned to Scotland from Boston, joining Wolfson Microelectronics in 2001, a fabless semiconductor start-up based in Edinburgh. Wolfson successfully IPO'd on the FTSE in 2003, eventually reaching a market cap of more than $1.5 billion.
During my 10 years at Wolfson, I established global manufacturing operations to support annual revenues in excess of $230 million. As VP Operations, shipped billions of mixed-signal ICs to the world's largest consumer electronics brands, establishing Wolfson as a world leader in audio technologies.
In 2012, I was looking for a new technology challenge and joined Adlens Ltd., an Oxford University (Oxford, U.K.) spin out developing adaptive lens technologies used in eyewear and AR/VR applications, where I was COO and CEO before joining Kandou two years ago.
What attracted you to Kandou?
A: It reminded me of my early days at Wolfson and the satisfaction I had building a very successful global business from the ground up. I also saw similarities to my time at Oxford and the fact that Kandou is an EPFL spin out.
Furthermore, when I met with CEO and founder Amin Shokrollahi and the Board, I was inspired by the energy behind the vision. I felt strongly that I could add a depth of experience and a broad range of skills to help Kandou navigate from start-up to market leader.
What surprised you most about Kandou?
A: The passion and ideas around revolutionizing wired connectivity, the talent pool we built and the genuine interest from customers in our technologies.
What differentiates Kandou?
A: The vision around disrupting wired connectivity and challenging the status quo. Also, the charisma of Amin Shokrollahi and the culture he and the team have developed.
How have the semiconductor supply chain challenges affected Kandou's ability to deliver products?
A: We correctly anticipated strong demand for Matterhorn and secured foundry capacity and backend IC packaging and testing services to meet all 2022 customer requirements. We worked hard to secure capacity commitments to support our customers' volume requirements through 2022 and began engaging with our tier 1 supply chain early.
What keeps you up at night?
A: I'm constantly thinking about what our customers really want. I then reflect on our decisions and their significance to our business. I strongly believe that being vigilant and nimble drives innovation which in turn creates radically successful businesses. Flawless execution is key!
Thanks for your time, Frank.
About Kandou
Kandou, an innovative leader in high-speed, energy-efficient chip-to-chip link solutions to improve the way the world connects and communicates, is revolutionizing wired connectivity with greater speed and efficiency. It enables a better-connected world by offering disruptive technology through licensing and standard products for smaller, more energy efficient and cost-effective electronic devices. Kandou has a strong IP portfolio that includes Chord™ signaling, adopted by the OIF and JEDEC standards organizations. Kandou offers fundamental advances in interconnect technology that lower power consumption and improve the performance of chip links, unlocking new capabilities for customer devices and systems. Kandou is a fabless semiconductor company founded in 2011 and headquartered in Lausanne, Switzerland, with offices in Europe, North America and Asia.
Also Read:
CEO Interview: Chuck Gershman of Owl AI
CEO Interviews: Dr Ali El Kaafarani of PQShield
CEO Interview: Dr. Robert Giterman of RAAAM Memory Technologies
Share this post via: