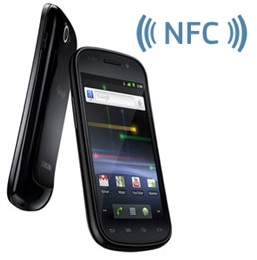 NFCis all over the news. Payments from your phone, yeah! I was wondering why this is a big deal, and why it has taken so long to gain momentum. I was issued a RFID enabled employee badge (JavaCard) 10 years ago while working at Sun. RFID is now so prevalent that Walmart attaches RFID tags to clothes. I spent an hour wading around the internet to gain a better understanding and thought I'd share a quick summary.

What is the difference between RFID and NFC?
Near Field Communication, or more commonly known as NFC, is a subset of RFID that limits the range of communication to within 4 inches. RF waves can be used used to transmit information across very long distances, and RFID is no different. The RF waves can reach very long distances especially when powered. This kind of range is very desirable in certain applications like animal tracking where the animal being tracked might move a couple of kilometers. This type of range is not desirable in applications like cash cards or passports.
Why not use Bluetooth, or even Wi-Fi? Basically it's because NFC is a short range, point to point protocol, the others are not.
A few numbers, extracted from a nice chart on the wikipedia NFC page.
[TABLE] border="1″ style="width: 100%"
|-
|
| NFC
| Bluetooth
|-
| Network Type
| Point-to-point
| WPAN(wireless personal area network)
|-
| Cryptography
| not with RFID
| available
|-
| Range
| < .2m
| ~10m
|-
| Bit rate
| 424 kbits/sec
| ~1 Mbps
|-

NFC is particularly suitable for crowded areas where correlating a signal with its transmitting physical device (and by extension, its user) becomes difficult.
How about security?
NFC offers no protection against eavesdropping and can be vulnerable to data modifications. Applications may use higher-layer cryptographic protocols (e.g., SSL) to establish a secure channel. Ensuring security for NFC data requires the cooperation of multiple parties: device providers, who will need to safeguard NFC-enabled phones with strong cryptography and authentication protocols; customers, who will need to protect their personal devices and data with passwords,
It is relatively easy to destroy data by using an RFID jammer. There is no way currently to prevent such an attack. However, if NFC devices check the RF field while they are sending, it is possible to detect attacks. It is much more difficult to modify data in such a way that it appears to be valid to users.
Where do I get one?
As you've no doubt noticed, smart phones are starting to roll out with NFC. We've seen the first NFC-enabled devices in the last two flagship Android phones, the Nexus S and the Galaxy Nexus. Google's Wallet app lets you make purchases using an NFC enabled phone at point-of-sale machines.
[LIST=1]
NFC phones that are coming soon…
Where do I use my new NFC enabled phone?
Deploying the infrastructure required to accept NFC-enabled payments is a huge task. The technology currently works with MasterCard's PayPass network ( PayPass Locator) and Visa payWave (Find payWave Merchants).
See Visa Announces Certification of Six NFC Phone Models for SIM-based payWave and the Mobile MasterCard Approvals page.
Which apps do I need?
Google Wallet is now released on Nexus S 4G by Google, available on Sprint. You can pay with Citi® MasterCard® cards and the Google Prepaid Card. All the devices certified by Visa host the Visa payWave application on a secure SIM card
Attribute: Mike Briggs
Share this post via: