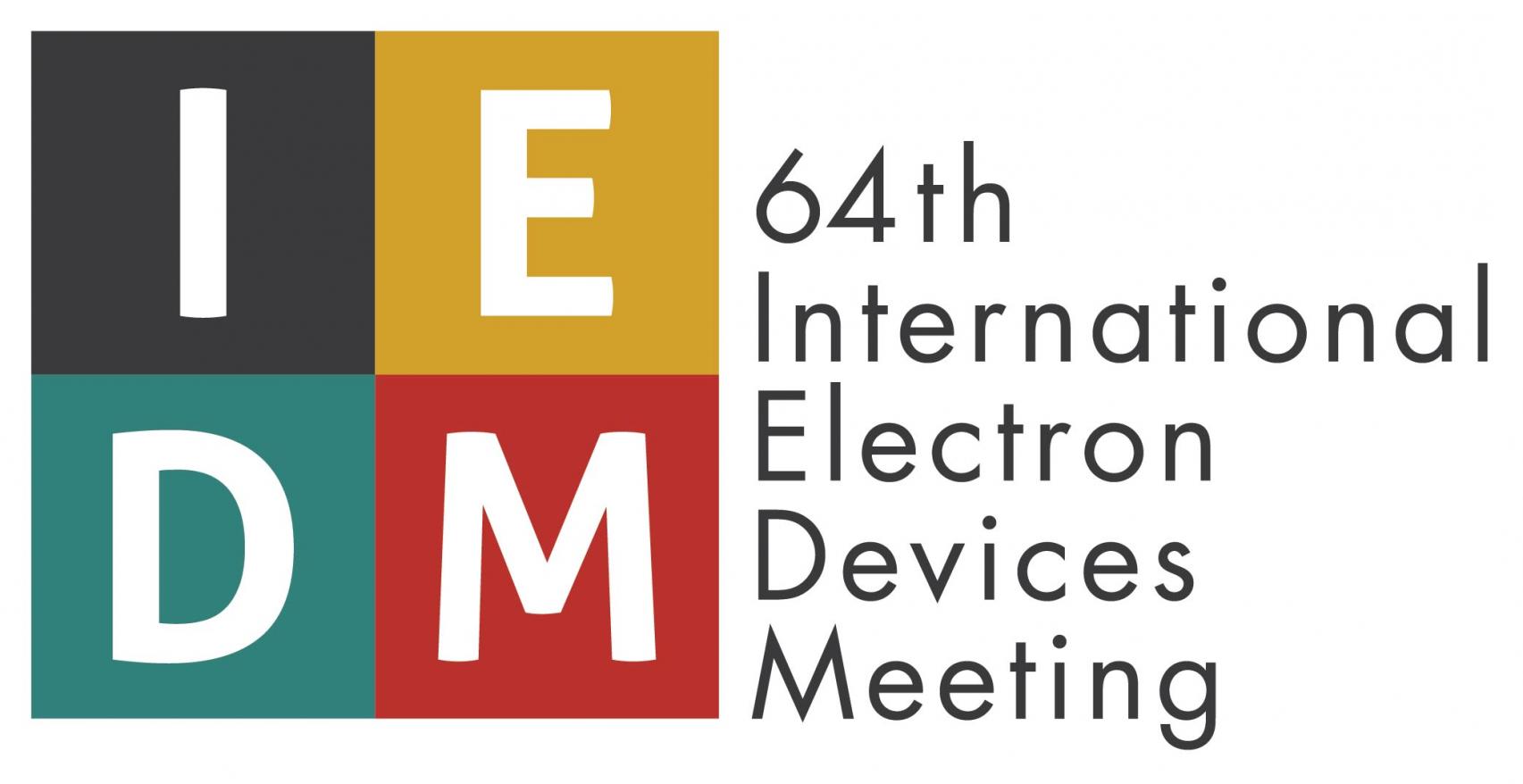 The International Electron Devices Meeting (IEDM) is one of the premier technical conferences covering semiconductor technology and is a must attend event. This years conference will be held December 1[SUP]st[/SUP] through 5th, 2018 at the Hilton San Francisco Union
Square hotel.
Saturday September 1[SUP]st[/SUP] will feature 90 minute tutorials covering:
Reliability Challenges in Advanced Technologies, Ryan Lu, TSMC
STT-MRAM Design and Device Requirements, Shinichiro Shiratake, Toshiba Memory
Quantum Computing Primer, Mark B. Ritter, IBM
Power Transistors in Integrated BCD Technologies, Hal Edwards, Texas Instruments
Design-Technology Co-optimization at RF and mmWave, Bertand Parvais, IMEC
Emerging Device Technologies for Neuromorphic Computing, Damien Querlioz, CNRS
Sunday, September 2[SUP]nd[/SUP] will feature two full day "short courses". I don't typically arrive in time for the tutorials on Saturday but I always attend one of the short courses on Sunday and find them very useful:
It's All About Memory, Not Logic!, organized by Nirmal Ramaswamy, Micron
DRAM: Its Challenging History and Future, Dong Soo Woo, Samsung
3D Flash Memories: Overview of Cell Structures, Operations and Scaling Challenges, Makoto Fujiwara, Toshiba Memory Corporation.
Emerging Memories Including Cross-Point, Opportunities and Challenges, Kiran Pangal, Intel
Memory Reliability, Qualification and their Relation to System-Level Reliability Strategies, Todd Marquart, Micron
Packaging Technology for High Bandwidth Memory, Nick (Namseog) Kim, SK Hynix
Processing in Memory (PIM): Performance and Thermal Challenges and Opportunities, Mircea Stan, UVA
Scaling Survival Guide in the More-than-Moore Era, organized by Jin Cai, TSMC
Extreme-UV Lithography – Principles, Present Status and Outlook, Tony Yen, ASML
MOSFET Scaling Knobs (GAA, NCFET…) and Future Alternatives, Witek Maszara, Globalfoundries
Overcoming Variation Challenges, Sivakumar Mudanai, Intel
Embedded Memory: Present Status and Emerging Architecture and Technology for Future Applications, Eric Wang, TSMC
3D Integration for Density and Functionality, Julien Ryckaert, Imec
Advanced Packaging: the Next Frontier for Moore's "Law," Subramanian Iyer, UCLA
The main conference begins Monday morning with three plenary addresses
Future Computing Hardware for AI, Jeffery Welser, Vice President, IBM Research-Almaden
"4th Industrial Revolution and Foundry: Challenges and Opportunities," Eun Seung Jung, President of Foundry Business, Samsung Electronics
The Status, Challenges and Opportunities of 5G, Prof. Gerhard P. Fettweis, TU Dresden
The schedule of the sessions over the next three days have not been announced yet but some of the focus sessions will be:
Quantum Computing
Application Requirements for Quantum Computing, John Preskill, Caltech
Materials and Device Challenges for Near-Term Superconducting Quantum Processors, Jerry Chow, IBM
Towards Scalable Silicon Quantum Computing, Maud Vinet, CEA-Leti
Silicon Isotope Technology for Quantum Computing, Kohei Itoh, Keio University
Qubit Device Integration Using Advanced Semiconductor Manufacturing Process Technology, Ravi Pillarrisetty, Intel
Scalable Quantum Computing with Single Dopant Atoms in Silicon, Andrea Morello, Univ. New South Wales
Majorana Qubits, Leo Kouwenhoeven, Microsoft
Future Technologies Towards Wireless Communications: 5G and Beyond
Intel 22nm FinFET (22FFL) Process Technology for RF and mmWave Applications and Circuit Design Optimization for FinFET Technology, Hyung-Jin Lee, Intel
RFIC/CMOS Technologies for 5G, mmWave and Beyond, Ali Niknejad, UC Berkeley
GaN HEMTs for 5G Base Station Applications, Shigeru Nakajima, Sumitomo Electron Devices
Highly Integrated mm-Wave Transceivers for Communication Systems, Vadim Issakov, Infineon
BAW Filters for 5G Bands, Robert Aigner, Qorvo
Reconfigurable Micro/Millimeter-wave Filters, Dimitrios Peroulis, Purdue
Challenges for Wide Bandgap Device Adoption in Power Electronics
GaN and SiC Devices for Automotive Applications, Tetsu Kachi, Nagoya University
SiC MOSFET for Mainstream Adoption, Peter Friedrichs, Infineon
GaN Power Commercialization with Highest Quality-Highest Reliability 650V HEMTs- Requirements, Successes and Challenges, Primit Parikh, Transphorm
The Current Status and Future Prospects of SiC High Voltage Technology, Andrei Mihaila, ABB
Barriers to Wide Bandgap Semiconductor Device Adoption in Power Electronics, Isik Kizilyalli, ARPA-E
High to Ultra-High Voltage SiC Power Device Technology, Yoshiyuki Yonezawa, AIST
Effects of Basal Plane Dislocations on SiC Power Device Reliability, Robert E. Stahlbush, Naval Research Laboratory
Interconnects to Enable Continued Technology Scaling
Interconnect Design and Technology Optimization for Conventional and Exotic Nanoscale Devices: A Physical Design Perspective, A. Naeemi, Georgia Tech
Mechanisms of Electromigration Damage in Cu Interconnects, C. K. Hu, IBM
Interconnect Metals Beyond Copper: Reliability Challenges and Opportunities, K. Croes, Imec
Microstructure Evolution and Effect on Resistivity for Cu Nano-interconnects and Beyond, Paul Ho, UT Austin
Integrating Graphene into Future Generations of BEOL Interconnects, H.-S. Philip Wong, Stanford
Interconnect Trends for Single Digit Nodes, Mehul Naik, Applied Materials
Tuesday evening December 4[SUP]th[/SUP] will see an evening panel session: EUV: Too Little, Too Late, Too Expensive or the Ultimate Cure-All?, organized by Sanjay Natarajan, Senior VP of Applied Materials. Much progress has been made in EUV patterning technology, and yet manufacturing throughput, masks, pellicles and resists still persist as problems today. The complexity of reliably transferring features at the 7nm node and below using quadruple patterning and 193nm immersion is affecting yield, affecting the cost-per-gate reduction and slowing down Moore's Law. The industry eagerly awaits EUV, but is it too little, too late and too expensive, or is it the ultimate panacea? A team of world-renowned experts from the leading logic and memory IDMs, foundries and fabless companies will vigorously debate the issue.
A Luncheon will be held Wednesday, December 5[SUP]th[/SUP]: The speakers are yet to be determined, but IEDM will have a new lunch event this year that features industry leaders engaging the audience on the state of the industry, and on careers in device and VLSI technology. There will also be a vendor exhibition and poster sessions.
You can register for the conference and follow the program as it develops here.
Share this post via: