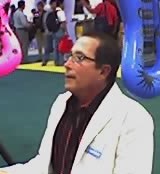 Welcome to my newly relocated column, I am so excited about my new relationship with Daniel Nenni, and the other esteemed bloggers on SemiWiki. For those who do not know me, I have been a featured columnist on another EDA portal for the past 12-plus years, and in EDA for 20-plus years. As the leading recruiter in our industry, (or so I am told), I write about our industry from a non-technical viewpoint, as well as talk about the various hiring modalities and industry-specific career advice. For my first column, should I say blog, on SemiWiki, I want to talk about this past DAC and what might be coming down the DAC road, as well as how hiring in general, is going.
First, let me address the brains at DAC; it doesn't take a PhD to know that DAC should always be held in the Bay area. While the last two DACS in Austin were OK, (and understandably need to be hosted in Austin occasionally, as it is the 2[SUP]nd[/SUP] busiest U.S. hub for EDA/SEMI), they should still be hosted in the Bay area, almost always, even if the dates vary. Vegas makes no sense! I know it is said that many of us love to go to Vegas, but that in and of itself is not enough of a reason to host there. Make no mistake, I personally can go anywhere, but most companies will only send a limited number of people to alternate destinations, if at all. Having DAC where the base lives simply makes the most sense, both economically and practically.
To complicate this, DAC has new owners, which made DAC's future the talk of the Conference. In general people wondered:
[LIST=1]
Will it return, and that answer is unequivocally YES
Will it be in VEGAS, and that answer is 98% YES. The venue is reserved well in advance and paid for similarly. I cannot imagine them losing all that money…also, companies all selected their locations while at DAC, and while there were rumors that perhaps DAC will combine with SEMICON, no one knows if that will actually happen for this, or any other DAC. (Though my guess is it is likely).

DAC 2018 was indeed quite busy, and in fact I thought the first Monday was the busiest I have seen in several years. In talking with so many C-Level executives over the three days I was there (from open to close), most were pretty happy with the show. I have said it before and I will repeat it now: …DAC is not a consumer show and numbers do not tell the whole story. It is WHO is there and if YOU had something that they wanted.

Those that scheduled in advance, or had inviting booths with the right (enticing) information that compelled people to want to know more and the personnel that knew the right people that could actually get them in for a demo, did well. If demos were not an option then hopefully a future on-site visit was scheduled. That is what makes for a successful DAC…Those that sat in their seats waiting for someone to beg them to show them what they have or that put no effort into their booth, are still sitting in their seats. (Candy seemed to be the #1 option, lots of candy!)

DAC is different these days…How you ask??? Well, in case you have not heard, which means you do not have internet or are taking too much sleep medication, acquisitions have changed our landscape. Instead of a lot of new EDA start-ups, DAC was littered with IP companies… a LOT of IP companies. A cloud aisle was added this year for various collaboration/version control type offerings, but CLIOSOFT clearly leads the way there, with a few others making significant headway.

As for hiring, normally I walk away with several new companies and requisitions, but not as much this year. Let me be clear, that is not a statement on hiring; for me, DAC is all about building and maintaining relationships, and learning more about what's hot, what's coming, what's happening, and for using that as a barometer, it was great success for me. I made so many new connections that want to work together, and while those needs will be spread over time, expertise, and locations, most will bear fruit. Hiring remains extremely difficult as the needs are plenty and the pool shallow, with good people not wanting to leave. Companies have needs and it is harder than ever to find good qualified people (which I will talk about more in my upcoming columns).

I went to two really great parties, the Cliosoft/AUSDIA party and the ONESPIN party, and I must say they were two of my all-time favorite events. I was too tired to go to the Denali/(Cadence) party this year, the first one I've missed since its inception, but I am sure not much has changed since it stays pretty much the same every year. My trademarked White sports coat was as always, quite noticed and as my friend Craig Shirley (the new CEO of OSKI) said, "one day that jacket will be retired to the archives of our history" (or something like that, I hope that means I can sell them).

I look forward to a great relationship with SemiWiki and will have my Blog published here monthly. If I can ever be of help to any of you, my advice is always free and gladly given…

EDA-Careers is a highly specialized recruiting agency that recruits specifically for everything EDA/Semiconductor and IOT… All Levels, All Specialties. R&D Developers, Application Engineers, Designers, Sales and Marketing WE DO IT ALL!

EDA-CAREERSis a unique and very different company when it comes to how we handle our clients and candidates. With nearly 20 years of recruiting exclusively in the EDA/Semiconductor industry, we pride ourselves on our relationships and follow-up. We WORK HARD to help find the best candidates for our companies and the best opportunities for our candidates, making sure both are satisfied every step of the way. In effect, we become PARTNERS so that both the candidate and the company process goes smoothly, from beginning to end. That is why we have worked successfully with Hundreds of companies and placed such a broad array of candidates.