It's Sunday afternoon and I just attended the annual Needham presentation at #56DAC in sunny Las Vegas, where Rich Valera shared an upbeat view of EDA and IP growth.  Here are the five drivers of this growth:
IoT
Automotive
Webscale/FAANGs
AI/ML
China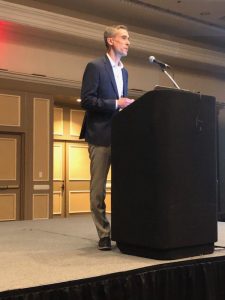 For the IoT market they've seen a CAGR of 8.6% to $8.2B in 2018, projected to reach $11.4B in 2022.
Auto Semiconductor revenues saw a 6.4% CAGR to 2015, but then a big inflection point happened with a CAGR of 11.1% starting in 2016 (Gartner), with some $34B, projected to reach $69B by 2023. We're still mostly at Level 2 of ADAS now, which is still a long way from level 5 and autonomy. Yes, Tesla gets too much press attention, but expect several other vendors to be shortly entering the EV market.
FAANGs are these popular companies: Facebook, Apple, Amazon, Netflix, Google. Which just these five companies combined have delivered some 40% of the NASDAQ increase over the past 5 year time period. All of these companies are doing some HW designs. Remember that Apple purchased PA Semi in 2008 to start designing their own processors, and now their A-series of chips power the iPhone, iPad and iWatch products.
Amazon bought Annapurna in 2016 to help bolster AWS.
Google in 2016 announced their new chip, the TPU, and second generation coming out, helping bolster their AI initiatives.
Facebook surprisingly Bought Sonics for their interconnect IP,  which will help on  VR and AR applications.
AI/ML is the number one driver in new EDA licenses, where in 2017 some $7B in revenue was generated, growing by 2020 to $32B, and projected in 2025 to reach $65B. CPU and GPU approaches were initially used for AI/ML, but now the big shift is towards custom silicon, aka ASIC. Yes, there are too many AI startups now getting VC, so it's likely that most will not be successful. During a SNPS conference call it was learned that some 200 AI chip projects are underway, so yes, this is driving new ASIC starts.
China is still in growth mode for EDA tools and IP, as Cadence shows that 10% of their revenue now comes from China. There are big concerns about Huawei, because they were placed on the USA entity list, so American companies cannot sell new software or IP into that company.
EDA and IP revenue growth rate by quarter show that in Q4 2018 it was shrinking to under a 5% annualized rate, although there are some wonky numbers that make up that Q4 2018 amount.
IPO activity has been quite good in the early years from 1996 through 2002, but in the period from 2002 to 2018 we mostly saw consolidation, without any new IPOs. Investors have not been as attracted to EDA growth rates, so maybe they don't see enough scale happening.
The R&D spending levels of SNPS and CDN are about 35% of revenue, so that is still a big investment, maybe too much R&D compared to other industries. In the SW and Semi industries we see about a 25% R&D investment level.
Stock growth has been outstanding for EDA companies in the past five years: CDN (360% over 5 years), SNPS, ANSS (245%), NASDAQ (laggard).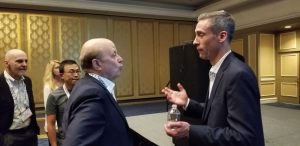 Summary
EDA and semiconductor IP revenues have a healthy growth, driven by factors like: Automotive electrification, IoT, FAANG, AI/ML, China growth. We expect
Q&A
Q: What about 5G?
A: Good question, there's lots of hype on 5G, but not much capex expected from major carriers, so we expect a gentle upgrade cycle.
Q: Any comments on growth from Defense or DARPA areas?
A: Not that much change over time as growth, no.
Q: Are you tracking open source EDA and IP trends?
A: No, not yet.
Q: Will China develop their own EDA tools?
A: Yes, they are trying to catch up. Although their fabs are not leading edge yet.
Share this post via: