I recently wrote an article about Synopsys' DesignWare Security IP for the Internet-of-Things market and was interested to see that a startup, Starblaze Technology, has now used parts of the same IP in its latest Solid-State Drive (SSD) controller. The security IP caught my eye, but the rest of the story really put things into focus. Synopsys was able to provide a one-stop shop experience for Starblaze that combined DesignWare Foundational IP (high performance cores, memories and standard cell logic), DesignWare Security IP (True Random Number Generator) and DesignWare Interface IP (DDR4 and PCI Express 3.1). The icing on the cake was the fact that they provided this IP in a flexible and configurable way that let Starblaze differentiate their product offering while getting all the advantages of using silicon proven IP and first-pass silicon success.
Starblaze, headquartered in Beijing, China, is a relative newcomer to the market being founded in November of 2015. Only two years after being founded, the young startup has used Synopsys' DesignWare IP portfolio to design and launch a new product, their STAR1000 enterprise storage SDD controller, which they claimed met with first-pass silicon success and for which they are already shipping in volume production. That is not a minor feat for a complex multi-core high-speed device.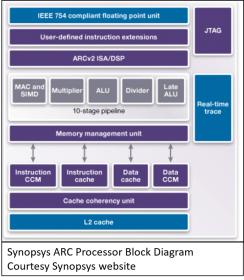 Starblaze attributes much of their first-pass silicon success to their use of Synopsys DesignWare IP. Their ability to work with Synopsys allowed them to focus on their design while gaining all the advantages of using silicon-proven IP. The STAR1000 SDD controller uses the Synopsys ARC HS38 processor and integrated MetaWare Development toolkit as well as several DesignWare Foundational IP blocks such as high-speed, low-power memories and logic components.
The Starblaze implementation used multiple ARC cores to achieve the high IOPS they needed as well as the 40-bit physical address extensions required to support one Terabytes of physical memory. Starblaze took advantage of the HS core's integrated error correction code (ECC) support to provide implicit error handling needed to ensure the extremely high data reliability required by SDDs. They also used the ARC's flexible architecture to add custom instructions, condition codes, and core and auxiliary registers to achieve lower power consumption and to reduce I/O latencies by 50 percent over competing alternatives.
Because Starblaze is selling into the enterprise storage SDD market they also needed to meet very stringent security standards to ensure protection against malicious attacks and backdoor security issues. To do this they made use of Synopsys DesignWare Security IP to implement a True Random Number Generator (TRNG) for key generation and other cryptography data required by security protocols used in their SoC. Synopsys' TRNG module is FIPS 140-2 certified and offered a high-quality entropy source to enable high levels of security.
In addition to the cores, memories and security IP,
Starblaze made use of Synopsys silicon-proven DesignWare Interface IP for their DDR4 and PCI Express 3.1 interfaces. Especially important to Starblaze was the ability of the DDR4 interface IP to support DDR4 3D stacked (DDR4-3DS) DRAM with 16 ranks of memory. That capability expanded Starblaze's capacity by up to 400 percent compared to the previously supported 4 rank memories.
As for their PCI Express 3.1 interface, Starblaze used DesignWare IP to support single root I/O virtualization (SR-IOV) features which allows the Starblaze controller to increase system performance when used with enterprise systems employing virtualization. SR-IOV allows for sharing of the SDD across multiple CPUs or operating systems. Synopsys' DesignWare DDR4 and PCI Express 3.1 IP also enabled Starblaze to include reliability, availability and serviceability features into their SoC that helped to increase data protection, system availability and issue diagnosis.
All in all, this is a very nice success story for the Synopsys DesignWare IP portfolio and it highlights the breadth and complexity of what can be done with their DesignWare IP portfolio. For more information on other Synopsys and Starblaze offerings please see the links below.
See Also:
Starblaze / Synopsys Press Release
Synopsys / Starblaze Success Story
Synopsys ARC Processors
Synopsys DesignWare IP
Share this post via: