Right before #54DAC I participated in a webinar with Methodics on "New Concepts in Semiconductor IP Lifecycle Management" with Simon Butler, CEO of Methodics, Michael Munsey, Vice President of Business Development and Strategic Accounts, and Vishal Moondhra, Vice President of Applications. Thewebinar introduced "percipient" and how it will not only extend IP Lifecycle Management, but allow for the modeling of the entire design ecosystem. Percipient was then featured in the Methodics booth at #54DAC with demos and presentations.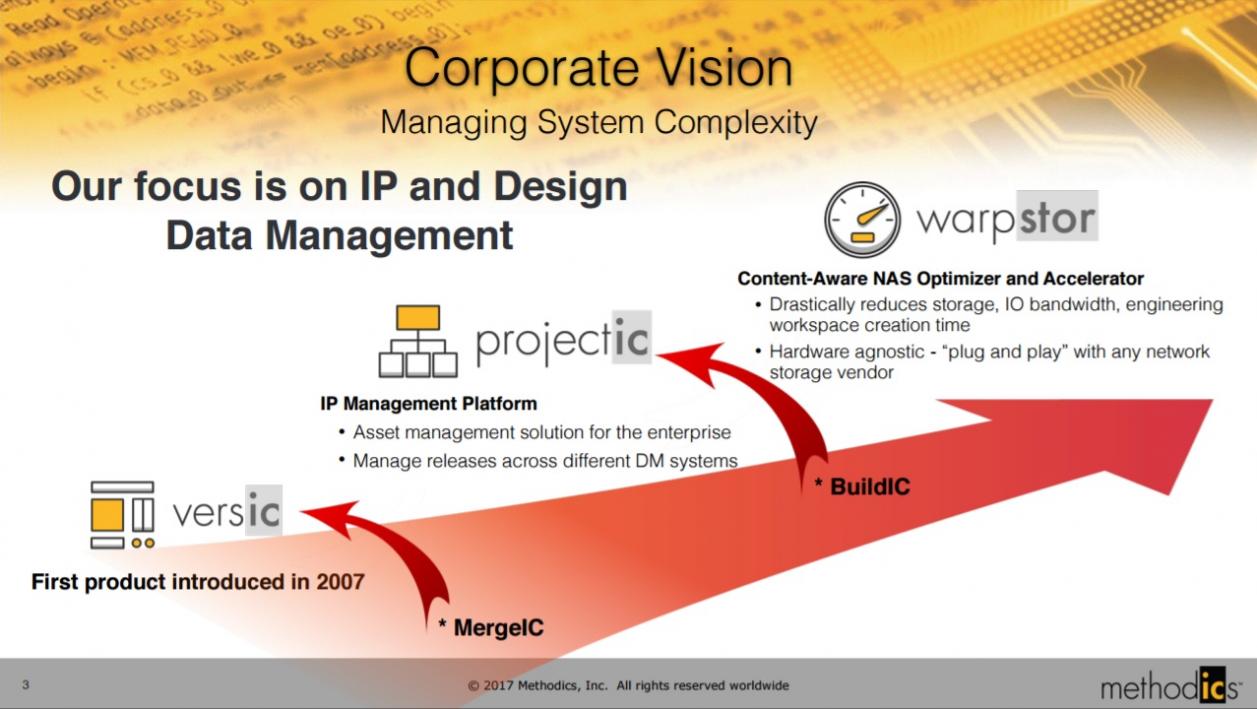 The premise is that IP lifecycle management and workspace management need to evolve as SoC's become more and more complex. If you look at complex system design, like automotive and aerospace systems, those industries have evolved their ecosystem to keep track with the complexity of the systems they have been designing. Today's SoC designs are truly systems, and have complexity rivaling the most complex systems in other industries.
Not only does IP lifecycle management need to keep pace with the increasing complexities of system design, but the ability to model the entire ecosystem for SoC deign must be accounted for as well. IP must be tracked not only as building blocks within an SoC, but as part of the entire ecosystem. A design team must be "percipient" or one that perceives, not only of the IP in a design, but the entire ecosystem that they are designing in. Engineering systems used by SoC design teams and the infrastructure of those design teams must be considered along with the IP building blocks.
The webinar is now up for replay:

New Concepts in Semiconductor IP Lifecycle Management
Today's complex SoC design requires a new level of internal and external design traceability and reuse by tightly coupling IP creators with IP consumers. Join us for the introduction of an exciting new platform that allows companies to provide the transparency and control needed to streamline collaboration by providing centralized cataloging, automated notifications to design teams, flexible permissions across projects, and integrated analytics across diverse engineering systems. Come see how companies are realizing substantial cost and time to market savings by adopting IP lifecycle management methodologies.

About Methidics
Methodics delivers state-of-the-art IP Lifecycle Management, Design Data Management, and Storage and Workspace optimization and acceleration tools for analog, digital, SoC, and software development design teams. Methodics' customers benefit from the products' ability to enable high-performance collaboration across multi-site and multi-geographic design teams. The company is headquartered in San Francisco, California, and has additional offices and representatives in the U.S., Europe, China, Taiwan, and Korea. For more information, visit http://www.methodics.com
Share this post via: