No doubt that the design success of nowadays system on chips (SoCs) is directly linked to the success of cost control. More market opportunities are open for less expensive system on chips and electronic systems.
Both the design cost prediction and the resource tracking during the design process, are key to such a success
Predicting design cost need to cover all aspects: design (EDA) tools, computing servers, human resources, external IP cores, etc. All these aspects need to be tracked automatically by reporting any problem like a resource that is no longer available and measuring the impact on the subsequent design steps. Otherwise, the financial impact is significant especially in correlation with tight tape-out schedules.
INNOVA Advanced Technologies through its PDM (Project & Design Management) tool is the first software solution in the market which consider all the above aspects, simultaneously and automatically.
INNOVA Advanced Technologies has been founded in 2020 by seasoned from the semiconductor industry. Its solution is intended for designers as well as design managers of complex and multi-domain projects, ranging from microelectronics to computer science. It helps them to manage projects and resources in one unique place.
​INNOVA Project and Design Management (PDM) software Platform offers a single portal that links areas that were, until now, considered separately. This includes all management of resources of a complex design project: design flows and tools, computing servers, and also human resources.
Being fully compatible with design and IT systems in place, this disruptive and non-intrusive solution serves as a single portal. It helps reduce the complexity of using design tools and dedicated design environments. Thanks to its rich reports including alarms and dashboards, optimal decisions can be made in terms of design resource planning, monitoring and resource adjustment through a complete design live cycle.
For each design step, traditionally dozens of software tools are required and often several hundred design engineers are involved throughout a project such as designing a communication chip or a microprocessor.
There are also significant intangible resources involved: predesigned blocks, various software and design flows, computer resources (server farms, etc.), and libraries in connection with companies manufacturing electronic components.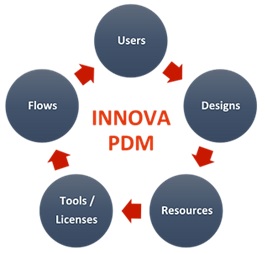 PDM as an open and secured platform correlates design projects directly with the involved design resources. The tool is fully customizable and both graphical and script-based APIs are open to the users.
Thanks to the INNOVA PDM Platform, it is possible to consult information related to current projects: progress, rate of occupation of human resources, the anticipation of possible delays, and the effects they may have on the rest of the design chain, etc. This multidimensional tracking of EDA tool licenses, servers either local or cloud-based is real time.
Capitalization on past experiences is made possible through consultation and a deep reporting of past projects. PDM provides a clear prediction (ML-based) & tracking answers the fundamental question of how much design resources I need to start my design project and how may I track real-time design task execution and report any problem. In addition to easy tracking, PDM provides scheduling capabilities to automatically manage design tasks and jobs based on resource availability.
Compared to traditional and ad-hoc internal solutions, INNOVA claims up to 30% cost reduction with PDM in place within a corporation.
A webinar is planned by INNOVA where INNOVA experts will be presenting typical cases of how to reduce the cost of EDA licenses and computing servers and also how to plan the most optimal and cost-effective package of tool licenses for a design project. You can register for this webinar here: Reduce design cost by better managing EDA tool licenses and servers
For more information about INNOVA Advanced Technologies you can visit their website here: https://www.innova-advancedtech.com/
Also Read:
IDEAS Online Technical Conference Features Intel, Qualcomm, Nvidia, IBM, Samsung, and More Discussing Chip Design Experiences
TSMC OIP – Enabling System Innovation
2023: Welcome to the Danger Zone
Share this post via: