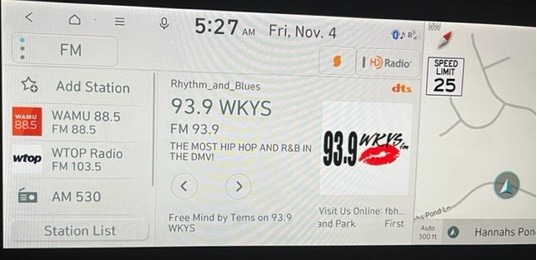 Current owners of a wide range of Hyundai connected cars encompassing multiple model years are receiving or have received notification of the availability (i.e. eligibility) for a software upgrade that will connect their in-vehicle radio to the Internet. For those owners who receive and have this update installed they may not realize they are experiencing a first-of-its-kind experience – a connected or hybrid radio experience in a mass market vehicle.
Notably, the experience is enabled in the Hyundai Ioniq 5 – an electric vehicle. I write "notably" because we just learned this week that Ford Motor Company's F-150 Lightning comes with no AM radio. The Hyundai Ioniq 5 proudly preserves AM radio along with Internet access that allows the system to display station ID and logo, streaming promos for the station and its Website, music track and artist, and streaming elements of broadcast advertising.
All of this extra information related to the broadcast is referred to as "metadata" and broadcasters have struggled to deliver the information in a consistent manner – while automakers have struggled to render the information consistently. Working with Xperi, Hyundai is delivering all of it – now – in millions of dashboard systems.
The integration of this metadata – what Xperi calls DTS AutoStage – is only the first step in the transformation of broadcast radio. The availability of the Internet connection and the data ultimately means that future software updates could add content search capability to the radio experience or even alerts and links to further information, Internet content, or e-commerce opportunities.
It was just three years ago that NextRadio gave up on trying to deliver a hybrid radio experience via activated FM chips in Android phones with cellular service from Sprint – now part of T-Mobile. It was a valiant effort and a clever solution leveraging HD Radio technology to create a searchable broadcast solution. The complexity of the NextRadio solution and Apple's refusal to activate the FM chips in its own phones doomed this ambitious effort.
Audi was next with its own concept of a hybrid radio with a system developed entirely in house and originally deployed only in the most expensive Audi, the A8, and originally only in Europe. Parent Volkswagen has since indicated its plans to bring its hybrid radio platform to all Volkswagen's brand – and that rollout is steadily proceeding.
The focal point of the Audi hybrid solution – connecting the radio to the Internet – was the ability of the in-car radio to grab a radio station's Internet stream more or less seamlessly when the terrestrial signal was lost due to a car driving out of range. The idea was as clever as the NextRadio solution, but it was not scalable beyond Volkswagen vehicles and it, too, was and is a bit of a Rube Goldberg proposition with inconsistent execution across platforms.
Mercedes Benz arrived on the hybrid radio scene last year with its own hybrid radio enabled by Xperi's DTS AutoStage technology. The Mercedes offering added unique HMI elements such as a kind of carousel of radio station logos that made manual searching for a station in a car a truly unique experience and potentially less distracting than turning a knob – though maybe more distracting than pressing a button.
To be clear, Mercedes was first to deploy the DTS AutoStage solution. Hyundai is the first to bring DTS AutoStage to the masses. In fact, Hyundai is simultaneously bringing DTS AutoStage to multiiple Kia and Genesis models as well. Tesla owners may also soon discover their vehicles infused with DTS AutoStage.
The onset of electric vehicles has thrust the in-car experience of radio into the spotlight. Lucid Motors announced this week that its full line-up of vehicles will be equipped with SiriusXM satellite radio technology. The announcement cut through the growing suspicion that emerging EV makers – like Tesla – were somewhat ambivalent about including SiriusXM reception in all their vehicles.
TuneIn has lately been pointing the way to an exclusively Internet-based in-vehicle radio experience. TuneIn recently added Rivian to its existing roster of automotive partners which already includes Tesla, Mercedes, Polestar, and Jaguar Land Rover. TuneIn is also available via Amazon's Alexa digital assistant wherever it is available in an embedded system.
Mercedes, Hyundai, and Tesla are all pointing the way toward a digital, searchable, delightful embedded radio experience that includes FM AND AM. Hyundai is first to bring the DTS AutoStage hybrid radio technology to the masses, but it won't be the last.
Also Read:
Mobility is Dead; Long Live Mobility
Configurable Processors. The Why and How
Requiem for a Self-Driving Prophet
Share this post via: