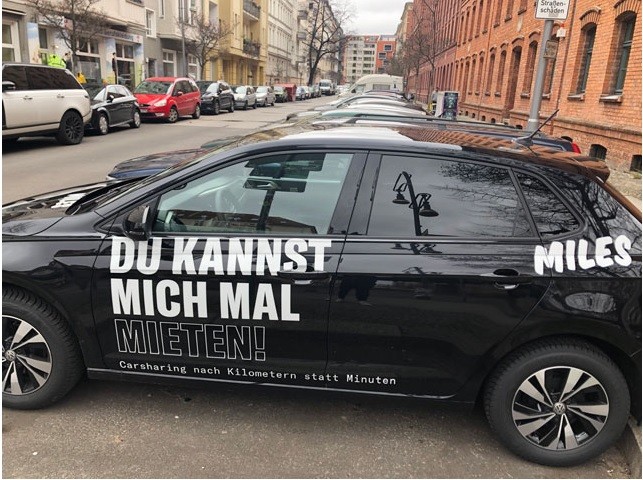 What the hell is going on in the automotive industry. Every automotive executive is talking mobility, mobility, mobility while simultaneously divesting every mobility asset that has been amassed over the past 10 years of surging mobility mania.
The latest spinoff of a mobility asset was Volkswagen's sale of its WeShare car sharing operation to Berlin-based Miles Mobility. The move was a bit of a shock given Volkswagen's build up of autonomous vehicle technology with its Ford-Argo.ai joint venture; its Moia demand-responsive transit solution; and even its acquisition of Europcar car rental operations.
According to the terms of the MILES deal:
Volkswagen WeShare has been acquired by MILES Mobility and will be integrated into the car sharing company's portfolio
WeShare customers will "benefit" from offerings in eight German cities
Volkswagen will deliver 10,000 all-electric vehicles to MILES from 2023
MILES Mobility will be integrated into Volkswagen's mobility platform
Volkswagen looked ready to bring its unique brand of mobility to the world on a scale comparable to its world-leading vehicle sales. But, no, Volkswagen stepped back from its Argo.ai self-driving venture with Ford Motor Company and now WeShare has been banished leaving Moia and Europcar and ambitious mobility visions in tatters.
To be fair, VW's WeShare was up against both MILES, an aggressively expanding upstart, and SIXT a global car rental leader with overwhelming resources, infrastructure, and marketing muscle. Maybe it's not so much of a shock that VW folded its mobility tent. An important wrinkle, of course, is the fact that VW was up against B2C partners with greater expertise and ability to communicate and interact directly with consumers – not a strength at VW, a traditional car making B2B operator selling cars through dealers.
Volkswagen is not alone. The company has simply joined the conga line of car companies shimmying their way out of mobility from BMW and Mercedes Benz selling Share Now to Stellantis to GM's laying off Maven car sharing. (The Maven brand lives on, kind of.)
But the list of mobility ventures shuttered or sold off is long – maybe too long – to list here. One of the most recent was Ford's off-loading of its TransLoc demand responsive transit operation to Modaxo earlier this year. TransLoc was a large, nationwide operation managing hundreds of millions of rides for hundreds of operators – but Ford turned in a different direction.
Ford has been a leader in abandoning mobility acquisitions, start ups, and trial programs. Nothing has seemed to stick – which has been the way at most auto makers.
The post-mortems on these ventures usually reveals a reassessment by bean counters proclaiming the obvious – that the operations were unprofitable. The pulling of the plug comes next.
And then there were four or maybe more? Renault (Mobilize), Stellantis (FreeToMove), Hyundai (Mocean), and Toyota (Kinto) remain committed to the mobility mantra with operations in various locations around the world including car sharing, ride hailing, rental and subscription-based mobility operations.
Chinese car makers and their partners, perhaps reflecting China's car sharing leadership, have been stepping into the mobility void with car sharing operations of their own and subscription-based vehicle access offerings. Nio Motors and Lynk & Co. are the most prominent here, but they have company.
Subscriptions are rapidly emerging as the go to solution, displacing "mobility" as the dominant modality.  Here, too, car makers have launched and crashed multiple subscription-based solutions, but the concept has caught on with third parties like Autonomy and FINN and dozens of others.
The automobile subscription appears to be an idea whose time has come. Cars are in short supply and interest rates are on the rise and the workplace is mobile – with multiple rounds of layoffs hitting the news.
Subscriptions eliminate tortuous vehicle acquisition paperwork at the dealership and tend to sidestep credit checks and most obviously, the long-term commitment to a particular automobile. Speed and simplicity are driving this trend.
The even more fundamental attraction derives from the need among car makers to capture vehicle revenue on an ongoing basis – along with the need to manage battery reverse logistics at the vehicle's end of use. Car subscription terms and conditions still may look onerous to some – too expensive or restrictive. But car makers and third parties are steadily reducing their rates, easing their terms, and expanding the range of available vehicles.
Strategy Analytics has identified 46 individual car subscription operators including dozens of startups. Many of these operators are focusing on electric vehicles – the price tags of which have placed them beyond the means of many.
Current economic conditions appear to favor car subscriptions as they simultaneously discourage vehicle acquisitions. Subscriptions are clearly a bright light in a bleak mobility landscape.
Also Read:
Requiem for a Self-Driving Prophet
Flash Memory Market Ushered in Fierce Competition with the Digitalization of Electric Vehicles
Share this post via: