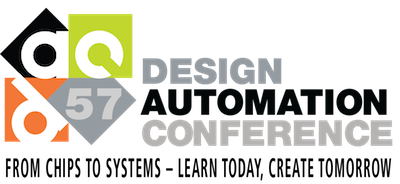 This is going to be a record setting year for DAC content and attendance, absolutely!
My first DAC was in 1984 in Albuquerque New Mexico, right out of College, and I married my beautiful wife two months later. Thirty six DAC's later I have four grown children, grandchildren, and the number one semiconductor design portal in the world. What an amazing ride!
This year however will be one for the record books. 57th DAC has gone virtual enabling a world wide conference experience. Due to the pandemic SemiWiki activity has increased dramatically which is a good sign for virtual conferences. Semiconductor professionals are now online more than ever before and the surge continues. The question is: Will we go back to live conferences in 2021? One of the biggest arguments for live events is the networking. It will be interesting to see how the virtual networking goes next week. We can better answer that question in our post DAC coverage.
So without further ado, here is my DAC must see list:
Monday July 20, 11:00am – 11:45am
Continuing Evolution of the Electronics Ecosystem
Speaker:  Wally Rhines – Mentor, A Siemens Business, Wilsonville, OR
Wally is the best speaker EDA will ever have so you don't want to miss this one. It's in the DAC Pavilion. I got a sneak preview and it does not disappoint.
Cloud Talks: There is quite a bit of cloud content again this year but honestly I'm tired of talking about it. Just do it already. If you are not designing chips in the cloud like Google, Amazon, Facebook, Huawei, Apple, and the other A list system companies we will be seeing you in the rearview mirror.
The virtual DAC booths are up now and here are the ones I know personally and professionally (alphabetically). The big value here is the chat and private meetings in my opinion. Some of the booths have CEOs available for chats so you do not want to miss that networking opportunity:
Aldec: Chat with Louie De Luna (10+ years with Aldec)
Established in 1984, Aldec is an industry leader in Electronic Design Verification for SoCs/ASICs and FPGAs and offers a patented technology suite in the areas of RTL Design and Mixed-Language Simulation, FPGA-based Emulation and Prototyping with multi-FPGA partitioning, Design Rule Checking, Clock Domain Crossing, VIP Transactors, Requirements Lifecycle Management, Embedded Development Kits, High-Performance Computing/Acceleration, DO-254 Functional Verification and Military/Aerospace solutions.
Agnisys: Chat with CEO Anupam Bakshi
Agnisys Inc. is a leading supplier of EDA software for solving complex design and verification problems in system development. Our products provide a common specification-driven development flow to describe registers and sequences for SoC and IP projects, enabling faster design, verification, firmware creation, and validation. Based on patented technology and intuitive user interfaces, our products increase productivity, efficiency, and work quality of individual engineers and project teams, while eliminating system design and verification errors.
Altair:  Chat with Long time EDA professional Jim Cantele
Altair is a global technology company that provides software and cloud solutions in the areas of product development, high performance computing (HPC) and data analytics. Altair enables organizations across broad industry segments to compete more effectively in a connected world while creating a more sustainable future.
AMIQ EDA: Chat with CEO Cristian Amitroaie
AMIQ EDA provides tools – DVT Eclipse IDE, DVT Debugger Add-On, Verissimo Linter, and Specador Documentation Generator – that enable design and verification engineers to increase the speed and quality of new code development, simplify legacy code maintenance, accelerate language and methodology learning, and improve source code reliability. Working with 100+ companies in 30+ countries, AMIQ EDA is recognized for its high quality products and customer service responsiveness.
ANSYS: Chat with EDA long time professional Marc Swinnen.
As the global leader in engineering simulation, Ansys Semiconductor solutions are the industry's leading provider of power integrity, thermal analysis, and reliability software for chip designers across all market sectors – from ultra-high speed radio frequency designs for 5G to the world's advanced processors for autonomous vehicles, HPC, AI and more.
Breker Verification Systems:  Chat with CEO Adnan Hamid.
Breker's Test Suite Synthesis accelerates and simplifies the production of verification test content for UVM, SoC and Post-Silicon environments. In use across the semiconductor industry, customers have seen a 5X acceleration in content production time, with equally dramatic improvements in coverage.
Circuitsutra Technologies: Chat with CEO Umesh Sisodia.
CircuitSutra is an Electronics System Level (ESL) design IP and services company, headquartered in India, having its offices at Noida, Bangalore and Santa Clara (USA). It enables customers to adopt advanced methodologies based on C, C++, SystemC, TLM, IP-XACT, UVM-SystemC. Its core competencies include Virtual Prototype (development, verification, deployment), High-Level Synthesis, Architecture & Performance modeling, SoC and System-level co-design and co-verification. CircuitSutra is developing modelling infrastructure for the RISC-V ecosystem.
Cliosoft: Chat with EDA and IP professional Simon Rance.
Concept Engineering: Chat with CEO Gerhard Angst
Established in 1990, we are celebrating 30 years of innovations in 2020. Concept Engineering is the leader in electronic system visualization software, with applications in multiple industries. We help engineers debug complex semiconductor designs, and provide powerful OEM visualization engines to computer aided tool developers for their EDA product lines.
Defacto: Chat with CEO Chouki Aktouf.
Defacto Technologies is an innovative chip design software company providing breakthrough RTL platforms to enhance integration, verification and Signoff of IP cores and System on Chips. This year we are announcing the latest release of our RTL Design Platform: STAR 8.5. In conjunction with new customer success stories in SoC Integration areas including UPF promotion and demotion, support of RTL<->IPXACT translation and many other new capabilities our experts will provide live presentations on a dedicated Zoom.
Empyrean Software: Chat with CEO Jason Xing
Empyrean Software is an EDA and service provider, serving fabless semiconductor design houses and IDMs throughout Asia, North America and Europe with unique and best in class design solutions. Our President / CEO of North America, Jason Xing, prepared a short video on our offering in this year's DAC. Also you will find ALPS-GT and Skipper intro videos.
Fractal Technologies: Chat with CEO Rene Donkers
since 2010 Fractal has been solely dedicated to providing comprehensive design and technology agnostic solutions to enable its customers and partners to validate the quality of internal and external IPs. Thanks to its validation solutions and worldwide support, Fractal Technologies maximize value for its customers either at the sign-off stage, for incoming inspection or on a regression testing fashion within the design flow process. Come and see Fractal Crossfire and IPDelta.
GLOBALFOUNDRIES: Chat with the GF foundry staff.
GLOBALFOUNDRIES (GF) is the world's leading specialty foundry. We deliver differentiated feature-rich solutions that enable our clients to develop innovative products for high-growth market segments. GF provides a broad range of platforms and features with a unique mix of design, development and fabrication services. With an at-scale manufacturing footprint spanning the U.S., Europe and Asia, GF has the flexibility and agility to meet the dynamic needs of clients across the globe. GF is owned by Mubadala Investment Company. For more information, visit globalfoundries.com
Intento Design:  Chat with EDA and IP professional Daniel Borgraeve.
Intento Design develops analog EDA to eliminate the productivity gap inherent to the analog design process and empower our customers in achieving FIRST-TIME-RIGHT analog IP design in drastically less time.
Magwell: Chat with CEO Dundar Dumlugol
Magwel® offers 3D solver and simulation based analysis and design solutions for digital, analog/mixed-signal, power management, automotive, and RF semiconductors. Magwel software products address power device design with Rdson extraction and electro-migration analysis, ESD protection network simulation/analysis, latch-up analysis and power distribution network integrity with EMIR and thermal analysis.
Menta: Chat with Managing Director Yoan Dupret
For ASIC and SoCs designers who need fast, right-the-first time design and fast time to volume, Menta is the proven eFPGA pioneer whose design-adaptive standard cells based architecture and state-of-the-art tool set provides the highest degree of design customization, best-in-class testability and fastest time-to-volume for SoC design targeting any production node at any foundry.
Mentor @ DAC  Conference Overview – 3 papers – 8 posters – Several videos covering Mentor news from DAC – Booth Visitors receive a $5 Starbucks gift card. Main Booth and Cloud Booth.
Methodics: Chat with Michael Munsey (30+ year EDA professional)
Methodics is recognized as the premier provider of IP Lifecycle Management (IPLM) and traceability solutions for the Enterprise, including Functional Safety and IP security assurance. Methodics solutions enable high-performance hierarchical analog/mixed signal, digital, software, embedded software, and SOC design collaboration across multi-site and multi-geographic design teams, assuring full traceability of the use and reuse of important design assets for Functional Safety compliance with such standards as ISO26262 and DO-254.
Mixel: Chat with CEO Ashraf Takla.
Mixel is a leading provider of mixed-signal IPs and offers a wide portfolio of high-performance mixed-signal connectivity IP solutions. Mixel's mixed-signal portfolio includes PHYs and SerDes, such as MIPI D-PHY(SM), MIPI M-PHY®, MIPI C-PHY(SM), LVDS, and many dual mode PHY supporting multiple standards. Mixel was founded in 1998 and is headquartered in San Jose, CA, with global operation to support a worldwide customer base.
NetApp:  Chat with long time EDA professional Scott Jacobson.
The cloud is clearly the next phase of development for modern EDA workflow design. Traditional EDA workflows are being strained to support the levels of compute and storage leading edge process technologies like 10nm, 7nm and 5nm require. This is placing a heavier burden on IT infrastructures than traditional on premises solutions can bear. When organizations take advantage of cloud elasticity they can operate EDA workflows at lower costs when not busy and rapidly scale when more resources are needed. This is why, as EDA vendors, designers, and semiconductor manufacturers develop more integrated workflows, the cloud will be the next logical phase of integration and NetApp solutions are there to make this journey successful.
Semifore:  Chat with CEO Rich Weber.
Semifore generates the hardware/software interface (HSI) for SoC designs, including the synthesizable RTL, documentation and testbench. We read available specification languages to gather design intent and output the formats needed for all stakeholders, unifying the entire design team around one robust and well-documented HSI. Semifore builds the foundation layer for SoCs that run software, allowing the design team to focus on architectural innovation with the confidence that the HSI will support their breakthroughs.
SmartDV: Chat with the SmartDV staff.
SmartDV Technologies is the Proven and Trusted choice for Verification Intellectual Property (VIP) and Design IP. SmartDV offers the largest portfolio of high-quality standard or custom protocol VIP compatible with all verification languages, platforms and methodologies supporting simulation, emulation, FPGA, formal verification, and post-silicon validation platforms tools used in a coverage-driven verification flow.
Synopsys: Chat with the Synopsys staff.
Synopsys technology is at the heart of innovations that are changing the way people work and play. Self-driving cars. Machines that learn. Lightning-fast communication across billions of devices in the datasphere. These breakthroughs are ushering in the era of Smart Everything where devices are getting smarter, everything is connected, and everything must be secure. Powering this new era of digital innovation are high-performance silicon chips and exponentially growing amounts of software content. Synopsys is at the forefront of Smart Everything with the world's most advanced technologies for chip design, verification, IP integration, and software security and quality testing. We help our customers innovate from silicon to software so they can bring Smart Everything to life.
Tortuga Logic: Chat with CEO Jason Oberg
Recently hackers have been targeting the heart of our most complex systems, the FPGAs, ASICs and SoCs that run and control them. Tortuga Logic, founded in 2014, specializes in hardware security solutions and services. Our Radix solution provides advanced analysis that helps security and verification teams identify and isolate security vulnerabilities before the device is manufactured, saving costly design re-spins or catastrophic system failure due to an attack. Radix has been developed to fit seamlessly into existing design and verification tools and methodologies protecting your current verification investment.
Share this post via: