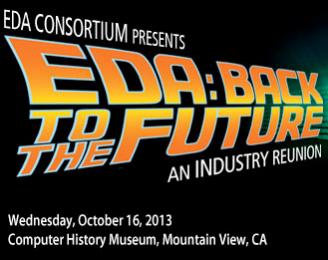 Electronic Design Automation Software and Semiconductor Intellectual Property are not so much the tail that wags the dog, rather they are like the heart of an elephant, tiny in comparison but without which there is no elephant. There is no doubt that EDA and IP have been key enablers of the semiconductor industry for the past 50 years so what better time to celebrate our achievements!
True story: When my son invited me to career day at his elementary school he asked me what I did for a living. After I explained EDA and what I did he went silent then said, "Dad, you fly planes, right? Can you talk about that?" I talked about airplanes and we all made paper ones and tossed them around the classroom. It was a good thing that I did because the other father was a Fireman (coincidently my son is now a Fireman).
Fortunately, with smartphones, I'm a rock star now. My kids get new iPhones every two years for Christmas and I'm the only Dad around that actually knows what is inside them and what new features are coming around the corner. Thank you EDA and IP!
As Paul McLellan wrote in "Back to the Future: 50[SUP]th[/SUP] Anniversary of EDA", EDAC is hosting an event to celebrate 50 years of EDA on October 16[SUP]th[/SUP] at the Computer History Museum:
Nearly five decades ago, a new era in electronics innovation was born: Electronic Design Automation (EDA). And the world has never been the same. Before EDA, integrated circuits were designed by hand and manually laid out. EDA changed all of that, providing ways to automate the design process and take electronics to places never dreamed possible.
Join us at this sure-to-be unforgettable party hosted by the EDA Consortium as we recognize the EDA industry and its rich history. Special guests include industryluminaries and alumni who will join with present day members of our community to celebrate the past, look to the future, connect with old friends and make new ones. Festivities include a retrospective from Bill Joyner, entertainment and anauction to raise funds for the preservation of EDA history by the Computer History Museum.
In 1989 the EDA Consortium (EDAC) was founded "To promote the health of the EDA industry, and to increase awareness of the crucial role EDA plays in today's global economy." Well they are certainly doing that here so let's give them our full support. My beautiful wife Shushana and I will be there and it would be a pleasure to meet you!
lang: en_US

Share this post via: