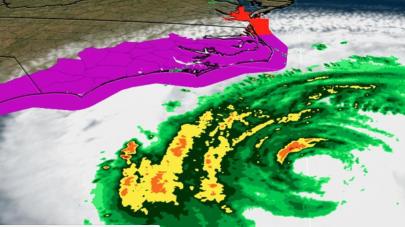 Here we go again. A hurricane is closing in on the U.S. East Coast and General Motors' OnStar connected car team – now part of something called Global Connected Consumer Experience – is AWOL.
While mandatory evacuations have been ordered and two-way highway connections to the coast have been switched to single direction exit routes to the mainland, OnStar is once again missing an opportunity to offer a public service to its own customers as well as to non-GM-owning drivers. While AAA is posting bulletins and helpful tips for drivers, OnStar remains mute – a glaring lost branding opportunity if there ever was one.
For those unfamiliar with the OnStar connected car platform, OnStar is the more-or-less familiar "blue button" located on the lower rim of rear view mirrors in General Motors vehicles including Chevrolets, Cadillacs, GMCs and Buicks. In fact, GM equips all the vehicles it sells to consumers with this blue button which allows GM vehicle owners to summon emergency assistance in the event of a crash or simply access roadside assistance or other less urgent requests.
Of course, OnStar is most famous for automatically calling for assistance in the event of a cash that results in an airbag deployment – which is especially important in the event of an unconscious driver. All of this means that the OnStar command center in downtown Detroit is receiving requests for assistance along with critical vehicle diagnostic data from cars in and around the hurricane impact zone.
Perhaps more importantly, OnStar is in a position to communicate vital information to its customers in those same zones via its in-vehicle systems or its smartphone apps. In addition, OnStar is in a position to share its view of the entire geographic area correlated to the kinds of requests for assistance that it is receiving – a valuable resource for regional government authorities, news reporting organizations and the general public. But, as a resident of the soon-to-be-impacted area and with a GM owner in my family, I can honestly say GM and its OnStar team are asleep at the switch.
n past hurricanes, such as Katrina among others, GM has turned OnStar on for customers with lapsed accounts and attempted to share evacuation route information. Some day GM will be able to share probe-based traffic information that might help customers and the general public find the clearest routes to safe havens.
But it's not happening this time. The silence from Detroit is deafening and will soon be drowned out by howling Florence-related winds and the pronouncements from AAA. Where have you gone, OnStar? A nation turns its lonely ears and eyes to you.
Share this post via: