I've been an Electrical Engineer and a car driver since 1978, so I've always been attracted to how the automotive industry designs cars to be safer for me and everyone else around the globe. According to statistics compiled by the CDCI learned that some 33,700 Americans died by motor vehicle crashes in 2014, which is the leading cause of death in our country. The ISO 26262 functional safety standard is widely used in the automotive industry as a way to create a set of standardized practices for designing and testing products, and it even covers the qualification of hardware and software.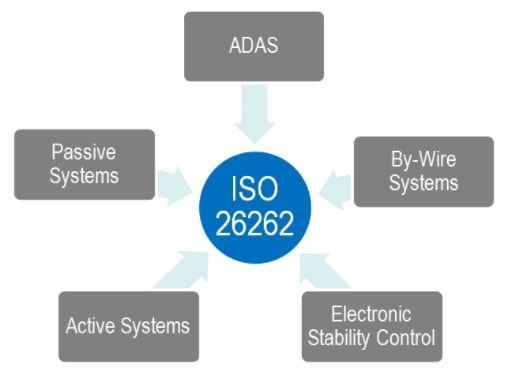 Many EDA and IP vendors have decided to serve the safety-critical and automotive markets, so they need to get their tools and hardware qualified for use in designs and verification flows at all criticality levels up to and including ASIL D. Mentor Graphics has just announcedthat their ReqTracer tool used for requirements management and tracking is qualified for use in ISO 26262 flows.
The folks at Mentor have something called the Mentor Safe functional safety assurance program, which includes all of the following software tools:
ReqTracer – requirements management and tracking
Tessent – silicon test and yield analysis
Nucleus SafetyCert – real time operating system
Volcano VSTAR AUTOSAR – operating systen and VSW stack
Related blog – Mentor Safe Program Rounds Out Automotive Position
Mentor has a strong presence in automotive by supplying such a wide range of software to OEM and Tier 1 companies. With ReqTracer being the newest member of the Mentor Safe tool qualification it includes:
A description of the tool classification process
A description of all ReqTracer use cases
A tool classification report, fully justifying a TCL 1 classification for all work flows
Related blog – Coverage Driven Analog Verification
The inputs and outputs of ReqTracer are shown below to give you an idea of how it would fit into your electronic product design flow: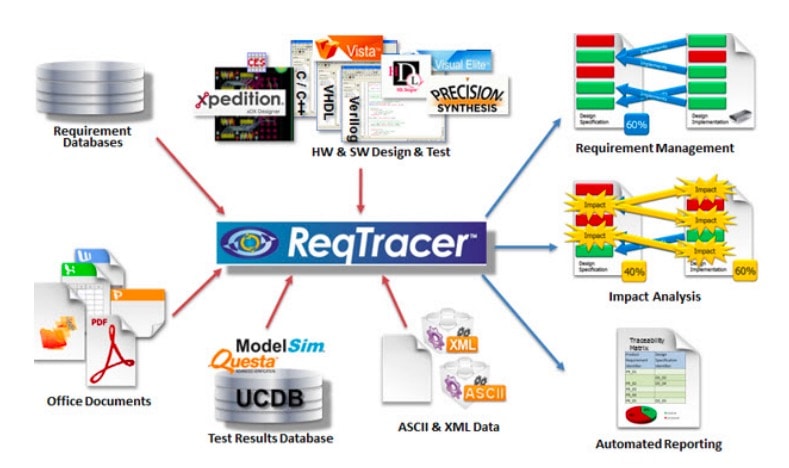 Features and benefits of using a tool like ReqTracer include:
Enables you to trace requirements throughout the entire design process
Requirement changes can be managed and weighed
All of your project documents can be linked with other tools for design, verification and implementation
You get to see graphical reports that are automated
Quality goes up from automated coverage analysis
Process improvements can be tracked
You know that design requirements are fully met
Regulatory requirements are satisfied
Related blog – Coverage Driven Verification for Analog? Yes, it's Possible
Engineers at ST Microelectronics in Agrate Brianza, Italy have used the ReqTracer tool in order to trace requirements all the way to source code in the design of the ST SPC56E microcontroller, a chip used for automotive safety projects like power steering, active suspension and radar for adaptive cruise control.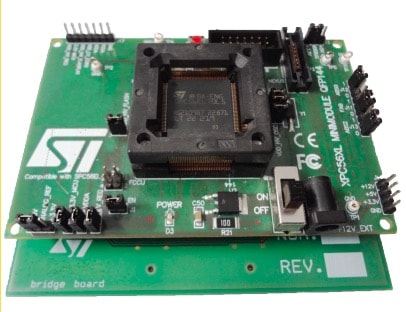 Alessandro Sansonetti from STMicroelectronics became convinced of the benefits of using an automated requirements tracking system, "We discovered immediately that a lot of requirements were simply not correctly traced through to the sourcecode. The potential of the tool was obvious and I pushed the team to make an investment."
Summary
Our automobiles provide us the greatest amount of travel freedom on a daily basis, so it's no surprise that vehicle safety is paramount for both drivers and designers. Since Mentor Graphics has some 30 years of experience as a vendor to the automotive market, their list of tools in the Mentor Safe program continues to grow with ReqTracer being the latest addition. It's worth taking a look at how these ISOS 26262 qualified software tools can help your next safety-critical project get through the design and validation phases more quickly than using other, more manual approaches.
Share this post via: