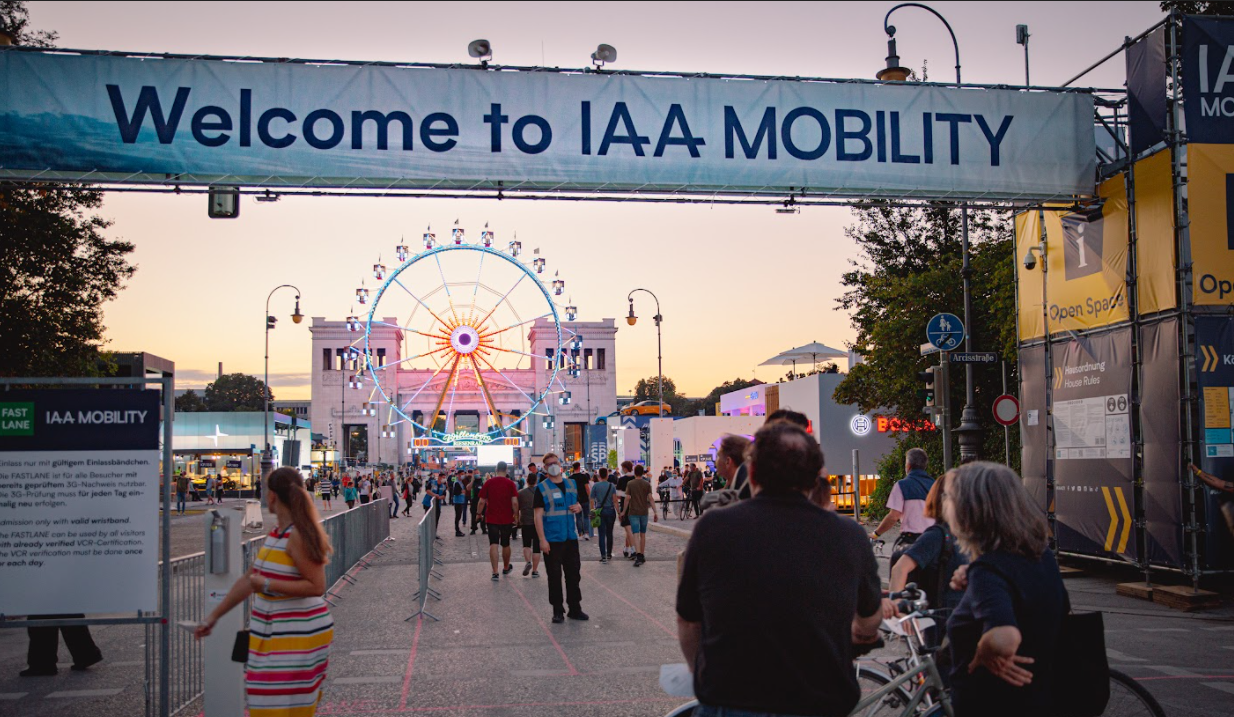 IAA Mobility held in Munich last month was the first post-pandemic international auto show to take place outside of China. The organizers positioned automotive displays in city-center plazas while car companies rubbed shoulders with large suppliers and tiny startups on the show floor at the conference center.
Attendees would have been forgiven for confusing IAA with Hannover's CeBIT of old or even Las Vegas' CES, though it was not nearly as large as either of those events.  IAA Mobility brought a unique un-car show vibe to the world of car shows with two halls devoted to bicycles and e-bikes, a large outdoor test drive area, and multiple stages for speakers to expound on sustainability and electrification.
Attendance was robust, though figures were not available. There were some notable non-exhibitors including Toyota, Nissan, Honda, Stellantis, and Volvo, among others.  Participants were nearly universally masked and international travelers could obtain free COVID-19 tests on-site for their return flights.
The two most important announcements at the event included Mobileye's planned launch of a robotaxi service in Munich in cooperation with leading global rental car company Sixt creating – with Moovit – two multimodal transportation platforms; and Renault's Megane E-Tech, an EV crossover equipped with 26 safety features and running Google's Android operating system and cloud services from its 24-inch screen on Qualcomm's Snapdragon processor – the beginning of a tidal wave of Qualcomm/Google-equipped cars to come in 2022.
Most notable of all, though, with the onset of 5G poised to alter the automotive industry, was the absence of wireless carriers at the show. This absence was striking given the fact that BMW brought its iX Vision car to IAA Mobility. Set for early 2022 availability, the iX EV crossover is likely to be the first 5G-equipped car available to consumers outside of China.
The iX will be equipped with a first-of-its-kind dual SIM solution enabling owners to add their car to an existing wireless plan for a one-time 10 Euro activation fee. After that initial fee, a Vodafone "One Number Car" plan will cost €5 a month.
BMW is also bringing 5G to the i4 and the so-called "Personal eSIM" functions enabled by BMW and Vodafone will be portable. Customers will be able to transfer the settings of the Personal eSIM to other 5G-enabled BMWs including rental or loaned vehicles.
Nevertheless, neither Vodafone, Deutsche Telekom, nor Orange saw fit to present their connectivity products, services, or vision for the emerging world of multi-modal mobility at IAA.  Google and Apple were two other notable no-shows, though both companies run their own events for users and partners.
Google, with a main office near the Marienplatz in downtown Munich, provided panel moderators and speakers to the robust agenda of presentations on a wide range of transportation and technology topics.  You could smell the existential anxiety in the air at IAA with car makers shifting their powertrains to electricity while experts continued to debate the merits of hydrogen propulsion.
The importance of 5G connectivity appeared to get short shrift. Wireless marketing messages related to connecting cars was left to Qualcomm and Huawei.  In fact, much of the entire car connectivity ecosystem was not present at IAA Mobility – the chipset and module makers, eSIM suppliers, connectivity platform operators, and such.
This disconnect from the connectivity community was notable as many of the safety systems and fleet operations described by robotaxi operators, Tier 1 suppliers, and the car makers at IAA Mobility themselves rely on connectivity. Even car radios – notably that latest Mercedes EQ line-up – leverage connectivity for metadata and to integrate with streaming sources.
Car makers have a common cause with carriers in "selling" 5G connectivity in cars to consumers. Strategy Analytics surveys show a growing interest in connectivity among car buyers, but the competition with smartphone use in cars remains problematic.  Car makers are making an increasingly strong case for consumers to pay for telematics services – tying advanced safety features such as GM's Super Cruise to these services – but consumers continue to opt out.
Connected cars with no connections will increasingly become a problem for car makers dependent on leveraging over-the-air software updates to keep systems up to date.  Even essential map updates and mandated requirements – such as Intelligent Speed Assistant set for a 2024 EU implementation – require connections.
Wireless carriers themselves still find it difficult to prioritize vehicle connectivity with billions in revenue flowing from smartphones and enterprise applications. The low prioritization assigned to connecting cars is especially odd given the EU mandate for eCall connectivity devices in cars.
IAA was only the latest reminder that car connectivity appears to be an afterthought for carriers – in the context of auto show participation. The un-car nature of IAA Mobility might produce a rethink next time around.
The reality is that wireless carriers around the world are actively engaged with the auto industry as 5G networks are deployed and edge computing technology is put to work to test and deploy smart city solutions integrating cars into the wireless grid.  Perhaps carriers can be forgiven for overlooking IAA in its inaugural year.  Carriers are usually absent from auto shows after all.
IAA Mobility was exceptional.  It was a car show that was something more. A different story of transportation's future was being told at IAA Mobility.  It was certainly car-centric – but it marked a shift toward a more integrated mobility solutions event filled with startups and other application developers along with auto makers and leading industry suppliers.  It's a different kind of show for a different kind of market and a different kind of mindset.
Share this post via: