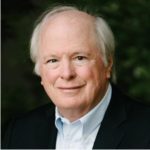 Mike Wishart has a storied career in investment banking and technology. His resume includes stints at Smith Barney, Lehman Brothers and Goldman Sachs after his Stanford MBA. He has served as a director at Brooktree, Spansion, Cypress and now Knowles. Mike is also a venture partner at Tyche Partners, a venture capital firm focused on transformative "hard tech" companies.  In 2014, he co-founded Efabless with Mohamed Kassem, formerly of Texas Instruments. Mike saw something that brought him out of semi-retirement.  I wanted to find out what that was, and what the future holds for Efabless.
Who is Efabless?
Professional, company, academic, maker or hobbyist –  expert or non-expert.  The Efabless creator platform is your fast, simple, inexpensive way to create your own chips for your own needs.
Efabless is a YouTube for chips.  YouTube, as you know, turns everyone with a phone into a creator of published video content.  Efabless turns tens of millions of software and hardware developers into creators of manufactured chips.  The result is 1000x more designers, 1000x more designs and ultimately 1000x more successes. Prototypes can be done for crazy low cost and custom silicon is easy.  Machine learning and billions of connected devices become much better when software and hardware designers can optimize their entire solution from the chip up and do it themselves.
How do we do it? We took pages from the software book and created a full end-to-end, design-to-fabrication-to-packaged parts solution that applies open-source EDA, open-source reference designs and community engagement.  Like software, we make development super-fast, super-inexpensive and most importantly super-simple.  Design / fail / redesign becomes the norm.  Sharing of designs is also made easy.  As our friend Tim Ansell of Google said in his recent talk at an IEEE Solid State Circuits Direction Workshop, "The reason open source has succeeded in software so much … is because it makes it easy for people to collaborate". 
Absolutely critical to applying the creator model to a physical chip, we address the "last mile" by providing the path to manufacturing in a way that is invisible to the designer, invisible to the manufacturer and completely automated to Efabless.  In that regard, we offer free idea-to-prototype offerings for open-source designs (partnering with Tim Ansell and Google) called Open MPW and an extreme-low-cost offering for proprietary designs called chipIgnite.  Over the past nine months, our community, including global 100 companies like IBM, professionals, academics and even a college freshman, have used Efabless to design over 160 IC's and IP blocks, with 100 designs going to tape out.
At the end of the day, we enable lots of designs, the industry grows dramatically, and everyone wins.
So why did you do this?
It's about finally fulfilling a two-decades-old dream.  My years in technology investment banking convinced me that innovation was actually broad and geographically dispersed, but the ability to create a sustainable company from that innovation was hard and required luck and access. Certainly, there was a great untapped opportunity to enable innovators to receive value for their ideas without having to create a company and even more value from harnessing the collective creative power of a global community of such people. 
There were no "crowd sourcing" or "creator economy" concepts back then, but that is what it was – sort of a Metcalf's law for networking applied to people.  After I retired from Goldman, Jack Hughes, founder of TopCoder and crowdsourcing, and Lucio Lanza, one of the visionary investors in EDA, knew of my idea and connected me with Mohamed Kassem, a brilliant person from TI who had very much the same idea and had already done very good work on it.  So, we came together and off we went. 
Since then, we built a team of incredible people with chips, systems and cloud backgrounds sharing a common purpose.  It has been a once-in-a-lifetime experience.  I am more excited and energized than I can recall in my career. It's been a great ride so far, and there's so much more to come.
Can you provide some examples of industries using open innovation?
 Open innovation engages and connects global communities from all disciplines to collaborate and deliver productive, creative, market-relevant, and extreme solutions. Software has long benefited from open community collaborative innovation in the form of open-source models.  Today it would be hard to find any major software company for which open source is not central to its strategy or business model. Online marketplaces fostered the proliferation of apps by opening the distribution of software.  Companies like Lego, Unilever and PepsiCo engage customer communities to discover new product ideas and refine their existing products.  The latest instantiation of open innovation is the content creator platform – think YouTube and Instagram – where tens of millions of users cost effectively create, share, and monetize content.
Why hasn't this idea worked for chips before Efabless?
Lots of reasons, but three in particular come to mind. First, there was only limited demand by customers to design custom chips.  Most of the hardware was standard platforms – think phones, desktops and laptops. The differentiation was provided entirely through software, and this was more than sufficient. Second, there was broadly held skepticism about the community delivering the reliability and accountability across the many disciplines required to make a chip. Third, someone needed to solve the logistics and licensing requirements to provide a simpler path to getting potentially millions of designs, and even wacky high-risk unconventional designs, from concept all the way through to manufacturing.  Having the complete path is essential if innovators are to commence an iterative software-style process of building on one another's ideas in a tangible way.  
So, what has changed? 
Machine learning and IoT brought forward an explosion in hardware platforms that needed to be optimized from the chip up to meet specific requirements for specific applications.  The traditional semiconductor ecosystem is not agile enough to be responsive to the demand for custom silicon.  The logical answer is to build internal capability, but few companies had the necessary capital or know-how. Something had to change and the concept of freely sharing technology and capability offered the promise to address the problem.
Efabless was founded to untie this knot and drive change to simplify the design, access to tools and affordable manufacturing. We reimagined the problem and developed a creator platform for chip design that knocks down the traditional business and technical obstacles to creating silicon.  The platform provides immediate access to everything needed to design a chip at no up-front cost. This includes EDA tools, foundry PDKs, IP libraries and reference designs.  While supporting experienced IC designers, the platform also enables the much larger community of designers with embedded hardware and software backgrounds to successfully create designs through streamlining the design process and reducing complexity. 
And then, Google became involved and provided credibility for open source for chips and, hence, Efabless.  This included the ambitious Open MPW program where Google funded the manufacturing of open-source designs. Efabless designed and managed the program.  It is based on a standardized SoC (called Caravel) of our creation. Caravel is basically a harness into which a user can drop their design, making it possible for the user to implement their specific idea without building the entire SoC from scratch.  Efabless, also created the OpenLane fully automated RTL to GDS flow based on the DARPA-funded OpenROAD project. SkyWater was a big part of the success of the program by open sourcing their PDK.
Importantly we solved the last mile problem by providing a streamlined, affordable, and scalable path to manufacturing.  This includes our cloud-based pre-checkers enabling designers to correctly check and correct their own designs before being integrated on the shuttle. That's a key ingredient to platform scalability. We aggregate the designs and even add an automated fill process.  Designers' jobs are made easy, and foundries are freed from the support requirements of many designs.
The results were immediate and dramatic.  Forty-five designs were created in thirty days for MPW-ONE, the first of six shuttles.  Fifty-six designs were submitted for the second, MPW-TWO. We have then followed this with our chipIgnite program where users can go from idea to packaged parts and evaluation boards for under $10K, a dramatic saving in time, cost, and complexity.  
What is the Efabless strategy? 
 We are focused on maximizing design activity and community growth on chipIgnite and Open MPW.  The two key areas of focus are to (i) make hardware and software developers aware of the simplicity of creating prototypes and custom chips on Efabless and (ii) build ubiquitous adoption at universities for both research and course work. Let's face it.  The value proposition is so dramatic that we need to make people aware of the opportunity.  Over time, we will progress to more advanced nodes and additional foundry support.  We will also provide additional layers of community enabled design, including chiplets, PCB and firmware.
What do people not know about Efabless? 
We will be integrating crowdfunding into our creator platform to match open innovation and application discovery with commercial demand.
We are orchestrating a revolution in chip design and chip sourcing. We're just getting started. Your readers can find out more about what we're up to at https://efabless.com. Check it out, join the revolution.
Also Read:
CEO Interview: Maxim Ershov of Diakopto
CEO Interview: Gireesh Rajendran CEO of Steradian Semiconductors
CEO Interview: Tim Ramsdale of Agile Analog
Share this post via: