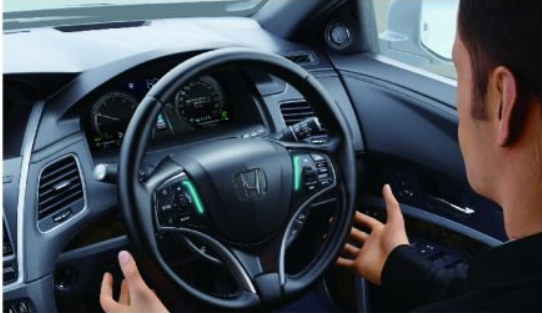 When Honda Motor Co. tied up with General Motors almost a year ago to collaborate on vehicle propulsion technology, connected car tech, and assisted driving, observers might have been forgiven for thinking Honda was surrendering its independence to catch up in the EV race. Honda reasserted its independence last week with the launch of the semi-autonomous Honda Legend in Japan – a leasable fleet vehicle equipped with the world's first Level 3 semi-autonomous driving system.
The announcement was momentous for validating SAE's Level 3 classification. Industry insiders and experts frequently dismiss these classifications as artificial and unhelpful with Level 3 being the most controversial. Level 3 automated driving allows hands-off, eyes-off driving with the expectation and understanding that the driver must be available – presumably in the driver seat – to take back driving control under appropriate conditions.
SOURCE: SAE
Level 3 semi-autonomous driving is the mode that airline pilots look at and simply shake their heads – "It will never work." Audi announced its intention to introduce Level 3 semi-autonomous driving on the A8 in Europe and then withdrew the announcement due to the lack of local regulatory support.
Honda's announcement demonstrates that auto makers will distinguish between their autonomous driving development work for so-called robotaxis and shuttles and the technology they bring to potentially mass market vehicles. Honda was happy to invest billions in GM's Cruise operation, but continued to pursue its own proprietary assisted driving platform – not unlike GM's work on Super Cruise. In fact, most auto makers have similar in-house solutions in development.
According to AutoExpress: "Honda's Sensing Elite system builds on the brand's existing Sensing Elite safety technology, but uses a more accurate global positioning system, more detailed three-dimensional maps and several sensors which give the ECU a 360-degree view of the car's surroundings.
"The most impressive part of the new Sensing Elite system is the hand-off driving mode, which uses Honda's existing adaptive cruise control and lane-keeping assist systems to assume total control over the car when driving on the motorway." The car is also capable of automatically overtaking slower vehicles as well as detecting an inattentive or unresponsive driver – automatically moving to the hard shoulder, bringing the car to a halt, and flashing its hazards and sounding the horn to warn other road users.
The Sensing Elite-equipped Legend became available in the form of 100 leased fleet vehicles in Japan each of which will cost approximately $100K due in part to the incorporation of five LiDAR sensors. The driver has up to 30 seconds to take over the driving task when alerted by the system – and is not responsible for anything that might occur during that 30 seconds.
The introduction of the car is reminiscent of GM's launch of the electrified EV-1 as a lease. GM later called back and crushed all of the EV-1's.
No immediate plans to bring the car and the new system to the U.S., U.K., or E.U. were announced. The arrival of the Honda Legend was enabled by new regulations in Japan that opened the door to Level 3-type operation.
The regulatory changes included a legal adjustment and adoption of WP.29 Automated Lane Keeping System rule. The legal change, adopted in April of 2020, allows for "the car, not the driver, (to be) responsible for the driving," according to a report in Nikkei Asia. Japan then adopted the WP.29 ALKS regulation which establishes strict requirements for Automated Lane Keeping Systems (ALKS) for passenger cars which, once activated, are in primary control of the vehicle.
The UNECE states: "ALKS can be activated under certain conditions on roads where pedestrians and cyclists are prohibited and which, by design, are equipped with a physical separation that divides the traffic moving in opposite directions. In its current form, the Regulation limits the operational speed of ALKS systems to a maximum of 60 km/h."
More details on the UN ALKS regulation: https://unece.org/transport/press/un-regulation-automated-lane-keeping-systems-milestone-safe-introduction-automated
Honda committed $2.75B (over 12 years) to GM's Cruise autonomous vehicle operation, including a $750M equity investment and has announced further plans to bring Cruise's Origin robotaxi to Japan for testing. From these announcements it is clear Honda wants a defined and limited commitment, but nevertheless a substantial stake, in the autonomous vehicle business.
When it comes to brand-defining mass-market semi-autonomous tech, though, Honda clearly prefers to keep its assets separate from GM. Honda may adopt GM's electric propulsion tech and the associated Bolt connectivity and driver assist platforms to catch up in EVs. But GM's Super Cruise will not displace Honda's Sensing Elite system. Most important of all, Honda's introduction of the Sensing Elite system on the Legend has served notice to the world that Japan – long silent in the world of autonomous driving – will be a leader.
Share this post via: