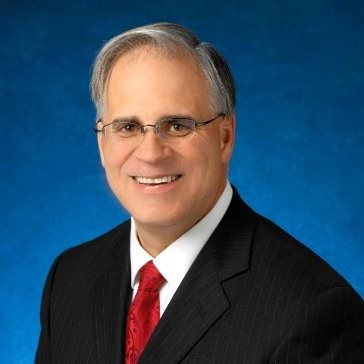 Tom Dillinger and I attended the Silvaco SURGE 2018 event in Silicon Valley last week with several hundred of our semiconductor brethren. Tom has a couple blogs ready to go but first let's talk about the keynote by Silvaco CEO David Dutton. David isn't your average EDA CEO, he spent the first 8 years of his career at Intel then spent more than 18 years at wafer processing equipment company Mattson Technology including 11 years as their president and CEO.
David started his keynote with semiconductor market drivers (PC, Mobile, IoT, and Automotive) and moved quickly into Artificial Intelligence and Machine Learning which will drive the semiconductor industry across most market segments for years to come, my opinion.
It is a little frightening if you think about it and obviously I do. Not only will our devices be smarter than we are, they will outnumber us by a very large magnitude. Privacy as we once knew it will be gone in favor of security, automation, and social media obsessions.
Automotive is an easy example. Future cars will be very much silicon based with limited human interaction. I remember waiting impatiently for my 16[SUP]th[/SUP] birthday so I could drive legally. I got my pilot's license when I turned 20 which was an even greater thrill. My grandchildren will have thought controlled flying cars so what will they look forward to when they turn 16?
David did a nice review of the technical challenges for the semiconductor industry then moved to more detail about Silvaco and the transformation they have made over the last four years. We have worked with Silvaco since 2013 starting with the blog ABrief History of Silvaco. Since then we have published 62 Silvaco blogs that have been read close to 300,000 times so we have had a front row seat for this amazing transformation.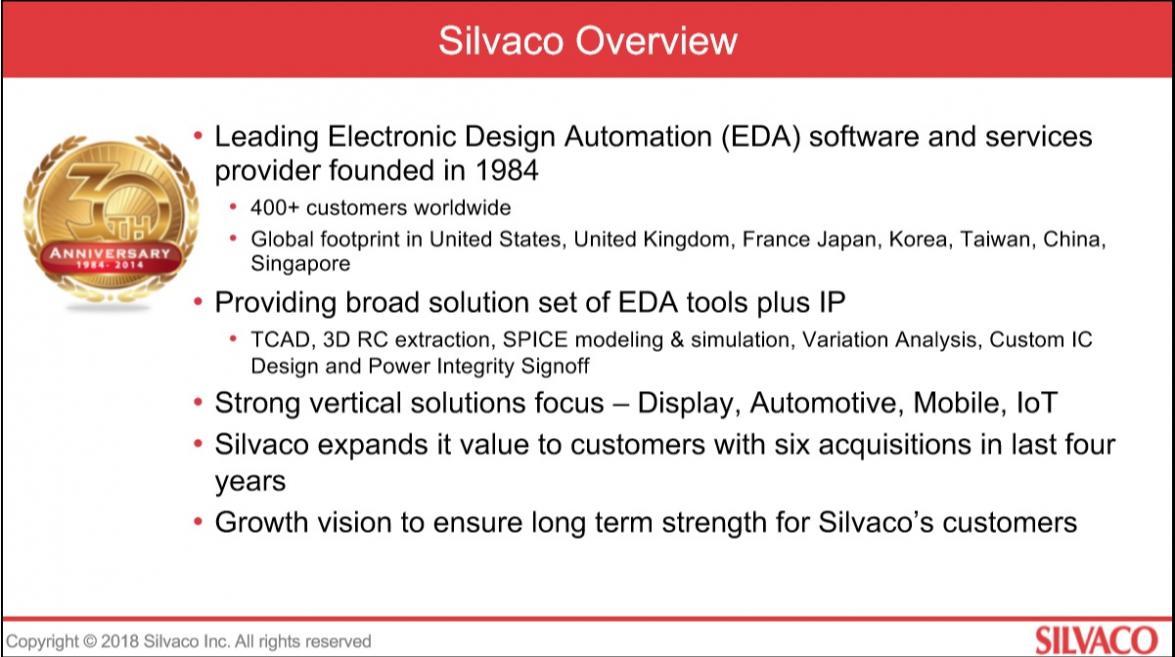 The slide deck is located HERE. It is 38 slides (24.8MB) but it is a very quick read and does a very nice job summing up Silvaco and the chip challenges they address. Here is the summary slide for those who need more motivation to download the presentation or are on a mobile device:
Global EDA Leader driving growth to provide value to our customers in Advanced IC, Display, Power and AMS
Provider delivering complete smart silicon solutions for predictive and comprehensive design work before applying $$$ to Silicon
Utilizing acquisitions combined with organic development to drive high growth rate
Custom CAD supports fabless community across many foundries
Strong IP division with leading automotive IP, Processor Platforms and unique Fingerprint tools
Financially strong driving double digit growth from the balance sheet
Supporting the industry ecosystem
I attend more conferences than most and have organized a few so for what it is worth here are a couple of suggestions. The conference itself was pretty well done but I would definitely serve lunch and if you want to attract the engineering crowd have tables in the lunchroom for all of your products or market segments and have them staffed with your field support people (AE/FAEs). Keynotes and breakout sessions are nice, marketing people are entertaining, but the face-to-face interactions with current and future customers should be left to the people who do the real work, my opinion.
Share this post via: