Silvaco has undergone one of the most impressive EDA transformations so it was a pleasure to interview the man behind it. David Dutton's 30+ year career started at Intel, Maxim, and Mattson Technology where he led the company's turnaround and finished as President, CEO, and board member. David joined Silvaco as CEO in September of 2014 and the rest is history in the making.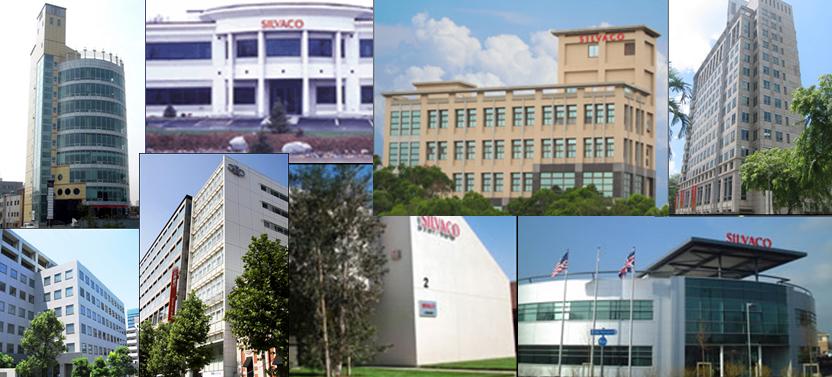 This is a picture of Silvaco's corporate offices around the world. Their Taiwan office (beige building) is between the Hotel Royal where I stay and TSMC Fab 12, across the street from Starbucks. So yes, I pass by it quite frequently.
Give us a brief introduction to Silvaco, including an overview of your current operations and product offerings?
Silvaco is a leading provider of EDA tools, used for process and device development and for analog, digital, mixed-signal, power IC, and memory design. The portfolio includes tools for TCAD, Frontend, Backend, simulations, power integrity sign off, reduction of extracted netlist, variation analysis and also IP cores. Overall Silvaco delivers a full TCAD-to-signoff flow for vertical markets including display, power electronics, optical devices, radiation & soft error reliability, analog and HSIO design, library and memory design, advanced CMOS process and IP development.
The company is headquartered in Santa Clara, California, and has a global presence with offices located in North America, Europe, Japan, and Asia.
What do you look forward to in 2017 for Silvaco?
We are coming off one of our strongest years ever with about 30% year over year growth on bookings. Silvaco has many things to look forward to this year. In 2016 we saw great new product adoption with Victory 3D, Variation Manager, and Jivaro RC reduction tools, along with SmartSpice and Expert being utilized down to 7nm by customers. We established an IP division which brings Silvaco into the fastest growing area of the Circuit Design market. We welcomed new teams from three acquisitions – Infiniscale, edXact and IPExtreme. The Silvaco family sure has grown in 2016. The semiconductor industry continues to change, and Silvaco is using these changes to aggressively grow for the future of Silvaco and our customers. In 2017 we will continue to invest in improving our products and making acquisitions that advance our position.
Which markets do you feel offer the most and best opportunities for your products over the next few years and why?
The key markets for Silvaco's products over the next few years are Display, Power, Automotive and advanced CMOS. On the display side, Silvaco's product suite is used for design of both thin-film transistor (TFT) LCD displays and organic LED (OLED) displays. With the growth in adoption of smartphones, flat-screen TVs, smartwatches and more this is an area of increasing importance. Almost all manufacturers of displays use the Silvaco suite for design and most of these designs are in high-volume manufacturing. The display market demands specific capabilities from TCAD and EDA tools, that are not mainstream, Silvaco works closely with our display customers to understand their needs and has been investing in development specific to this growing segment. We view power IC devices as a key market due to automotive, industrial and medical systems that are all increasing in IC content. In addition, Silvaco has a long history of leadership in the compound semiconductor device market which puts us in a unique position to leverage our leadership in this growth area. The automotive market is not only critical for our display and power design tools, but also our IP division has CAN FD and controllers that are key to the development of the autonomous driving market. We have also launched the MIPI I3C family of IP for sensor connectivity and IoT applications.
Advanced CMOS is an area Silvaco is not known for, but we have made a significant investment to change this in the last year. Many of our design tools are involved at 16nm and below. Silvaco is helping customers down to 7nm with our CleverTM 3D RC extraction tool. Our Variation Manager, Viso, Invar and Jivaro RC reduction tools help our customers increase performance at signoff. Our SmartSpice is utilized down to 7nm due to its accuracy and performance, and we are constantly working to improve the performance of our products.
There is a wave of consolidations going on in the semiconductor industry right now. How do all these Mergers and Acquisitions affect EDA providers like Silvaco?
It seems like not a day goes by that there is an announcement about yet another semiconductor merger. There is no doubt that our industry is changing. The current group of mergers and acquisitions of semiconductor companies seems to be driven by at least three forces: The first reason is that the design and development costs at the advanced nodes are increasing due to complexity, which drives some companies to seek mergers to effectively pool their resources. The second reason is that we are seeing a shift from semiconductors being driven by mobility to the emergence of automotive and IoT drivers. For example, the Qualcomm and NXP merger was due to Qualcomm, a leader in mobile, recognizing the shift and acquiring NXP who is a leader in automotive and IoT areas. A third force is that China is investing in semiconductor growth and is doing a lot of acquisitions to accelerate their growth. We see Silvaco is in the position to get stronger as this consolidation wave rolls through, and even our position in China will strengthen through this time. Some trends are playing into Silvaco's strengths such as display growth, power devices for automotive and analog mixed signal for IoT. Silvaco has completed four acquisitions in the last 18 months to help accelerate our growth, and they are all contributing to our expansion. We also announced our agreement to merge with Global TCAD Solutions, GTS at IEDM 2016. The transaction is expected to be completed soon.
How is Silvaco taking the initiative in growing in emerging economies?
For Silvaco, we are more committed to our growth more now than ever before. We also recently announced the opening of our office in Shanghai, China. Due to this growth, we see the need for technical talent on a global scale. We cannot rely on just one region to supply all our engineers and scientists. Silvaco already has development activity in the US, UK, France, Austria, and Japan. We are adding Russia and India technical offices as well due to the fact that these regions have grown solid technical resource bases for the software industry. We host Silvaco Symposiums in regions around the world to support the local design ecosystem. For IP, after a hugely successful REUSE 2016 in Mountain View, we are planning a REUSE 2017 show in Shanghai.
Also Read:
CEO Interview: Toshio Nakama of S2C
CTO Interview: Mohamed Kassem of efabless
IEDM 2016 – Marie Semeria LETI Interview
Share this post via: