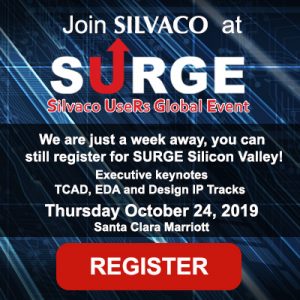 One of my great pleasures in the semiconductor industry is meeting the people who have brought us to where we are today, at the forefront of modern life. One of those people is Babak Taheri, now CEO of Silvaco who I spent time with yesterday. Babak started in semiconductors around the same time I did 30+ years ago. He has a PhD in EECS and Neurosciences from UC Davis, a Masters Degree from San Jose State and his Bachelors from San Francisco State so he is truly a Silicon Valley native. He held executive positions in engineering, R&D, and corporate management at leading technology firms including Freescale, Cypress Semiconductor, Apple, Invensense, and SRI International, he is also the holder of 28 patents.
Babak came to Silvaco as the CTO last year and was bumped up to CEO in August when David Dutton decided to go back to the equipment manufacturing business. David however is still involved with Silvaco as the Vice Chairman of the board. Having known Silvaco since its beginning I am VERY impressed by this move.
Next week is the Silicon Valley Silvaco SURGE event where Babak will be giving the keynote : From Atoms to Systems. As we all know the semiconductor business is very systems orientated now so it will be interesting to see Babak's perspective, absolutely.
SURGE brings the TCAD, EDA, and IP communities together to discuss new technologies, explore smart application integration, and discover innovative techniques for advanced semiconductor design. The event includes eight demo stations, a catered lunch, and cool prizes and giveaways for attendees.
Executive keynotes
Technology Tracks: TCAD, EDA and Design IP
Roadmap presentations
Customer and partner presentations and success stories
Eight unique demo stations
Networking with industry experts
SURGE is at the Santa Clara Marriott again this year so you can bet that the food will be great. Take a look at the agenda, after the keynotes there are EDA, TCAD, and IP tracks so something for everyone. As much as I love EDA, I'm all about IP these days so that is where I will be.
I hope to see you there!
About Silvaco
Silvaco Inc. is a leading EDA tools and semiconductor IP provider used for process and device development for advanced semiconductors, power IC, display and memory design. For over 30 years, Silvaco has enabled its customers to develop next generation semiconductor products in the shortest time with reduced cost. We are a technology company outpacing the EDA industry by delivering innovative smart silicon solutions to meet the world's ever-growing demand for mobile intelligent computing. The company is headquartered in Santa Clara, California and has a global presence with offices located in North America, Europe, Japan and Asia. For more information, visit Silvaco.com.
Share this post via: