Two weeks ago I spoke on the phone with Albert Li, Founder and CEO of Platform DA about his EDA company. Prior to founding Platform DA in Beijing, Li worked at Accelicon which was acquired by Agilent in December 2011. Mr. Li graduated from Tsinghua University and Vanderbilt University, both in Electrical Engineering, and has written over 20 technical papers. His team of engineers are experts at transistor device modeling, cell libraries and creating PDKs (Process Design Kit) for use by foundries, IDMs and circuit designers. They also have branch offices in Shanghai and Taiwan Hsinchu. Their web site at www.platform-da.com features both English and Chinese content.
Related – EDA mergers continue: Accelicon acquired by Agilent
Products
There are three main EDA products and the first one is for device modeling and QA called MeQLaband it can be used for applications like:
Device modeling for FinFET and planar devices
Statistical modeling and mismatch
High voltage device modeling, sub-circuit modeling
Built-in modeling library and model card QA
SRAM modeling
Noise modeling and circuit analysis
Design or process optimization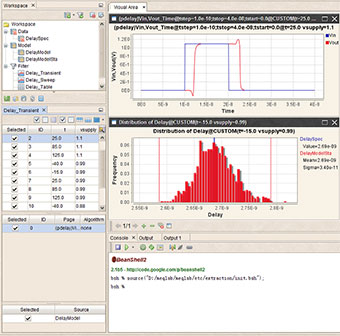 MeQLab, design or process optimization

PQLab is a tool for automating the QA of PDK libraries, saving engineering time and can be applied to:
Foundry PDK developers needing to QA a PDK
IC designers verify that a foundry PDK meets their requirements
IC designers compare two or more PDKs


PQLab
For 1/f noise measurements and characterization they have the NC300 system to apply at the wafer level, device, circuit or even with sensors.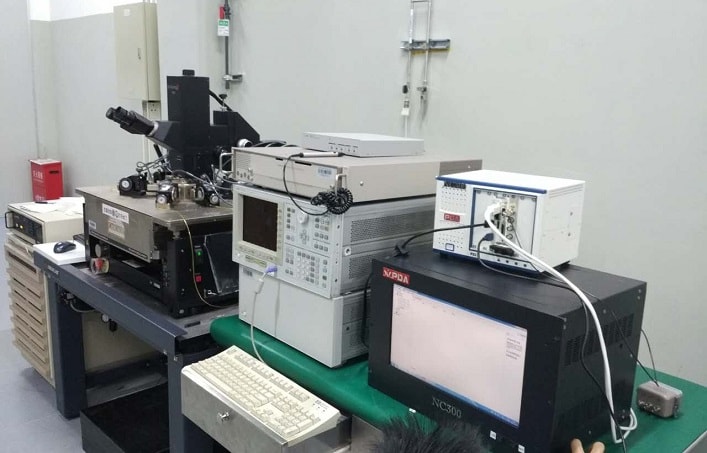 NC300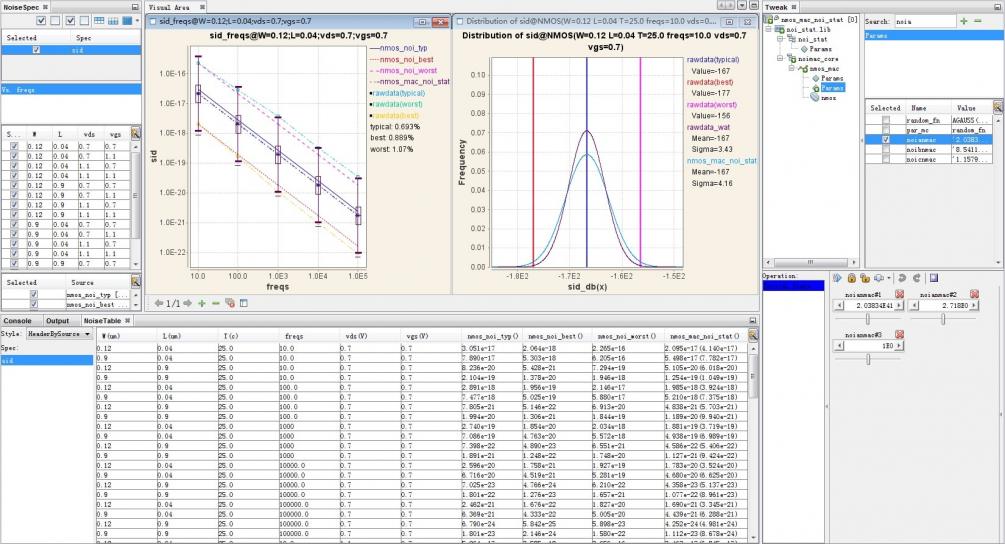 NC300 measurement results

Services
The three categories of services include:
Modeling
PDKs
Semiconductor IP (Standard Cells, SRAM – compilers)
Engineers at Platform DA can design a test chip for you, perform the device modeling, create a new PDK and even provide you with a standard cell library. Device modeling services cover a wide variety of models:
BSIM4, BSIM-CMG/IMG, PSPS, BSIM6
BSIMSOI
Scalable inductor, transformers, baluns
HiSIM, HiSIM-HV
GP, Mextram, HiCUM, VBIC
Diode – Level 1, 2, 3
RF Models
Reliability models
Statistical models
Noise model
PDKs can be created to serve your exact needs:
FinFET
Logic, Mixed Signal, RF CMOS
High speed, low power SOI
Scalable High Voltage (LDMOS, BCD)
PDK enhancements
If your design needs to work in a hardened environment then considering using the RHBD (Rad Hard By Design) service offered by Platform DA where special purpose EDA tools are used:
RadEx – environment-aware model extraction
SERSim – Chip level SER simulation for combinational logic circuits
The PQLab tool will be used to automate the QA of your new PDK with:
Validation of CDF parameters and callbacks
Automatic generation of test patterns for DRC and LVS
Pre-layout and post-layout simulation QA and comparison
Scalability validation of the correlation of device behavior with layout parameters
Circuit validation with a combination of Pcells
Layout parasitic validation

Summary
Platform DA has successfully served the Taiwanese and Chinese markets for the past four years, and is now growing into several new geographies: South Korea, Japan, Europe and the USA. Their founders have deep industry experience in device modeling, cell libraries, PDKs and services to tie it all together for foundries, IDMs and circuit designers. Expect to start hearing more news coming from Platform DA and their happy semiconductor design customers.
Share this post via: