As the temperature drops and the bright red maple leaves have begun to pile up, so has the stack of projects at Novocell. If you are expecting to utilize their high reliability, easy-to-integrate OTP in a project taping out in late Q4 or early Q1, NOW is the time to contact them.
OTP Overview Webinar Thurs, Oct 18
Novocell and global IP partner, ChipStart, will host an informational WEBINAR next Thursday, October 18, at 9:00am Pacific (12:00pm Eastern).
The 90 minute webinar will provide an introductory overview of antifuse one-time programmable memory, as well as review the specific technical advantages of Novocell's Smartbit™ bit cell in relation to other antifuse technologies, to efuse and polyfuse technologies, and compare our hybrid OTP/MTP to EEPROM for multi-time write applications.
Whether or not you have used, or plan to use Novocell IP in future projects, you are invited to sit in and learn how Novocell is able to provide guaranteed 100% yield and reliability, the easiest drop-in NVM integration available in the category, and avoid inefficient ECC and bit redundancy, and costly post-programming "testing" to reprogram bad bits. Novocell OTP: Simply Done.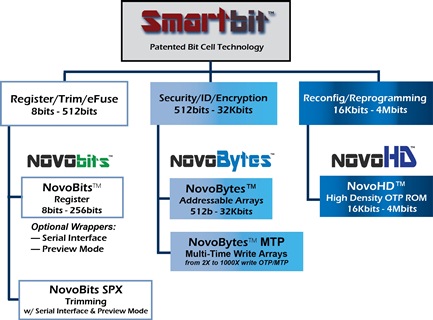 The Webinar will provide the opportunity for questions, and a lead engineer will be on hand to answer.
Overviews of our Novobits,NovoBytes, and NovoHDproducts will be provided. Feel free to contact us with any questions.
NOVOCELL SEMICONDUCTOR, founded in 2001, was an early innovator in the commercialization of nonvolatile memory design using antifuse technology. In 2005, Novocell moved its headquarters to the recently constructed LindenPointe Innovative Business Campus, a 115-acre planned technical park.
Novocell has the industry segment's most unique and innovative patents, providing it with the ability to claim the highest reliability for it's OTP NVM product IP of any competitor, and has an enviable customer list including some of the largest electronics and avionics firms in the world.
Novocell maintains a strong network of technical experts throughout the world which it leverages to drive innovation in its solutions. Included in this network are researchers and developers from Carnegie Mellon University, Penn State University, The University of Pittsburgh and other TTC member companies.

Share this post via: