The economic news lately has been bleak. U.S. GDP grew at an anemic 0.4% in 1Q 2011 and 1.0% in 2Q 2011 – leading to increased concerns about a double-dip recession. High government debt levels in the U.S. and several European nations have contributed to volatile stock markets. The news does not seem to be any better for the semiconductor industry. According to the Semiconductor Industry Association's (SIA) reporting of World Semiconductor Trade Statistics (WSTS) data, the semiconductor market declined 2% in 2Q 2011from 1Q 2011. The semiconductor market in 2Q 2011 was down 0.5% from a year ago after 8.2% year-to-year growth in 1Q 2011.
However the news is not all bad. Looking at the components of U.S. GDP, spending on electronics by consumers and business is still relatively strong. Business investment in equipment and software (including computers, telecom and manufacturing equipment) grew 8.7% in 1Q and 7.9% in 2Q. Consumer spending on recreational goods and vehicles (over 75% of this category is electronics) grew 15.3% in 1Q 2011 and 9.3% in 2Q 2011.
Key end markets for semiconductors are continuing to show solid growth. Total mobile phones grew at high double digit rates for the first two quarters of 2011, according to Gartner. Smartphones are driving mobile phone growth – with year-to-year growth of 85% in 1Q 2011 and 74% in 2Q. PCs declined 3.2% in 1Q 2011 versus a year ago but bounced back to 2.6% growth in 2Q, based on IDC data. Media tablets (dominated by Apple's iPad) are growing explosively, with IHS iSuppli forecasting 245% growth in 2011. Media tablets are certainly displacing some PC sales, thus the combination of the two gives a better picture of demand. Total PC plus iPad shipments were up 7.7% from a year ago in 1Q and up 9.5% in 2Q.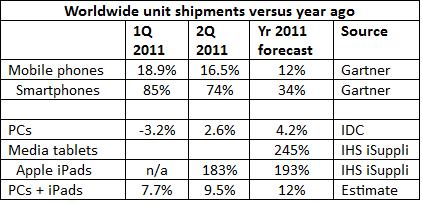 What is the outlook for the semiconductor market for the rest of 2011? See more at:http://www.semiconductorintelligence.com/
Share this post via: