Media tablets and smartphones have been the two most significant drivers of electronics and semiconductor growth for the last few years. Forecasts from two major market research firms indicate these devices will continue to be major drivers for the next few years. For 2013, Gartner and IDC (International Data Corporation) both expect tablet units will growth over 50% from 2012 while PCs should decline from 8% to 10%. IDC forecast 2013 smartphone unit growth of 40% compared to total mobile phone growth of 7.3%.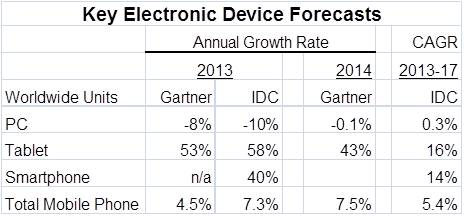 For 2014, Gartner projects tablet growth of 43% while PCs should be flat. IDC's compound annual growth rate (CAGR) from 2013 to 2017 for tablets is 16% and for smartphones is 14%. IDC expects smartphones will account for over 50% of total mobile phone units in 2013 and 75% in 2017. Tablet units should pass PC units by 2015 or 2016.
How important are tablets and smartphones to semiconductor growth? Our estimate at Semiconductor Intelligence for 2013 semiconductor market growth is 6%, resulting in a market of $309 billion, an increase of $17 billion from $292 billion in 2012. IDC estimates 84 million more media tablets will be shipped in 2013 than in 2012 and smartphone shipments will increase 289 million units. A conservative assumption of $60 in semiconductor content per tablet or smartphone means the increase in semiconductors in 2013 will be about $5 billion from tablets and $17 billion from smartphones. Thus the $22 billion semiconductor market increase from tablets and smartphones exceeds the total market growth of $17 billion. Tablets and smartphones are not the only devices driving semiconductor growth, but they are certainly the most significant.
In terms of geographic markets for semiconductors, China continues to be the key driver. The chart below shows three-month-average change versus a year ago (3/12 change) in electronics production (valued in local currency) for the U.S., Japan and China. Also shown is total industrial production 3/12 change for Europe, Taiwan and South Korea. The data is from government sources in each region. Worldwide semiconductor 3/12 change from WSTS is shown for comparison. The latest available data is from July for China and the U.S., September for Taiwan and August for all other data points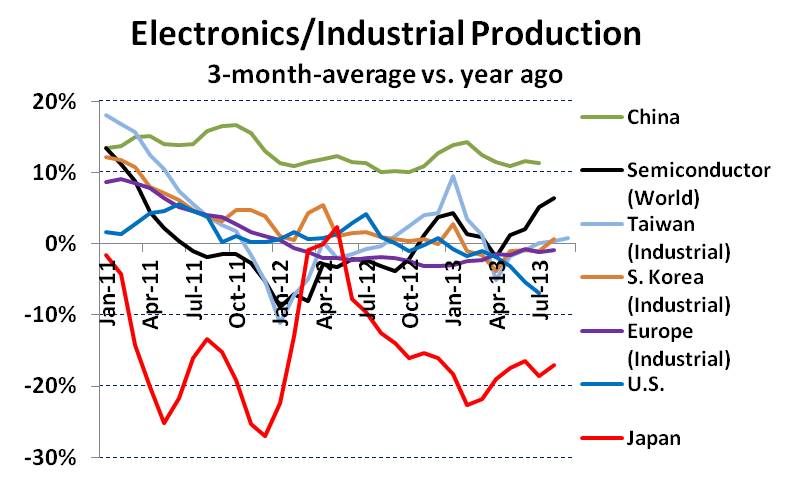 China continues to show strong growth in electronics production, with growth of 10% of higher for the last several years. Japan is the weakest country with double digit declines in electronics. U.S. electronics dropped 7% in July after being close to flat for most of the year. Industrial production turned slightly positive in August for South Korea and in July for Taiwan while Europe continues at about a 1% decline. Semiconductors were up 6% in August, the strongest 3/12 growth since March 2011.
While it is somewhat of an oversimplification, the semiconductor market continues to rely on tablets and smartphones for overall market growth and China for growth in electronics production. These trends are likely to continue for at least the next few years.
lang: en_US
Share this post via: