The semiconductor intellectual property (SIP) market is an integral part of the semiconductor industry. Third-party IP has propelled the industry, opening the door for many new products from start-ups to established IDMs. Enabling increasingly complex devices, reducing the cost of product development and reducing the time to market for both leading-edge and mature products are just a few of the benefits of third-party IP.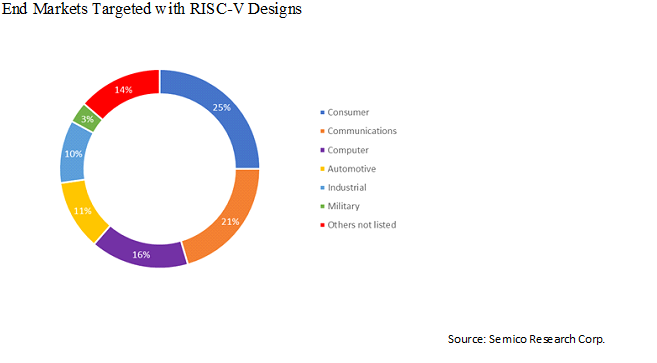 For the most part, third-party IP has used a business model that employed licensing and royalty fees. This payment arrangement has been successfully adopted by most market players and has matured with the IP market. Over time, we have seen a wide range of licensing and royalty fees depending on the supplier, the volume that is associated with the use of the IP and the complexity inherent to the IP itself. In general, IP users have been constrained by the rules and regulations of closed architectures, even though some of this IP has allowed the market to be highly successful. Over the years, some users of IP have been disgruntled with the lack of design flexibility and the high licensing fees and royalties associated with closed architectures.
Open architecture IP allows users to customize and adapt cores to their own specific applications and provide the opportunity for unique differentiation. RISC-V is an open-architecture Instruction Set Architecture (ISA) that is garnering industrywide attention.
The RISC-V Foundation was established to promote industry adoption and ecosystem collaboration of the RISC-V ISA. In order to gain a better perspective on the current situation, industry perception and future outlook, Semico Research surveyed industry players. Questions revolved around the use and adoption of the RISC-V ISA and its implementation. Semico Research then analyzed the data to develop a forecast for the number of RISC-V cores that will be consumed by the market.
Semico Research conducted a survey (RISC-V Market: Momentum Building) in November 2020 of RISC-V users. This follows an initial survey and report published by Semico in 2019. With this study, we wanted to quantify the total available market (TAM) for IP cores and estimate the served available market (SAM) for RISC-V IP cores. We surveyed and interviewed a cross section of the semiconductor industry to gather information related to the type of devices that are being designed with RISC-V and their target markets.
Semico, in conjunction with the RISC-V Foundation, identified 35 markets and developed both a TAM and a SAM for each of these markets. Utilizing Semico's extensive end-market databases, we developed a forecast out to 2025. This report focuses on four semiconductor devices which have a high value opportunity to use RISC-V cores. These devices are:
Advanced Performance Multicore SoC
Value Multicore SoC
Basic SoCs, and
FPGAs
Semico's survey results, RISC-V Market: Momentum Building, indicated increasing interest and significant ongoing developments for RISC-V products in all major end applications. RISC-V devices are also targeted at a broad range of performance levels. The compound annual growth rate for RISC-V cores between 2020 and 2025 is nearly 160%. The fastest growing served available market is automotive which is projected to achieve a 217.7% CAGR.
By 2025, Semico Research predicts that RISC-V cores will capture over 14% of the overall CPU core business. We also expect this trend to continue beyond 2025 as RISC-V gains market share and the ecosystem continues to evolve and mature.
RISC-V's flexible, open-source strategy provides a competitive advantage which is changing the landscape of the CPU IP market. Other IP vendors have or will expand their architecture to provide an open-source option to maintain a competitive position in the market.
For more information on  RISC-V Market: Momentum Building.
Share this post via: