According to the EETimes – "The leading-edge foundry market is up for grabs, as several vendors have stumbled or been victims of the shakeout ". According to people who actually work with the foundries, like myself, the leading edge foundry market will continue to be dominated by TSMC and GlobalFoundries is the "dark horse". Samsung is now and will always be an IDM, with the foundry business being a diversion at best.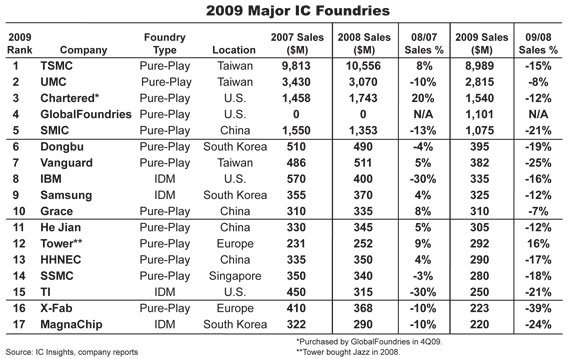 The EETimes also claims that TSMC "stumbled and had yield issues at the 40-nm node."Again not true. TSMC has more than 80% of the 40nm market with 60+ products in production. TSMC forecasts 40nm accounting for 20% of overall revenues at the end of 2010, compared to 9% in the fourth quarter of 2009. Other foundries would be lucky to stumble into numbers like that!
TSMC Fab 12 is currently capable of producing 80,000 12-inch equivalent wafers on 40nm every quarter and will double that by the end of 2010. TSMC's other 300-mm GigaFab, Fab 14, can also be used to meet future 40nm demand.
The widely reported TSMC 40nm yield problems were focused on GPUs. GPU products are bleeding edge technologies that drive process development, including half nodes. There are (5) GPU players withmarket share: Intel, Nvidia, AMD/ATI, S3, and SiS. Intel is an IDM, the rest manufacture at TSMC. Why TSMC you ask? Because GPUs are the single most difficult product to yield and TSMC is the only foundry that can accommodate the insanely competitive GPU market.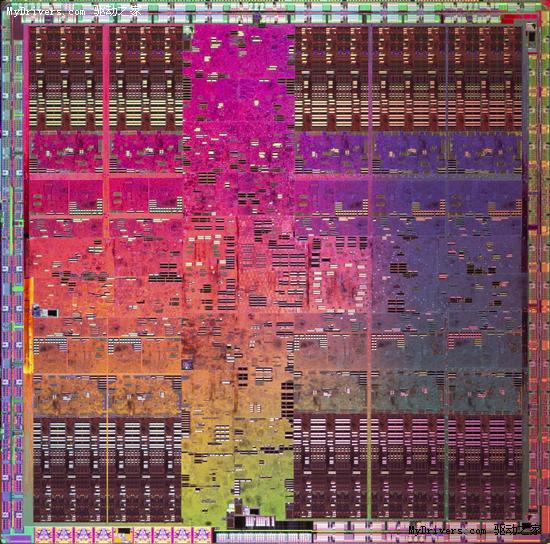 According to Ana Hunter, Samsung Semiconductor Vice President of Foundry Services, after 4+ years of trying "Samsung's share of the foundry business is not as big as we want, but it takes time to put the pieces in place and ramp designs."Prior to Samsung, Hunter spent 9+ years at Chartered Semiconductor, which was bought by GlobalFoundries last year for pennies on the invested dollar. Hunter stated that "The foundry business is part of our core strategy" and highlighted 6 reasons why Samsung believes it will succeed:
[LIST=1]
Capacity

– Samsung plans to double its production of chips for outside customers every year until it rivals market leader TSMC. ( Wow, good luck with that!)

Resources

– Samsung is one of the few companies that has the resources to compete at the high-end of the foundry market. (Intel, IBM, TSMC, GFI….)

Leading Edge Technology

– Samsung is ramping 45-nm technology at a time when TSMC and others are struggling in the arena. (Oh no she di'int!)

Leading Edge Technology part II

– Samsung will be one of the first foundries to roll out a high-k/metal-gate solution. The technology will be offered at the 32- and 28-nm nodes, which will be rolled out this year. (TSMC and GFI will go straight to 28nm HKT this year)

Leading Edge Technology part III

– Unlike rival TSMC, Samsung is using a gate-first, high-k technology, TSMC is going with gate-last. We think that gate-first is best suited for today's needs. (I defer to TSMC on this one, they have forgotten more about the foundry business than most will ever know.)

Ecosystem

– Samsung has put the EDA pieces in place for the design-for-manufacturing puzzle. (A puzzle analogy, really?)
Now let me highlight 6 reasons why I believe Samsung will not succeed:

[LIST=1]

Business Model

– The Foundry business is services centric, the IDM business is not. This is a serious paradigm shift for Samsung.

Customer Diversity

– Supporting a handful of customers/products is a far cry from supporting the 100's of customers and 1,000′s of products TSMC does.

Ecosystem

– An open ecosystem is required which includes supporting commercial EDA, Semiconductor IP, and Design Services companies of all shapes and sizes.

Conflict of Interest

– Pure-play foundries will not compete with customers, Not-pure-play foundries (Samsung) will. Would you share sensitive design, yield, and cost data with your competitor?

China

– The Chinese market represents the single largest growth opportunity for the foundry business. TSMC has a fab in Shanghai and 10% control of SMIC (#4), UMC (#2) has control of China's He Jian (#11), and Samsung does not even speak Mandarin.

Competition

– The foundry business is ultra competitive, very sticky, and product dumping will not get you from #9 to #1.Just my opinion of course.
Share this post via: