We were all pleasantly surprised when TSMC increased 2021 Capex to a record $28 billion. To me this validated the talk inside the ecosystem that Intel would be coming to TSMC at 3nm. We were again surprised when TSMC announced a $100B investment over the next three years which belittled Intel's announcement that they would spend $20B on two new fabs in Arizona.
It wasn't clear what the TSMC investment included but we now know (via the Q1 2021 Investor Call) that it's predominantly CAPEX starting with $30B in 2021 and the rest over 2022 and 2023. Personally, I think TSMC CAPEX will end up being more than $100B because TSMC tends to be conservative with their numbers, absolutely.
Let's take a look at CC Wei's opening statement on yesterday's investor call:
CC Wei First, let me talk about the capacity shortage and demand outlook. Our customers are currently facing challenges from the industry-wide semiconductor capacity shortage, which is driven by both a structural increase in long-term demand as well as short-term imbalance in the supply chain. We are witnessing a structural increase in underlying semiconductor demand as a multi-year megatrend of 5G and HPC-related applications are expected to fuel strong demand for our advanced technologies in the next several years. COVID-19 has also fundamentally accelerate the digital transformation, making semiconductors more pervasive and essential in people's life.
D.A.N. The short term imbalance is of course the drop in utilization last year due to the uncertainty brought by the pandemic and now the hockey stick shape rebound which includes some panic buying. The bottom line is that we have enough capacity today and more than enough capacity coming tomorrow so no worries here.
CC Wei: To address the structural increase in the long-term demand profile, we are working closely with our customers and investing to support their demand. We have acquired land and equipment and started the construction of new facilities. We are hiring thousands of employees and expanding our capacity at multiple sites. TSMC expects to invest about USD 100 billion through the next 3 years to increase capacity, to support the manufacturing and R&D of leading-edge and specialty technologies. Increased capacity is expected to improve supply certainty for our customers and help strengthen confidence in global supply chains that rely on semiconductors.
D.A.N. Based on what we have seen on the SemiWiki job board TSMC is indeed hiring thousands of employees and the TSMC job posts are getting 2x more views than average. And yes TSMC is already spending that $100B, $8.8B was consumed in Q1 2021.
CC Wei:  Our capital investment decisions are based on 4 disciplines: technology leadership, flexible and responsive manufacturing, retaining customers' trust and earning the proper return. At the same time, we face manufacturing cost challenges due to increasing process complexity at leading node, new investment in mature nodes and rising material costs. Therefore, we will continue to work closely with customers to sell our value. Our value includes the value of our technology, the value of our service and the value of our capacity support to customers. We will look to firm up our wafer pricing to a reasonable level.
D.A.N. Translation: there will be pricing adjustments to compensate for the added capacity.
CC Wei:  Next, let me talk about the automotive supply update. The automotive market has been soft since 2018. Entering 2020, COVID-19 further impact the automotive market. The automotive supply chain was affected throughout the year, and our customers continued to reduce their demand throughout the third quarter of 2020. We only began to see sudden recovery in the fourth quarter of 2020.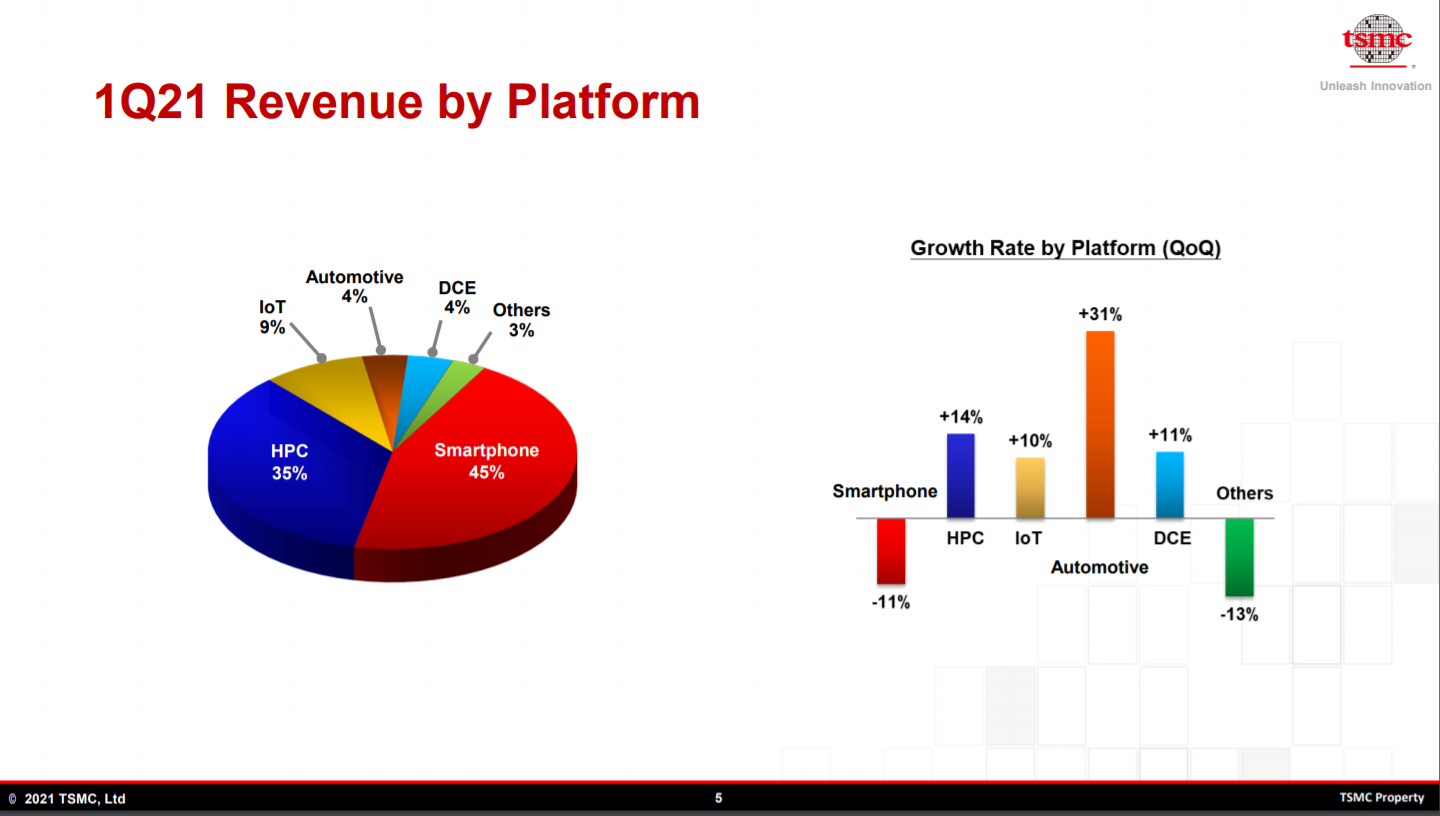 However, the automotive supply chain is long and complex with its own inventory management practices. From chip production to car production, it takes at least 6 months with several tiers of suppliers in between. TSMC is doing its part to address the chip supply challenges for our customers.
D.A.N. Some car companies have shortages and some don't, it all depends on inventory and who cut orders in 2020. Toyota I'm told has the best managed inventory and is still making cars. Other car companies not so much.
CC Wei: Finally, I will talk about the N5 and N3 status. TSMC's N5 is the foundry industry's most advanced solution with the best PPA. N5 is already in its second year of volume production with yield better than our original plan. N5 demand continue to be strong, driven by smartphone and HPC applications, and we expect N5 to contribute around 20% of our wafer revenue in 2021.
D.A.N. I was told by a gaming chip leaker that there is panic buying in crypto and gaming which may explain TSMC's big HPC numbers. Also, the word inside the ecosystem is that Samsung is having problems so there is a burst of 5N and 3N design activity. In fact, 80% of the 2021 CAPEX is being spent on 5N and 3N (which are pretty much identical fabs using different process recipes).
CC Wei: N3 will be another full node stride from our N5 and will use FinFET transistor structure to deliver the best technology maturity, performance, and cost for our customers. Our N3 technology development is on track with good progress. We continue to see a much higher level of customer engagement for both HPC and smartphone applications at N3 as compared with N5 and N3 at a similar stage.
D.A.N. This is due to Samsung's failure at 3nm. Scotten Jones did a nice blog on this earlier this year:
ISS 2021 – Scotten W. Jones – Logic Leadership in the PPAC era
CC Wei: Risk production is scheduled in 2021. The volume production is targeted in second half of 2022. Our 3-nanometer technology will be the most advanced foundry technology in both PPA and transistor technology. Thus, we are confident that both our 5-nanometer and 3-nanometer will be large and long-lasting nodes for TSMC.
D.A.N. Apple iProducts will be 3N next year which means HVM in 2H 2022. The IDM foundries (Intel and Samsung) do initial product introductions and spend a year or two ramping up to HVM so it is hard to compare new process introduction dates.
You can join a more detailed discussion here in the experts forum: TSMC Q1 2021 Earnings Conference Call
Share this post via: