SEMICON West seemed a little slow last week but maybe it was just me. I'm sure SEMI will come out with record breaking numbers but I did not see it in the exhibit hall (see the video). What I did see was hundreds of exhibitors but I had no idea what they did. San Francisco again was very congested and smelly. I talked to a friend who is in public works and he said drugs are relatively cheap and plentiful so SF is the place to be when you run out of prescription opioids, and it is getting worse.
SEMICON West 2018 Wrap (video)
Bottom line: I am no longer in favor of SF as a destination for DAC or any other conference. Either do it in San Jose or Santa Clara or get out of Northern California! San Francisco is not going to fix this problem if we keep ignoring it.
Robert Maire, Scotten Jones, and I attended SEMICON and had very productive meetings which gave us a pretty good outlook for 2018/2019. Robert has already published, Scott will add more, and this is mine. Click on the Events tab in the navigation bar to see them all.
We met with GlobalFoundries (Gary Patten, Erica McGill, and Jean-Baptise Laloe). Interesting story about Erica. She hosted Scott and I in Malta a couple of years back where we enjoyed a clean room tour. Erica is the first communications person I have seen do the tour partly because you cannot wear make-up, perfume, hair products, heels etc… but also because it is highly technical which excludes most semiconductor communications people.
The nice thing about meeting with Gary and Erica is that they know that we know more than we should so we are treated differently than the mainstream media. Questions are answered on and off the record and we can fill in the blanks if there are any. My interest was 7nm, Scott will cover FD-SOI.
GF took a different path to 7nm than most expected. In June of 2015 the IBM/SUNY Alliance unveiled the first 7nm silicon using SiGe and EUV which was expected to be production worthy in 2017. Globalfoundries however chose a much more "TSMC like" path to 7nm. It is not plug compatible but it is close enough so customers can move from one process to another with relative ease. AMD is already doing this (straddling TSMC and AMD) and others will follow, absolutely. In my opinion 7nm will be a very long node. If history repeats, 5nm will be a half node that will be mostly skipped like 20nm and 10nm in favor of a more aggressive 3nm.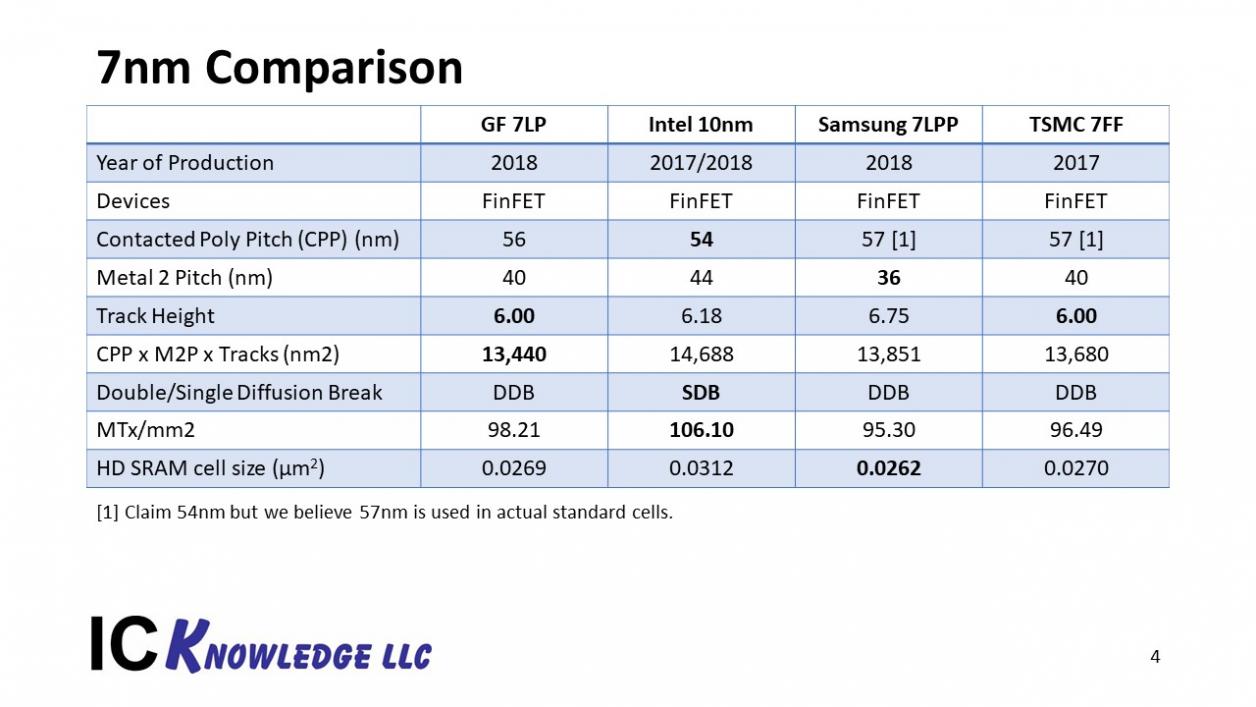 Another issue is current political problems around the world which Robert Maire spoke to at SEMICON (standing room only). Having a leading edge fab in the United States is becoming more and more favorable and having a "TSMC like" process in the United States puts GF in a unique position. According to Gary, 7nm is on track for early 2019 production which is in line with the other foundries except TSMC and Apple of course. Apple is always first to production with TSMC to make the fall iPhone launch.
Intel is on the same track with 10nm. Based on people who actually know, 10nm yield is steadily improving and should be at Intel acceptable levels by the end of the year for early 2019 mass production. Remember, Intel went through a similar exercise at 14nm. Yield delays were standard practice in the history of the semiconductor industry up until Apple joined our ranks. TSMC and Apple work jointly on a customized process that must be in production in time for the yearly iPhone launch. The trade-off made of course is performance for yield. Intel on the other hand will not sacrifice performance for yield thus the 10nm delay.
The result being that the Intel processes are faster and denser than the same named foundry processes. You can see this by comparing FPGAs from Xilinx (TSMC 16nm) and Intel/Altera (14nm). The S2C FPGA prototyping boards support both Xilinx and Intel FPGAs and we see a significant performance and density advantage with Intel 14nm. I do not expect to see Intel 10nm and Xilinx 7nm FPGAs for a year or so but my guess is that we will see a similar performance and density advantage for Intel.
The other interesting Intel news is that they may skip 7nm and move directly to 5nm. This of course is a marketing move since the Intel processes are off by a node name or two. The Intel 14nm process rivals TSMC 10nm and the Intel 10nm process rivals TSMC 7nm. Scotten Jones is the expert so I will defer to him if you need further convincing. Personally I think it is a great idea and will support Intel 100% on this one, absolutely.
Share this post via: