China has always been an intriguing semiconductor puzzle that very few companies have solved and now it is much more puzzling with the current political meandering. The GlobalFoundries vision of having foundries all over the world was very appealing to me back in 2009 and even more so today. Remember, China consumes more than half of the semiconductors produced each year and mobile devices (wireless and battery powered) are a very big part of that.
When GlobalFoundries first announced the joint fab agreement in Chengdu China it was targeted at 180/130nm which was a head scratcher. I remember saying, "Why not FD-SOI?!?!" It is a perfect fit for China (low power / low cost). The answer was mostly political because China was set on a "traditional" fab that was "TSMC like". Follow the leader, right? I think GF was happy to get a fab agreement in China but the long term goal was always FD-SOI.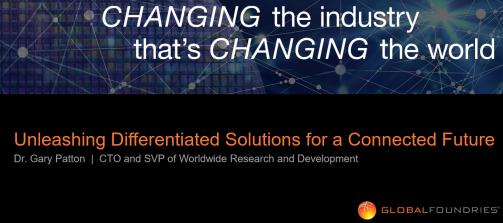 The semiconductor industry is now a fast moving sport, not unlike hockey, you skate to where the puck is going to be, not where it has been. The China semiconductor market is going to be FD-SOI at one end and FinFET at the other, my opinion. Attached at the end of this blog is Gary Patton's keynote "Changing the industry that's Changing the World" from the recent GTC event. Gary does a nice job of differentiating FD-SOI and FinFETS so it is worth a look. You can see videos of the GTC keynotes including Gary's HERE.
On another note, throughout my career I have been a part of more than a dozen EDA/IP acquisitions most always as the acquiree. The recent one that we just completed was the first one involving a non-US company and let me tell you it was quite the experience. There were multiple bidders, the usual EDA suspects, but the rules of engagement have changed significantly turning the traditional EDA M&A business upside down. Similar to what Siemens did with Mentor Graphics, deep pockets will continue to disrupt EDA that I can assure you.
The same can be said for the China semiconductor joint ventures. One thing I can tell you from my experience with China, they definitely learn from their mistakes and they do not give up so expect the China semiconductor disruption to continue on all fronts, absolutely.
GLOBALFOUNDRIES and Chengdu Realign Joint Venture Strategy
To re-focus JV on high-demand, differentiated technologies for the Chinese market in line with GF's recently announced shift to its technology portfolio
Chengdu, People's Republic of China, Oct 26, 2018 –GLOBALFOUNDRIES and the Chengdu municipality signed an amendment to their investment and cooperation agreement today. Based on market condition changes, GF's recently announced renewed focus on differentiated offerings, and discussions with potential clients, the partners have decided to bypass the original phase one investment in mainstream process technology (180/130nm). It is also agreed that the project timeline will be adapted to better align capacity to meet China-based demand for differentiated offerings including GF's industry leading 22FDX® technology.
With more than $2 billion of design wins and more than 50 client designs, GF's 22FDX technology is demonstrating traction as the industry's leading platform for power-optimized chips across a broad range of high-growth applications such as automotive, 5G connectivity and the Internet of Things (IoT). GF's Chinese clients are beginning to adopt the technology at GF's advanced manufacturing site in Dresden, Germany, including seven customers and more than nine products in various stages of manufacturing ramp.
"We have a long-term relationship with GF and the 22FDX with its low power is very suitable for our various products, including AI and security," said Min Li, CEO of Rockchip. "Once we achieve the right level of readiness, we look forward to ramping our production closer to home in China."
The partners plan to continue to build a world-class FD-SOI ecosystem, including creating local technology infrastructure and bringing in more IP vendors and EDA partners, making Chengdu a center of excellence for FDX technology and thereby enabling local market adoption and demand generation.
"As a strategic partner of the GF and Chengdu joint venture, we believe this realignment of the project plan is based on recognizing rapidly changing market conditions," stated the Chengdu Shareholder. "The goal is to allow both parties sufficient time to better understand the demand picture in China so as to plan for optimal capacity and a production time."
"China, as one of the largest and fastest growing semiconductor markets around the globe, is a high priority for GF," said GF CEO Tom Caulfield. "FDX technology is particularly well-suited to the China market and we continue to see strong potential for its up-take in attractive segments such as 5G, IoT and edge computing. We'll be working with Chengdu to deepen our collaboration to jointly accelerate the FDX ecosystem and customer base in China."
Share this post via: