When AMD sought to shed its costly manufacturing unit Ibrahim Ajami saw an interesting opportunity, one that will eventually bring semiconductor manufacturing to Abu Dhabi. Let's start with the recent interview published with Ajami, the 34 year old Chief Executive Officer of Advanced Technology Investment Company (ATIC), which is owned by the Government of the Emirate of Abu Dhabi, and is the controlling shareholder of GlobalFoundries (GFI).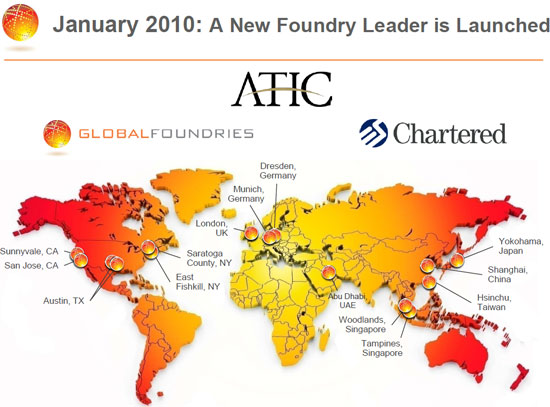 GlobalFoundries wants 30% of the made-to-order chip market within three years. "Am I setting very aggressive targets? Yes," Ajami said in a Jan 28 interview in Abu Dhabi. "We need to be a $5 billion company in the next two to three years." A 30% share would take GlobalFoundries well past United Microelectronics Corp (UMC), making it the world's second-largest contract manufacturer of chips after Taiwan Semiconductor Manufacturing Co (TSMC).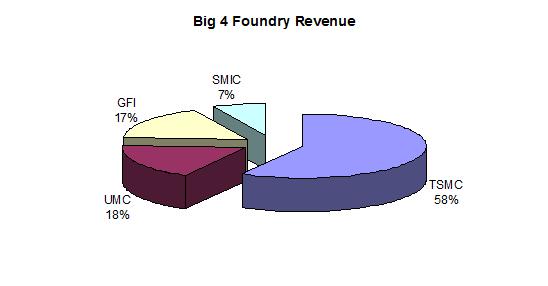 Mr. Ajami also dispelled recent rumors: "ATIC won't buy the rest of GlobalFoundries (AMD owns 34%) and the company has no interest in acquiring either United Micro or South Korea's Hynix Semiconductor Inc.", Ajami said. "It doesn't fit with our strategy right now," he said. "UMC is another foundry in Taiwan and we're not looking to go there right now and Hynix is a memory company. Memory is not what we're focused on right now".
Ajami earned his BS degree from Northeastern University in Boston in 1998 and his MBA from the University of Southern California in 2004. His semiconductor experience comes from the creation of a Silicon Valley startup called ViralSounds Inc., and he worked for Packard Bell/NEC. Ajami, associate director of the acquisitions unit of Mubadala, was tapped to become CEO of ATIC and led the $7.5 billion acquisitions of AMD manufacturing and Chartered Semiconductor that we now call GlobalFoundries.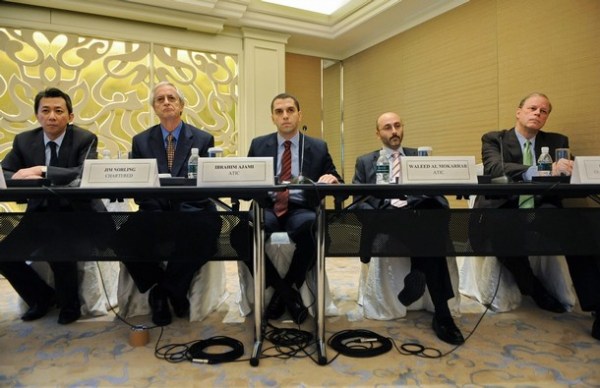 As I mentioned in TSMC versus GlobalFoundries Part I and Part II, GFI will compete head-to-head with TSMC in the first source semiconductor market, while UMC and SMIC are content to be second and third source semiconductor manufacturers. GFI has not been shy about their challenge to TSMC's wafer supremacy and TSMC has responded in kind by increasing capital expenditures, increasing R&D expenses, and hiring thousands of engineers.
During my January visit to Taiwan there was definitely excitement in the air at TSMC. The Fab lobbies were filled with job applicants, the Fab cafeterias and coffee shops were abuzz, and meetings were much harder to coordinate, a very big change from a few months ago. On a side note, the food in Fab 12 is by far the tastiest and EVA Airlines is the absolute best carrier from the US to Taiwan, but I digress.
Whether or not GFI is a serious threat to TSMC's foundry supremacy, TSMC is certainly using GFI's public relations activities to motivate employees. Déjà vu when the deep pockets of the Chinese government funded SMIC. Unfortunately, as it turned out, SMIC was a sheep in wolf's clothing. GFI on the other hand looks more like a wolf in an Armani suit.
Share this post via: