The Broadcom acquiring Qualcomm drama is still dominating the fabless semiconductor back channel. This week I will be at the SEMI ISS Conference with Scott Jones and several hundred high level semiconductor professionals so it will be interesting to hear the hallway chatter. When it was first announced I was in the minority in thinking it will happen and be for the greater good of the semiconductor industry. Now I would say popular opinion is in my favor based on the SemiWiki Poll where more than 10,000 people voted 58-42% in support and the dozens of people I have spoken privately to inside and outside (Wall Street) the ecosystem.
For me this story started at the TSMC 30[SUP]th[/SUP] Anniversary celebration in Taipei last October. The keynotes were by Nvidia CEO Jensen Huang, Qualcomm CEO Steve Mollenkopf, ADI CEO Vincent Roche, ARM CEO Simon Segars, Broadcom CEO Hock Tan, ASML CEO Peter Wennink, and Apple COO Jeff Williams. Next was a panel discussion led by Chairman Morris Chang (you can see the full video HERE). My takeaway from the event is that Apple, TSMC, and Broadcom are very close partners while Steve Mallenkopf and Qualcomm are on the outside looking in.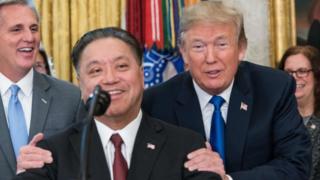 Next I see a picture of Hock Tan in the Oval Office with Donald Trump saying, "We are making America home again" after moving the Broadcom HQ back to the United States. Shortly thereafter Broadcom announces a $70 per share acquisition bid for Qualcomm. Qualcomm then issued the standard negative response that was déjà vu of the Avago bid for Broadcom which ended in a record $37B acquisition in 2015. Most financial people I spoke with disagree that $70 (a 33% premium) is not a fair bid but we all know it can and will go higher.
Then Hock goes after the QCOM board by nominating new board members to be voted on in March. QCOM rejected them of course but it really is up to the investors and Hock is speaking to them directly. My guess is that Hock will up the bid before the board meeting by at least $10 per share.
After being part of the fabless semiconductor industry for 30+ years I am seeing a trend that is in full support of the Hock Tan acquisition strategy. Non-traditional chip companies are beginning to dominate some very large market segments. Apple started it all which is documented in our book "Mobile Unleashed" chapter 8. Now the top three smartphone companies (Samsung, Apple, and Huawei) are packing their phones with custom silicon and more are sure to follow.
Tesla is another example of the fabless disruption. The Tesla domain came to SemiWiki in 2016 and now we have an onslaught of automotive content attracting the top car maker domains around the world. The SemiWiki IoT and Artificial Intelligence traffic is also dominated by non-traditional chip makers so the trend continues.
So where does this leave old school fabless semiconductor companies who now compete with their former customers? Can they really compete with rich systems companies on a comparatively low margin fabless chip budget?
Sometimes I post things on SemiWiki just to see the analytics. The Broadcom poll for example. I recently posted notices in the SemiWiki jobs forum for both Broadcom and Qualcomm to gauge the level of interest. Thus far it is running at 2:1 in favor of Broadcom. It is early but it is still an interesting data point to consider.
The one thing I have learned about Hock Tan over the years is that he is a very smart and determined man and I will never bet against him. Hock definitely runs a tight ship but look the investor value he has created over the years with AVGO and compare that to QCOM. I would argue that Hock's management style is just what the semiconductor doctor ordered and combining Qualcomm and Broadcom (while keeping the Qualcomm name) and creating the third largest semiconductor company (Samsung and Intel are first and second) would in fact be for the greater good, absolutely.
Share this post via: