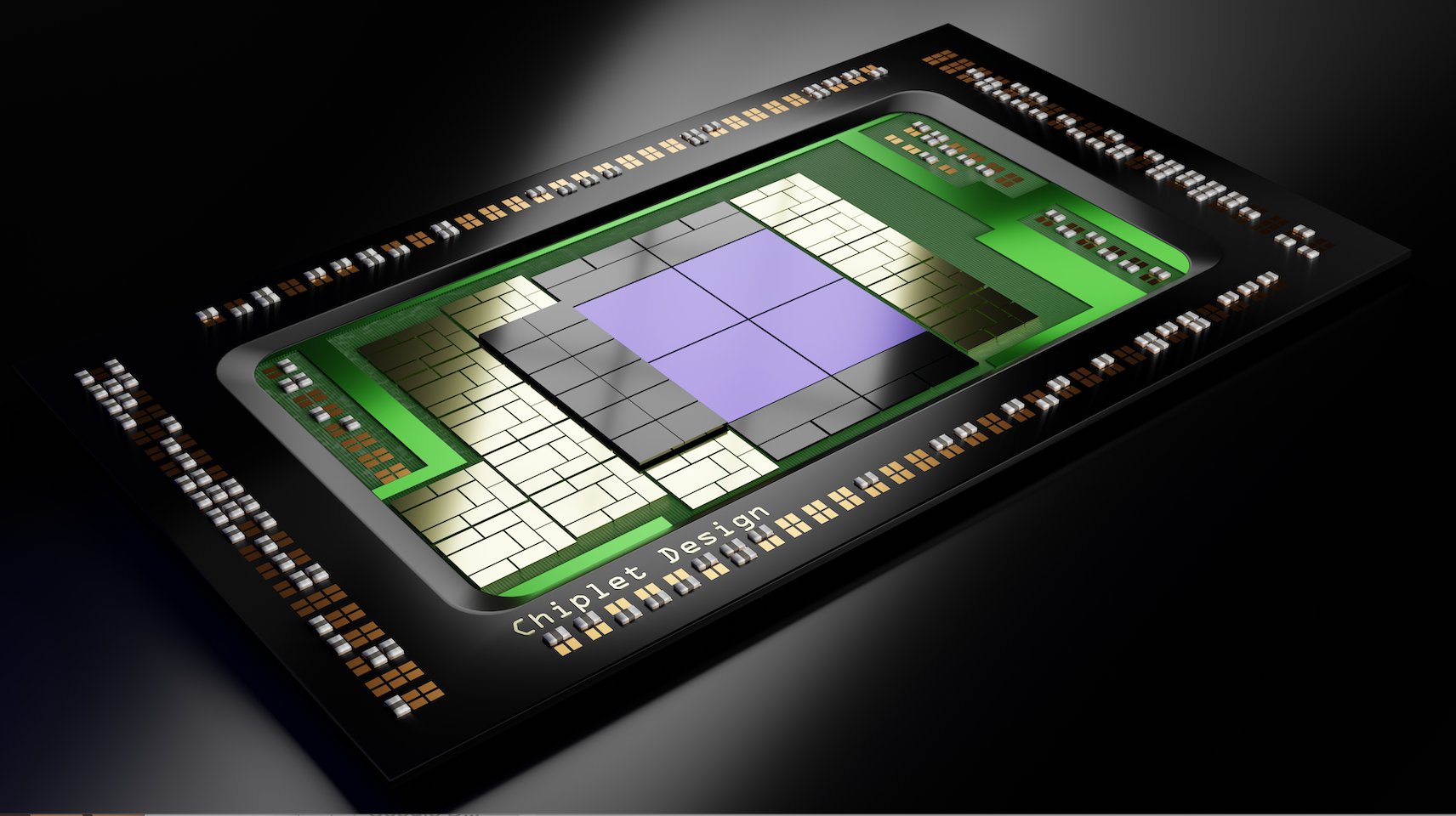 Given the changes in the music business, the term "Rock Star" doesn't really have any relevance to music or its performers anymore.  Instead, we use the term to describe leaders, innovators and generally people or organizations of great significance. In the world of semiconductors, the designers of advanced chips were the rock stars for a long time. Those who put those chips in packages were regarded as the clean-up crew. A roadie for the rock star at best.
Thanks to the coming revolution of multi-die design, packaging is now a fundamental technology driver and advanced packaging engineers are now the rock stars. These trends promise to change the semiconductor industry and the world. SemiWiki recently received some compelling data on this topic. The sources of the data are just as interesting as the data itself. Read on to understand how Intel, Samsung and TSMC are changing the world.
The Data, Who is Watching What
This all began with an email from The Bulleit Group entitled Intel Stock Down, Why TSMC Might Be Responsible. The Bulleit Group, in its own words, was founded in 2012 by Kyle Arteaga and Alex Hunter over a glass of Bulleit Bourbon (no relation). Once I read that, I had to learn more. This is a tech agency with a twist – a singular focus on what's next, how to get there and what it means. The company's rotating home page graphic illuminates its mission.
We tell stories about:
the future
frontier technology
sci-fi becoming reality
a better world
challenging the status quo
mavericks
the nexus of technology and culture
The punch line is:
Throughout the past ten years, technology has changed everything about the way we live. We're focused on the next ten.
I found it gratifying that a forward-looking, award-winning organization like this was interested in semiconductor packaging.  But this isn't the end of the story. The Bulleit Group was writing to share information it had received from LexisNexis, another catchy name I hadn't heard of.
LexisNexis is an intellectual property solutions provider. The company's tagline is Bringing Clarity to Innovation. In its own words, we are proud to directly support and serve (innovators) in their endeavors to better humankind.  Another award-winning and unique organization with a global perspective. And their team is focused on semiconductor packaging. Life is good.
The Data, What it Means
Let's look at what LexisNexis is saying. Since the organization focuses on IP, a patent analysis is in its wheelhouse. This analysis was based on 37,779 patent families active on 07/20/2023. That's a lot of data to analyze. The results are quite interesting. Below are the top ten patent producers.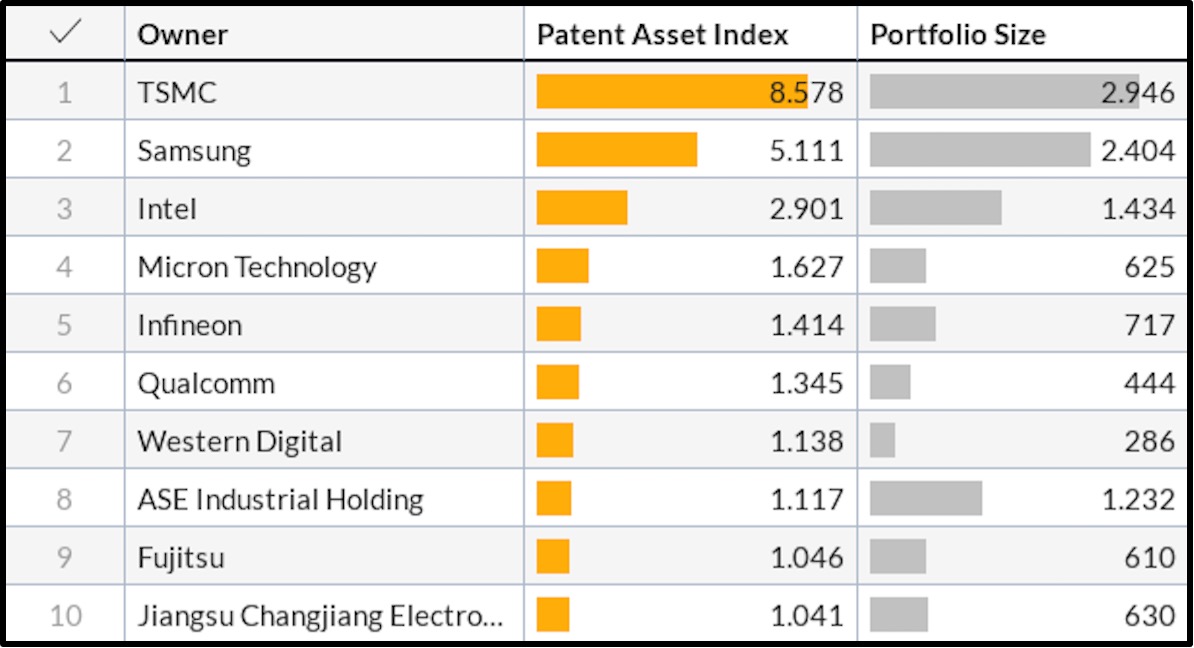 TSMC, Samsung and Intel are clearly in the lead. The Bulleit Group summarizes this data as follows:
LexisNexis discusses the different approaches of semiconductor companies regarding advanced packaging, with Intel focusing on high-performance computing, for example, Samsung targets high-volume assembly, and TSMC aims to capture a wide range of trends from low-cost to high-performance computing. In addition, these topics are not only important to the manufacturers above, but these topics are also relevant to fabless companies such as AMD, Apple, Broadcom, Nvidia, Qualcomm, etc., particularly in the continuing demand for AI-enabled technologies.
Reuters covered these trends in a recently published story. The article commented, "Advanced packaging is crucial for improving semiconductor designs as it becomes more difficult to pack more transistors onto a single piece of silicon. Packaging technology enabled the industry to stitch together several chips called "chiplets" – either stacked or adjacent to one another – within the same container." Once again, the mainstream media has taken notice of significant, world-changing trends in semiconductors. Honestly, this feels quite good.
"They seem to be the ones that pulled the field forward, and set the technology standard," said LexisNexis PatentSight Managing Director Marco Richter in an interview, referring to TSMC, Samsung and Intel.
Additional insights from LexisNexis illustrate the substantial growth of the advanced packaging sector. See below. Back to that rock star comment.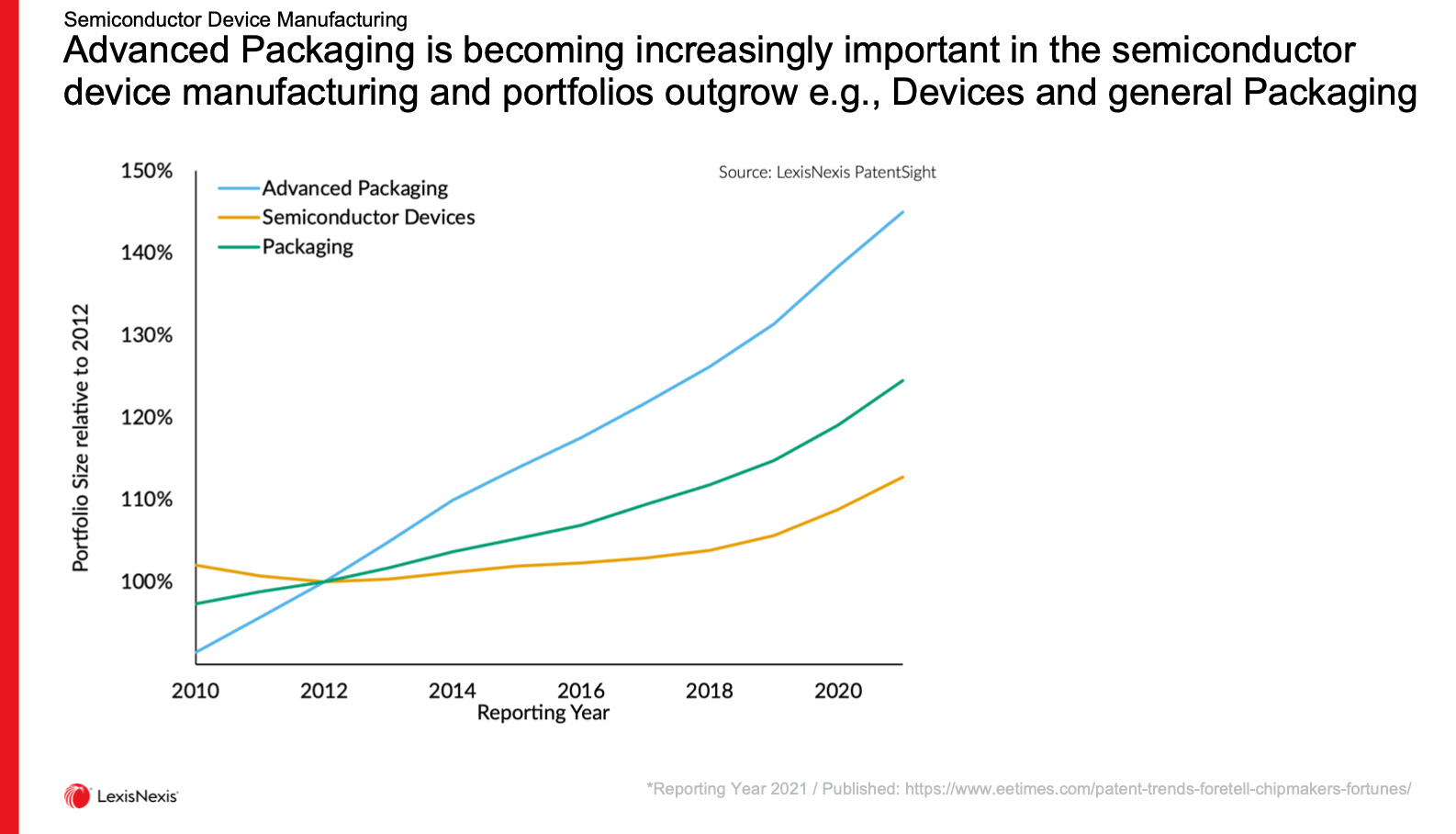 To Learn More
If you're interested in digging deeper, here are two reports from LexisNexis that may be of interest:
Innovation Momentum 2023: The Global Top 100
Exploring the Global Sustainable Innovation Landscape: The Top 100 Companies and Beyond
The second report dives into the links between sustainability and technology innovation. And that's how Intel, Samsung and TSMC are changing the world.
Also Read:
Intel Enables the Multi-Die Revolution with Packaging Innovation
TSMC Redefines Foundry to Enable Next-Generation Products
VLSI Symposium – Intel PowerVia Technology
TSMC Doubles Down on Semiconductor Packaging!
Share this post via: