A recent EETimes article about memory IP vendors reminded me to follow up on my blogs about IP companies, which I believe are the best investments in semiconductor design today. It is a fluff piece, Mark LaPedus briefly mentions ARM, Synopsys, Virage Logic, and Denali, but his analysis is right on the mark. There is definitely money to be made in the semiconductor design enablement market, on companies with scalable (gain share) business models of course.





ARM has alienated the semiconductor foundries due to aggressive and sometimes questionable business practices. If and when there is a comparable product available, ARM will lose out, due to their arrogance more often than not. Intel is aggressively targeting the embedded processor business so I'm long term short on ARM. As I mentioned in "Wall Street Hates EDA" Synopsys is giving away IP, stifling innovation, and is treating the Semi IP market like a cat does a sandbox.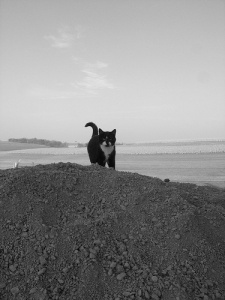 Memory interface innovation is driven by Virage Logic, Virage pioneered it and continues to do so. Denali's strength is memory modeling, marketing and business relationships. Who here hasn't been hung-over after the annual Denali DAC party at least once?
In additional to memory interfaces, Virage now offers connectivity interfaces such as DDR (acquired via Ingot), PCIe, HDMI, MIPI, with others to follow no doubt. Licensed from AMD and silicon proven at TSMC by the ATI graphics group, Virage will technically dominate the interface IP market at 40nm and below. With cash in the bank, a relentless executive staff, and a new hybrid direct/indirect sales strategy, Virage is poised for stellar growth when 40nm hits full production and will continue at 28nm and below. The gaping hole in the Virage strategy is Verification IP (VIP), the software used to validate not only the IP but the successful integration of that IP into a design. Both Denali and Synopsys have VIP, as does Cadence and Perfectus, but only Denali and Synopsys can do the total IP sell today.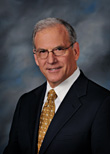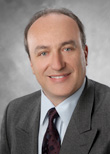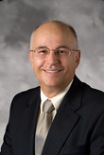 Denali founded commercial memory modeling in 1996 and has evolved as one of the most successful privately held Semi IP companies of our time. The gaping hole in the Denali strategy is physical IP, SRAM, Logic, and IOs, the building blocks of modern semiconductor design. Foundries work closely with the physical IP companies on emerging nodes and silicon validation. This type of trusted partnership can be leveraged into the top semiconductor companies around the world, Virage Logic is TSMC's 40nm early development partner. At a minimum Denali should aggressively OEM the TSMC physical IP to stay foundry close. Denali is also direct sales centric which will limit the active customer base and is not scalable in this ultra competitive market. A little inorganic growth wouldn't hurt either, maybe pick up a fabless ASIC vendor? There are plenty of those around.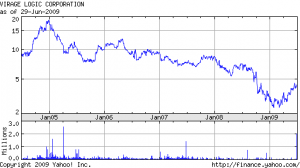 Semiconductor IP is being outsourced at an alarming rate and everybody is or has been a Virage Logic customer by some degree. Virage is currently trading under $5 per share, has a market cap of $100M, and has $2.432 total cash per share. Watch for a good quarter, a good advisory, and the upgrades will fly, believe it. This is easily a $10 stock after the economic recovery.
Share this post via: