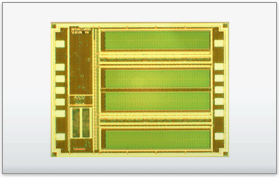 One area of the Semiconductor Market that has continued to see start-up venture investment is emerging memories. There is always a perception and need to discover a memory that can either displace the current technologies or create a new niche between DRAM and Flash. Adesto Technologies was founded in 2007 to explore and commercialize CBRAM (Conductive Bridging RAM) as a product and as an embedded IP. CBRAM is of a class of Resistive RAMs that are low voltage, non-volatile and built in standard CMOS processes. CBRAM can scale with CMOS technology and is fundamentally lower in power than Flash. I can see a number of applications here including embedded SOCs such as microcontrollers.
With its CBRAM™ technology, Adesto has now become a leading contender in providing a low cost, low power alternative to Flash memory for a wide range of embedded applications. In addition, given that CBRAM memory can scale with Moore's Law in standard CMOS for many generations to come, Adesto has the potential of being a significant long term provider of high density, non-volatile memory solutions. Alan J. Niebel Web-Feet Research
Adesto is shipping its first product, an EEPROM replacement device that was built in a standard .13u process technology at a die size that is smaller than traditional solutions. In addition, it has licensed its technology to multiple semiconductor firms who plan to embed it with future devices. It's an exciting market. Feel free to explore more at www.adestotech.com.
Because there is a lot of research and interest in the field of resistive RAMs, Adesto has initiated and sponsored the creation of a forum that focuses on these new developments. The site is run by an independent moderator, Mr. Christie Marrian. He would be glad to hear from readers and folks interested in contributing articles. The site can be found at www.ReRAM-Forum.com:
We are starting this Blog as a home for articles and discussion related to memory technology based primarily on resistive change (commonly known as RRAM or ReRAM) and conductive bridge (commonly referred to as CBRAM). We are open to anyone actively interested or working in the field. It is timely as RRAM/CBRAM are rapidly gaining traction both as viable technologies in their own right as well as solutions for the scaling limitations of conventional flash memory. We envisage that we will have both technology push and application pull entries and aim that the Blog will become the first 'port of call' for potential users as well as those following the latest developments in this exciting field.

Technology related:

RRAM/CBRAM Technology Overviews

New System Architectures

Technology Updates

News Items
Application related:

Market Analysis and Forecasts

Product Announcements and News

Application 'Pull' describing applications where RRAM/CBRAM technologies are well suited

The RRAM/CBRAM Blog is a moderated Blog in order to ensure that it maintains focus. We also encourage comments which will also be moderated.
Christie Marrian, WWW.ReRAM-Forum.com Moderator
Share this post via: