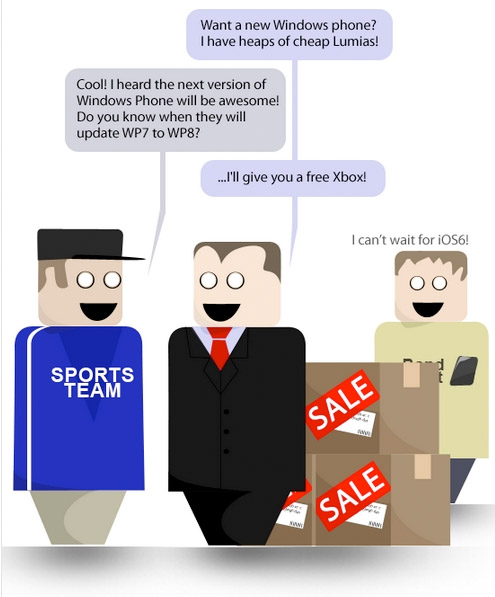 Whenever I write about the handset industry, lots of people seem to be interested. As I've said before, my go to person for the industry but especially for Nokia, is Tomi Ahonen. He has written a long (and I mean long, it is nearly 30,000 words) indictment of Elop's tenure at Nokia and how he has destroyed one of the most iconic and loved brands. If you are in the US (or Japan or Korea) you don't realize how dominant Nokia used to be in the rest of the world. When Elop took over Nokia, its smartphone market share was bigger than Apple and Samsung…together. Now it is in the noise. Microsoft has announced its own tablet and it is only a matter of time (imho) before they announce their own phones. They have to, or they will be nowhere in mobile and Windows Phone (whether this strategy of manufacturing their own hardware will work is also an open question, I'm dubious).
Even if you are not that interested in Nokia's fall from grace, it is worth reading as a case study in how not to run a business. Elop was brought in to improve Nokia's operational efficiency which had deteriorated under the previous CEO. Strategy was sound but execution was not. Instead, he changed the strategy and operational efficiency was no longer relevant.
Since 30,000 words is long, and to celebrate his blogs 3,000,000th visitor, Tomi had a contest to summarize his long blog in a tweet, so with a limit of 140 characters. The winner:
Designed by Finns, improved around the world, manufactured by great people & destroyed by 1 Canadian http://bit.ly/OArMOD
Nokia's Q2 results come out next Thursday. They have already said Q2 will be worse than Q1. The stock is trading at a fraction of their cash and near-cash.
And if you don't understand the joke at the start of this blog, then read my blog Microsoft messes up mobile even more(I promise it's less than 30,000 words, less than 1,000 even).

Share this post via: