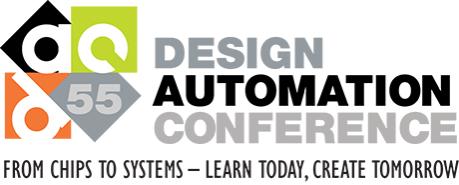 It's hard to believe that this is the 55th DAC and even harder to believe that this will be my 35th. So much has changed in 35 years, with DAC back in San Francisco I expect a VERY big crowd and even bigger announcements, absolutely.
Not only is this an epic time for semiconductors, I would say that EDA is exciting again and the Mentor acquisition by Siemens is definitely a catalyst. Being that this is the first DAC with the full backing by Siemens, it is definitely one to see:
Technical Conference Program Overview:
7 paper presentations
13 posters
2 panels
2 expert tutorials
Straight talk with Wally Rhines
Wally Rhines, President and CEO of Mentor, a Siemens Business, sits down with Semiconductor Engineering's Ed Sperling to discuss the big shifts in technology, from AI to autonomous cars to the growth of the Internet of Things and the Industrial Internet of Things. What kinds of shifts can we expect to see in the future, who's going to be best positioned to take advantage of them, and what will the semiconductor industry look like in five years as these changes begin taking hold? Who will be the winners and who will be the losers?
MENTOR ON THE EXHIBIT FLOOR
You'll find Mentor experts on both exhibit floors of Moscone West. The main Mentor booth (2621) is on the second floor while you can also visit Mentor experts on the first floor in the booths for Verification Academy (1622), Tanner EDA (1337), and Solido Design Automation (1344).
Expert Panels
Mentor will host expert panels on Monday and Tuesday of DAC in booth 2621. Show up a little early and grab a free beer or glass of wine at our Happy Hour to enjoy during the panel!
Functional safety – where are we going and how do we get there?
Monday June 25, 4:00pm – 5:00pm
With everything from cars to factories to the world around us becoming more intelligent and increasingly automated, the decision making is shifting from humans to the machines. Semiconductors are at the center of this innovation but now the way these electronics are developed must evolve as humans put their lives in the hands of these transistor-based machines. The concept of functional safety is not new but with the move to autonomous driving, functional safety has been put in the spotlight for IC development teams. From requirements to fault injection, functional safety brings many new challenges for IC development but at scales and levels of automation not seen before.
Getting your tape-out done on time isn't easy, but it can be easier
Tuesday June 26, 4:00pm – 5:00pm
More than 50% of tape-outs don't occur on schedule. Which 50% do you want to be in? Come listen to Calibre customers talk about the challenges that they face and the steps that they take to get their tape-outs on time.
Daily Technical Sessions
The Mentor booth (2621) will host over 70 technical sessions across 7 technical focus areas:
IC Design & Test
Design & Functional Verification
Analog/Mixed-Signal and Custom IC Design
High-Level Synthesis, Low-Power, and SLEC
Emerging Markets
Packaging & PCB
Verification Academy
ANNOUNCEMENTS
Veloce on the Cloudwas announced on June 8. Mentor is pioneering new licensing and use models to enable small companies as well as large companies (with geographically dispersed verification groups) to access emulation via Amazon Web Services. Make sure to check out the "Design-on-Cloud" pavilion on the DAC exhibit floor.
Calibre RealTime Digital was announced on June 18. Mentor not only maintains the leading position in physical verification but is expanding on that lead with new innovations. RealTime Digital was built by customer demand. Mentor released the first tool in the Calibre RealTime line six years ago, which won several awards and gained great popularity with layout folks doing custom design. The new tool targets the digital design market and helps designers fix local DRC errors in their designs without creating further DRC violations. It cuts weeks off of the signoff stage of the design – the last stage before tapeout.
Customer presentations on Calibre RealTime Digitalin the Mentor booth:
Customer Presentation: Saving weeks off the physical design implementation cycle: Qualcomm's experience using Calibre RealTime Digital

Monday 10:00am
Tuesday 3:00pm
Wednesday 2:00pm

Customer Presentation: How Inphi uses Calibre RealTime Digital to improve the time to tapeout digital designs

Tuesday 4:00pm
Wednesday 10:00am
About DAC
The Design Automation Conference (DAC) is recognized as the premier event for the design of electronic circuits and systems, and for electronic design automation (EDA) and silicon solutions. A diverse worldwide community representing more than 1,000 organizations attends each year, represented by system designers and architects, logic and circuit designers, validation engineers, CAD managers, senior managers and executives to researchers and academicians from leading universities. Close to 60 technical sessions selected by a committee of electronic design experts offer information on recent developments and trends, management practices and new products, methodologies and technologies. A highlight of DAC is its exhibition and suite area with approximately 175 of the leading and emerging EDA, silicon, intellectual property (IP) and design services providers. The conference is sponsored by the Association for Computing Machinery's Special Interest Group on Design Automation (ACM SIGDA), the Electronic Systems Design Alliance (ESDA), and the Institute of Electrical and Electronics Engineer's Council on Electronic Design Automation (IEEE CEDA).
Share this post via: