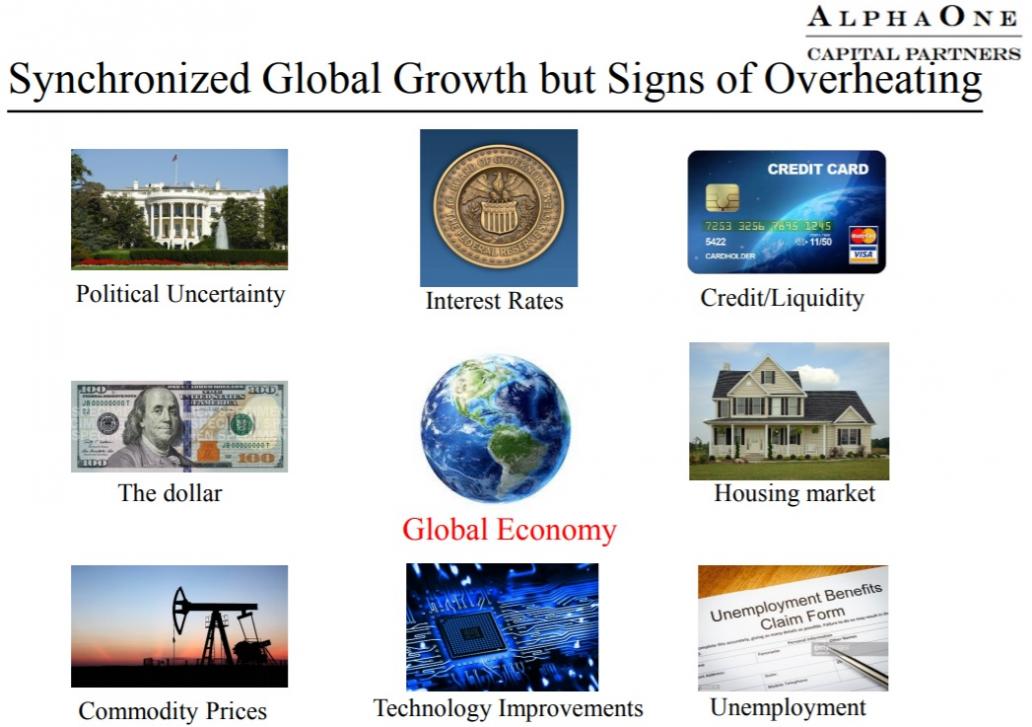 The SEMI Industry Strategy Symposium (ISS 2018) started today with session one on economic trends. Daniel Niles (Alpha One Capital Partners) started it off with "A Golden Age for Global Growth – Semiconductor revenues up over 20% y/y (The Good News is Also the Bad News)". The good news of course is that semiconductors continue to play a critical role in commercial "quality of life" products and infrastructure (cloud) and defense products (HPC/AI). The bad news of course is that it may not last.
Daniel presented 41 slides covering a wide variety of economic indicators which point to a possible cooling down period. Daniel's predictions for the short and long term were summarized in his ending slides:
Semiconductor Industry Near Term:

Semi revs tracking up +21% y/y for CY17 with units up 15% ex-discretes. This would be the best growth since 2010 when the world was still recovering from the financial crisis. But in 2010 PC units grew 14% (-2% in 2017), cellular phone units grew 32% (4% in 2017), and autos grew 14% (2% in 2017).
Y/Y growth of +23% in Nov; +22% in Oct and +20% in September with high of +25% in August
Ex-memory, IC sales were +7% Y/Y in September, down from +11% in August, +10% in July, & +15% in May.
C17E WFE spend of $45B (up 30% y/y) is growing even faster than semi revs. Excess supply in '18/19?
How much Apple inventory, +128% y/y in Q3, will need to be burned in Q1 given revs were up only 12% y/y?
Cisco inventory up 44% y/y; HPQ up 29% y/y; (strategic memory buys) but Samsung Elec +41%; Hynix +23%
Auto not large end-market for memory: Volkswagen, Toyota & Ford inventories are up 9-18% y/y; revs 1-11%
Lead-times stretched out in the spring and have driven the build in inventories. Even if sell-through is strong during the holiday season, the March qtr is seasonally down in demand and inventory burn could be ugly.
Most semi companies: "content gains are driving the stronger demand, there is no double ordering or inventory buildup." Unit shipments were 5% in 2016 but 15% in 2017 and does not make sense at a high level. We believe a semi correction is coming by early 2018. The only question is severity given the big disconnect between end-market unit growth, inventory on balance sheets and semiconductor unit growth.
Predictions for Semi Industry over the Long-Term:

Positives:
Cloud Computing still has a long way to go with even more data created in the future from driverless cars n Artificial Intelligence will require immense computing power to replicate the 100B neurons in one human brain n A computer beat a GO Master for the first time this past year n Augmented Reality market supercharged with the launch of the iPhone X & ~$10 of content per phone
3D sensing will be one of the fastest semi growth markets with penetration of 1.5B phones per year n Fully autonomous cars expected by 2020/2021 will require an immense increase in semiconductor content n Nearly 1.3 million people die in road crashes worldwide every year
UK & France prohibit production of diesel and petrol cars by 2040- China looking at timeline for similar action
Volkswagen to invest €20B for electric versions of all models by 2030
Industrial robot market $12B in 2016 to nearly $35B by 2025. Robots should be taxed according to Bill Gates
5B connected devices in 2015 w/ ~20% growth through 2020.1T cumulative IoT devices shipped by 2035. n Voice and camera as the control input for computing/phones requires a large increase in computing power
Smartphone growth should continue at GDP plus as onramp of choice to the internet
PC growth likely to be GDP minus for many years as the smartphone continues as device of choice

Potential Risks:

China is a blessing/curse with 70% IC self sufficiency goal by 2025. Japan in 80s, Korea/Taiwan in the 1990s
Semiconductor debt levels have increased post mergers and interest rates are probably headed higher
Semiconductor mergers are slowing so investments will be needed to drive future earnings growth
A $500B trade deficit is a lot to fix even for a $18 trillion economy & border taxes will be disruptive
The full presentations are online for attendees and SEMI members. There is a LOT of information here and I'm a big fan of Daniel Niles so if you want to discuss this in more detail let me know in the comments section or on SemiWiki.com private email. Personally however, I see no barriers to double digit semiconductor growth for 2018 and am very optimistic in regards to the continued success of the fabless semiconductor ecosystem, absolutely.
Share this post via: