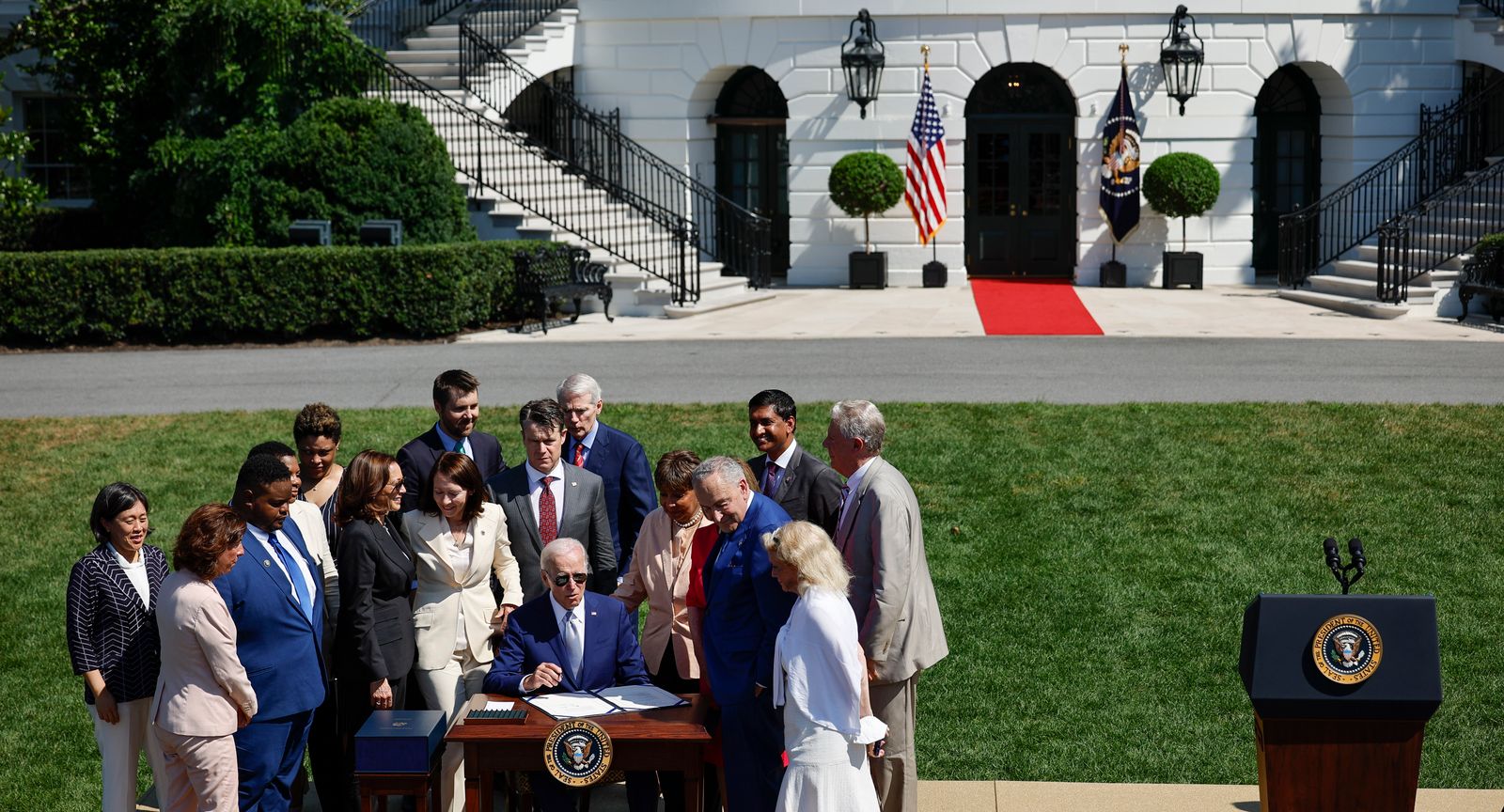 The CHIPS and Science Act has its fair share of critics, with detractors calling it corporate welfare for "losers" like Intel, or lacking guardrails to prevent companies making legacy chips in China.
One of the most vocal opponents of the act has been China's communist-ruled government.
CHIPS – an acronym for Creating Helpful Incentives to Produce Semiconductors – offers $52.7 billion in subsidies for chip investments on  American soil.
China's foreign ministry spokesman said the act was "economic coercion" by the US. State-owned newspaper Global Times slammed CHIPS as an attempt to "artificially isolate China from the industrial chain".
More recently, state-backed industry groups have joined the chorus. The head of China's Semiconductor Industry Association (CSIA) said parts of the act violated "fair market principles", and called on the US to "correct its mistakes".
Language like that is often used in Communist Party propaganda, so the CSIA statement was more likely aimed at pleasing Beijing than swaying foreign sentiment on the issue.
An official at a different trade group said CHIPS would disrupt "normal" cooperation and investment between China and the US, while another labeled it a form of "semiconductor hegemony".
What's going on here?
Besides the hypocrisy – China's own National IC Industry Investment Fund, aka the Big Fund, raised $50 billion to invest locally – Beijing is worried that the days of foreign chip makers investing billions in China may be over.
That would weaken the country's role in the global supply chain, and limit the knowledge transfer that occurs when Chinese engineers trained in a foreign-owned venture leave to start their own company.
Another reason for the angst on the Chinese side is that their so-called "self sufficiency" efforts in semiconductors are not paying off, at least not fast enough.
Sorry, SMIC's 7-nm chip produced without an EUV scanner doesn't count. Regardless of the headlines and armchair experts proclaiming that it leveled the playing field between China and the West, SemiWiki readers know that producing an experimental chip is not the same as making one in high volume at high yields.
More worrying for Beijing, though, is the fact that several senior Chinese officials in charge of disbursing the Big Fund money are now under investigation for graft.
While there's bound to be differences of opinion over how to best spend the CHIPS money, Beijing won't feel any better knowing that none of it will line the pockets of American chip executives, several of whom were invited to the White House to witness President Joe Biden sign the bill into law.
Also read:
The Semiconductor Cycle Snowballs Down the Food Chain – Gravitational Cognizance
2022 Semiconductor Supercycle and 2023 Crash Scenario
An EDA AI Master Class by Synopsys CEO Aart de Geus
Share this post via: