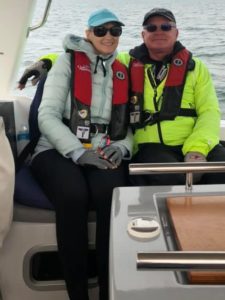 My beautiful first mate and I will be together at DAC this year. Her first DAC was 1985 in Las Vegas and we lived happily ever after. SemiWiki bloggers Tom Dillinger and Daniel Payne will also be at DAC attending sessions and meeting with exhibiting companies to learn and blog about the latest innovations inside the semiconductor ecosystem.
This year DAC will start with the traditional Sunday night reception and opening keynote: "EDA Growth Accelerates as Moore's Law Slows" at 5pm on Sunday by Charles Shi, PhD, Vice President | Research Analyst, Semiconductors & Semiconductor Equipment, Needham & Company, LLC of Needham and Company. This is a must attend event for all EDA people.
Description:
It may be counter-intuitive to argue that electronic design automation (EDA) industry could see accelerated growth because Moore's Law is slowing down. In this presentation, I will walk you through my reasons why such could be the case. We believe the slowing Moore's Law has led to design diversification with domain-specific chip designs replacing one-size-fits-all designs, has motivated systems companies to enter the silicon race, and has nurtured the recent renaissance of semiconductor startups. EDA, IP, and foundry are key enablers and beneficiaries of these trends. In addition, the slowing Moore's Law means chip-level scaling must be complemented with package- or system-level scaling, which creates a greater need for system design and analysis that will significantly expand the scope of EDA as well as its market size.
We are convinced that the strong growth of EDA in 2020 and 2021 was not a "Covid phenomenon" but the beginning of a new era that will feature strong double-digit growth for the EDA industry. Last but not least, we believe EDA can play a key role in mitigating the global chip shortage that may last beyond 2022, as foundries push more designs migrating to sub-20nm nodes. We argue design migration to sub-20nm nodes is an underappreciated alternative to ease chip shortage other than massive capacity additions at 28nm and above.
Charles joined our podcast last week if you would like to hear our banter on EDA. Next is the welcome reception. This is normally the best networking opportunity of DAC. If you are there please introduce yourself. It would be a pleasure to meet you all.
There will be a couple of interesting book signings on the exhibition floor. On Monday and Tuesday Wally Rhines will be signing free copies of his book "Predicting Semiconductor Business Trends" in the Infinisim booth #1652. My beautiful wife and I will be there as well. In booth #1543 S2C EDA will be giving away copies of my book "Prototypical II The Practice of FPGA Prototyping for SoC Design". I will be there from 1-2pm on Monday and Tuesday for signings.
The rest of my time will be spent at the DAC keynotes and walking the exhibition floor meeting with friends and people who I consider family from the semiconductor ecosystem, absolutely
I hope to see you there!
About DAC
The Design Automation Conference (DAC) is recognized as the premier conference for design and automation of electronic systems.  DAC offers outstanding training, education, exhibits and superb networking opportunities for designers, researchers, tool developers and vendors.
Share this post via: