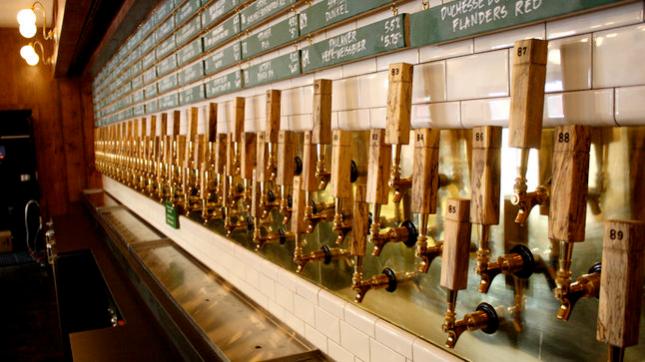 OK, enough with all this semiconductor geeky stuff. The important thing about DAC is…where to go to eat to avoid standard issue convention center chicken Caesar salad.
And a 7 minute walk from the convention center is Bangers Sausage House and Beer Gardenwhere you can have the $8 "executive" lunch consisting of a beer and a sausage. That's probably cheaper than that Caesar salad. But there is a catch, they only serve lunch Thursday to Sunday, as if to deliberately annoy many DAC attendees.

How many beers do they have? That would be 103 different taps. The full list is above, click on it if you want an almost readable version. As for those sausages, they are supplied with meat from all over the area and as a result have the biggest sausage selection in Austin.
So if you want to experience Bangers, go on Sunday for lunch or go one evening, but not Monday night because that is the big 50th Anniversary DAC Celebration Party at the home of Austin City Limits.
Bangers is at 79 & 81 Rainey Street. it's website is here.
---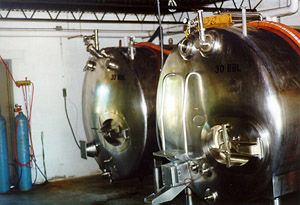 OK. So Bangers is great but if you are an exhibitor and you actually want a beer during the exhibit where can you go.
Well, how about Live Oak Brewing Company. How about experiencing the Live Oak Hefeweizen, the #1 ranked beer on the Beer Advocate's list of Top Beers in the Southwest. Several more beers make the top 50: Old Treehugger Barley Wine, Primus Weizenbock, Pilz, Liberation Ale, Roggenbier and Oaktoberfest. You didn't really need to get back for afternoon booth duty anyway, did you?
Live Oak Brewing Company is at 3301 East 5th Street. It's website is here. Actually I just realized that this is just the brewery. To taste the beer (other than on a brewery tour) it is available all over Austin. Maybe even near the convention center. Early in the week when Bangers is not open until the evening.
Anyone from Austin or with local knowledge, please add more suggestions in the comments.

Share this post via: