---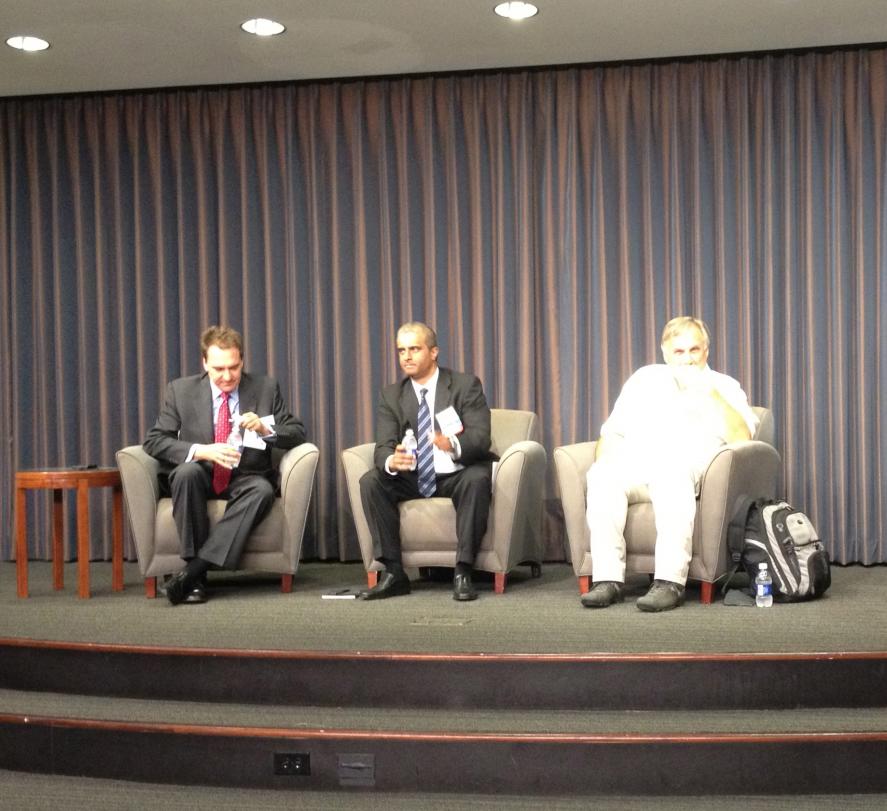 This evening at Silicon Valley Bank was the first of what is planned to be a series about EDA startups. Apparently the seed of the idea was planted by Dan Nenni with Jim Hogan and Steve Pollock and the EDAC Emerging Companies committee ran with it.

Jim dressed all in white, maybe to prove he's an angel investor!
There were two other people in the discussion other than Jim Hogan. Ravi Subramaniam of Berkeley Design Automation (an EDA company based in…Sunnyvale, 123 customers, 16 of top 20 fabless) and Dean Drako of IC Manage (in Los Gatos, greater than $10M, channel is 2 people, 80 customers). The format was that each of the 3 talked about what they thought were issues for success in an EDA startup.
I'm going to attempt to combine what everyone said (without making major effort to attribute who said what).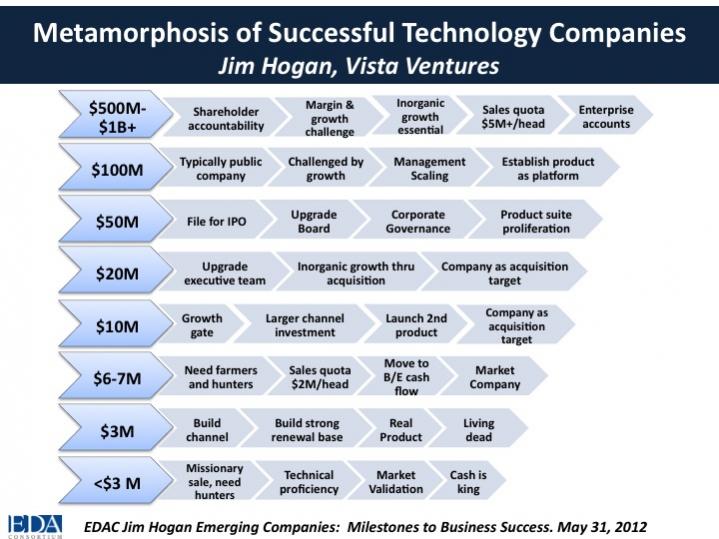 Less than $3M it is all about technical proficiency and market validation. Cash is king because you don't have enough. The CEO is the initial salesperson. First sales are often false positives in the sense that each is a 1-off and won't scale. The purpose of this stage of the company is to find a repeatable sales process (this is the Steve Blank view: a startup is a company seeking a repeatable business model).
Around $3M it is time to build the channel. But this is where many companies fail. It costs $5M (my spreadsheets always work out at $6M) to set up a channel but it will be wasted if the sales process isn't really repeatable. The sales force is all hunters, focused on finding opportunities. Lots of companies get stuck at this level and become the living dead, making enough money to stay alive but not growing. The only thing to do is to reset and start again.
$6-7M you need a sales mix of farmers and hunters, people who can grow business in existing accounts versus finding new accounts to penetrate. You are starting to build a renewal base. Quotas are $2M per salesperson.
$10M is a growth gate. You need to have a second product. The company becomes an acquisition target since a big company can acquire and with its bigger channel multiply revenue by 3 or 4.
$20M seems to need a new executive team (at least some of the people need to have experience at this level). Company needs to make acquisitions and is itself still a target to be acquired.
$50M is IPO. New board, corporate governance becomes really important.
$100M (we are not really talking startups any more, of course) the company is public. Accountability to shareholders is the basic game. Margin becomes the challenge, along with finding new businesses. At this level a new product needs to be huge to even have a chance of moving the needle.
Other comments:
not firing people in the first week is a weakness. we all know people we hired and immediately knew we made a mistake. it is much better to admit it immediately rather than wait several months
it is a fine line between tenacity and insanity when it comes to executing a business plan
It takes a long time. Jim Hogan average is 7 years. Irwin Federman (of USVP) reckons 14 (Rambus, Artisan etc). Make sure your investors and your management team realize
Don't plan for a quick flip. Plan to build a successful company. Most important input to valuation is last 12 months revenue, nothing else counts for much.
And while on the subject of startups, here is another great resource. Peter Thiel, the founder of Paypal, has been giving a course on startups at Stanford this semester, along with A-list guests like Mark Andresson. CS183. But you can't go (it's nearly over anyway). But a guy called Blake Masters has basically turned each lecture into an essay. You can find them all from here. Not everything is appropriate for EDA or semiconductor startups (it is more focused on web startups) but a lot is. Well worth the time it takes to read through. His writing style is very readable and Peter's content is stimulating.
If you don't read more, then just read the first lecture. And as a total non-sequitur, this lecture mentions Ronald Coase, the Nobel-prize winning economist (yes, I know it is a different prize really) who was born in 1910. He was interviewed on EconTalk last week at the age of 102. Yes, he's obviously not as sharp as he was when he wrote his first paper (the most well-known) as an undergraduate. But he's 20 years older than my father and just as sharp. And he started out life in a school for the physically subnormal where they didn't bother to teach anything at all.

Share this post via: