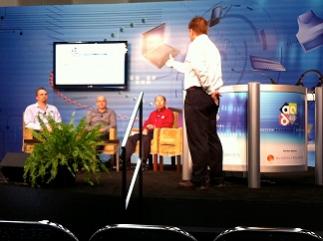 Once again DAC has a full program of panel sessions that take place on the exhibit floor at the DAC pavilion, aka booth 310.
Gary Smith kicks off the program with his annual "What's Hot at DAC" presentation on Monday, June 4th, from 9:15-10:15am. The rest of Monday's pavilion panels are:
"Low power to the people," a panel discussing low-power design techniques, struggles and solutions.
"Is life-care the next killer app?" a panel looking at where electronics and EDA is going in health, energy efficiency, safety and productivity.
"The mechanics of creativity," sponsored by Women in Electronic Design, a panel looking at how we can be creative on demand and sharing stories of innovation.
An interview with this year's yet-to-be-announced Marie R. Pistilli award winner. The winner will be announced on April 10[SUP]th[/SUP].
On Tuesday, the panels are:
"Hogan's heroes: learning from Apple," Jim Hogan leads a panel to look at what we can all learn from Apple, now the world's most valuable company.
"Foundry, EDA and IP: Solve Time-to-Market Already!" a panel discussion on what IP, EDA and foundry vendors are doing to further reduce the time to design a modern SoC.
"Chevy Volt teardown." Experts discuss what is "under the hood" of the Chevy Volt especially its 310V lithium-ion battery and its control electronics.
"An interview with Jim Solomon," who has been working for decades on advancing analog design, a Kauffman award winner and founder of one of the predecessors of Cadence.
"Conquering New Frontiers in Analog Design – Plunging Below 28nm." Analog no longer has the luxury of trailing a couple of process generations behind digital. This panel discusses the challenges.
Wednesday's pavilion panels are:
"Town Hall: The Dark Side of Moore's Law." This panel looks at how to get design costs back in line with Moore's law so that EDA and semiconductor companies can also profit.
"Divide and Conquer – Intelligent Partitioning." There are many reasons to partition a huge design. This panel looks at all the issues surrounding partitioning decisions. It's moderated by me.
"Real World Heterogeneous Multicore." Almost all cell-phones feature multiple processors of different types: CPUs, GPUs, DSPs. This panel discusses the issues.
"Teens talk tech" where, once again, high-school students tell us how they use the latest tech gadgets, and what they expect to be using in three to five years.
"Hardware-Assisted Prototyping & Verification: Make vs. Buy?" Emulators are expensive, but building a custom FPGA prototype has its own set of challenges. This panel discusses the tradeoffs.
Full details of all the pavilion panels are on the DAC website here.

Share this post via: