As a reminder, the Synopsys v. Mentor drama started when Synopsys filed a Complaint for Declaratory and Injunctive Relief on the same day (September 27, 2012) as they entered into an agreement to acquire emulation provider EVE (ZeBu emulator systems), which competes with Mentor's Veloce family of emulators. Apparently, upon hearing about the EVE acquisition, Wally warned Aart about the alleged patent infringements by EVE and Aart's response was swift legal action. This is the standard Synopsys legal strategy of "the best defense is a good offense". Aart must be a fan of famed boxer Jack Dempsey. A better strategy would have been to mediate or settle since, with the recent ruling, this could cost Synopsys in excess of $100M dollars when all is said and done.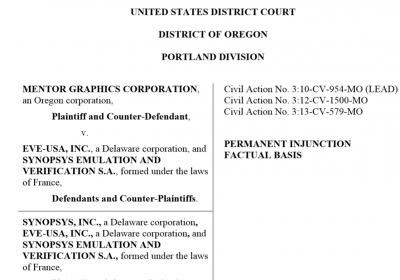 Take a quick look at thePermanent Injunction ruling of March 17, 2015. The infringement part is over, EVE infringed on Mentor U.S. Patent No. 6,240,376. The question now is damages. One thing that struck me after reading this is that the judge has a much better understanding of our industry than my previous experiences. Here is a link to one of those previous experiences:
Magma Avoids Trial by Settling Contract Suit With Prolific
That one taught me that, within the fabless semiconductor ecosystem anyway, it really was all about who had the better/most expensive lawyers since technology was baffling and using a fire hose of technical jargon was the underlying strategy for getting the most billable hours. Now the judges are much more technology enlightened and much less tolerant of fire hoses and "baseless" legal actions. This one however is the first time I have read a ruling that accurately described the ever important concept of "design wins" in our industry, absolutely.
Now let's talk about damages. Paul Mclellan made a comment on the most recent Mentor quarterly conference call in regards to emulators that caused a "forward outlook" concern. Emulation is more critical now than it has ever been for SoC design so what is the problem here? From the transcripts Q&A section:
Wally Rhines – CEO, We were able to grow our emulation revenue this past year, but as noted, we had contribution from a large customer, which we don't expect to have in the coming year. But we do expect that we can probably grow emulation revenue in the year ahead, the year we're currently engaged in, in fiscal '16…. Because we are making up for a loss in some of the momentum, we still believe that we will have overall growth but we'll be swimming uphill in that respect…
If you look back at the ruling it specifically mentions Intel so let's assume Intel is the large customer Wally mentioned. Intel is the industry's largest emulation customer and coincidentally a big customer of EVE. The previous award of $36M was based on a 5% royalty fee on past sales. Moving forward the royalty will be tripled to 15% based on the fact that Synopsys knew of the patent infringement and continued sales . And don't forget about legal and other expenses.
Let's face it, Wally is a very clever man and he knows how Aart does business. He spoke with Aart prior to the EVE acquisition for a reason, he made the above comment for a reason, and getting Synopsys to file first was pure genius. It all goes to damages and they are going to be big, just my opinion of course.
Share this post via: