Thanks to memory controller expert Marc Greenberg, Marketing Director for DDRn Controller IP with Synopsys, for this post "Qualcomm announces first application processor with LPDDR4 capability". According with Marc, this Application Processor, the Snapdragon 810, is "the first product that I'm aware of that will use LPDDR4 memory". In fact, the Snapdragon 810 will be sampling by the second half of 2014 and will be implemented in system in production by 2015. As Intel support for DDR4 is the gate opener for this new protocol market adoption in servers or storage segments, Qualcomm support for LPDDR4 is now the gate opener in mobile segments, like High End smartphone, media tablet or high end mobile PC.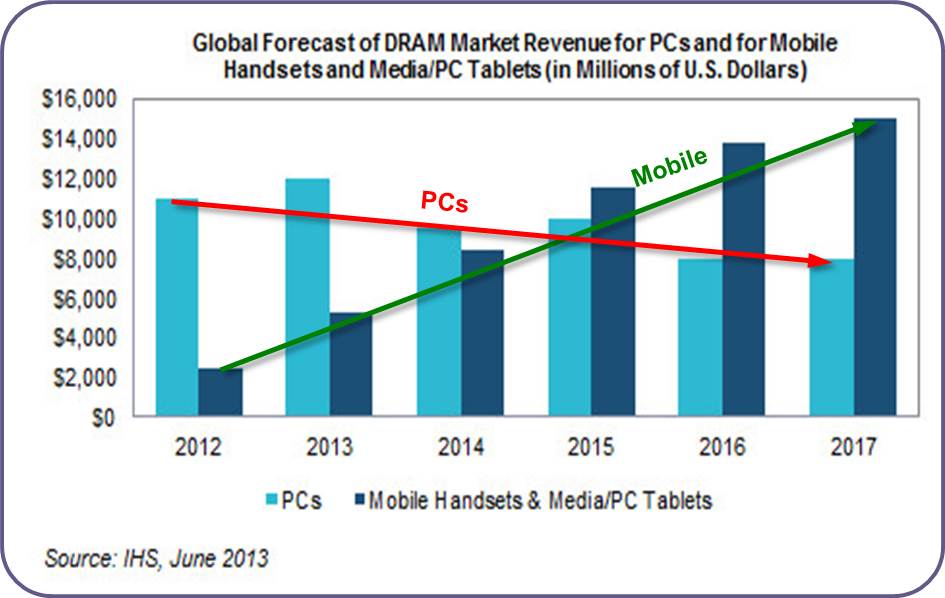 This Global Forecast of DRAM market revenue table, already presented in a previous DDR4 blog, shows that 2015 will be the turnaround point, and the first year where LPDDRn related revenue will pass DDRn. Electronic is moving to mobile, and is moving faster than ever.
I took a look at Snapdragon 810 feature list, I have noticed a VERY interesting point! If you remember this article posted in Semiwiki a couple of months ago, relating the Arteris technology acquisition by Qualcomm for a quarter billion dollar, I was suggesting that Qualcomm was using the major SoC IP (like CPU, GPU, DSP and now Network-on-Chip) as strong differentiators to consolidate the company leading position in mobile AP and BB IC segment. I honestly don't know if Qualcomm has changed this strategy based on differentiation, or has made this decision under Time-To-Market pressure, but the Snapdragon 810 has been built around Quad ARM® Cortex™ A57 (up to 2GHz) and quad A53 cores, instead of ARM compliant (but Qualcomm made) KRAIT CPU. Even if the GPU (Adreno), the DSP (Hexagon) and most probably the NoC are still enhanced versions, home made by Qualcomm, this may be a very important shift in Qualcomm strategy!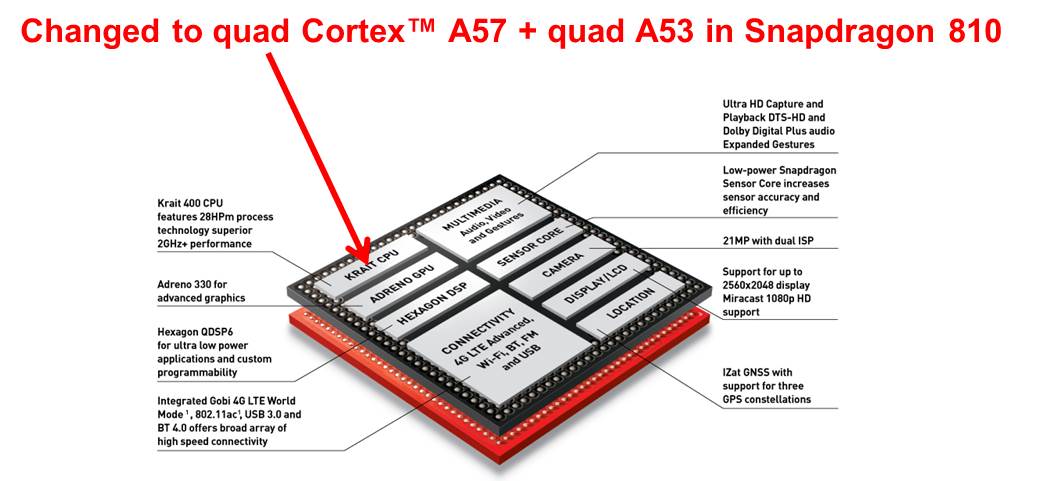 Thanks anyway to Marc Greenberg for this alert about the first LPDDR4 enabled Application Processor announcement:
Qualcomm announces first application processor with LPDDR4 capability
Just a precision: the memory performance is LPDDR4 1600MHz (assuming 3200Mbps data rate) with 2 64-bit channels giving an aggregate bandwidth of 25.6GByte/sec bandwidth according to the spec sheet here.
From Eric Esteve from IPNEST
More Articles by Eric Esteve…..
lang: en_US
Share this post via: