Whether or not in the past you believed all the of rhetoric about exploding design complexity in SOC's, today there can be no debate that SOC size and complexity is well beyond something that can be managed without some kind of design management system. As would be expected, development of most larger designs relies on a data management systems, but the significant need that has arisen is for release and IP management. This is particularly true for IP, because it now constitutes such a large portion of any new SOC design.
Dedicated GPU and CPU chips have billions of transistors. SOC's also are reaching this size and contain huge amounts of reused IP – often hundreds of blocks. It has been said that the chips of yesterday are now today's embedded IP. This IP can be internally developed or externally sourced. Furthermore, the SOC design project itself can span multiple sites and teams. Many IP management tools used by design teams grew out of data management systems that then added on features to deal with IP and release processes. One major shortcoming of this approach is that the IP and design release process requires backtracking to add information to the design data.
Last month I spoke at length with Simon Butler, CEO of Methodics, about their approach to this problem. Rather than retrofit a data management system to attempt to add release and IP management features, they decided 5 years ago to build a complete system based on IP release and reuse. In doing so they were able to make sure their platform was data management agnostic. Simon has seen growth in the use of Perforce for enterprise revision control, and Methodics is open to it or any number of other underlying data management systems.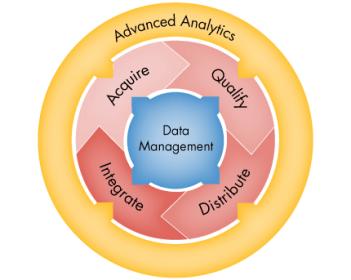 The most important aspect is that they use the underlying data management system in its native form, making it an open system. This makes it easier to integrate their ProjectIC into an existing corporate Perforce installation, with preexisting assets. Perforce provides a lot of valuable services, but Methodics has invested 20 man years of development on top of Perforce, to accommodate large multi-site design with potentially thousands of users. Simon says that this has consistently allowed Methodics to win challenging benchmarks.
Digging deeper, Simon explains that they have come at this problem from an enterprise IT angle, by taking concepts from DevOps, which is a movement in software development to enable rapid and continuous releases, improving quality of results by combing disciplines from development, release, testing and IT. Simon calls what they are doing "DevOps colliding with EDA". This concept connects developers with consumers, and through continuous release monitors quality.
Methodics has gone beyond what other design management solutions are doing by implementing not just file level versioning, but by solving the more difficult challenge of using block level dedup to save space and increase performance. A fascinating example of Methodics innovation is their development of a hardware appliance, WarpStor. It is a content aware NAS optimizer that attaches to the network and links the design management software with existing high performance NAS subsystems. By serving as in intermediary with caching and intelligence about the design data, it can reduce workspace creation time, storage requirements and improve throughput.
Methodics has taken the time to rethink the nature of the IP development, release and management. Part of this comes through Simon's previous experience in this space, and part of it is because their CTO, Peter Theunis, has an extensive background in enterprise software and infrastructure development. Their recent strong growth and 100% customer retention rate is indicative of a successful strategy and execution. For more information on Methodics you can find their website here.
Share this post via: